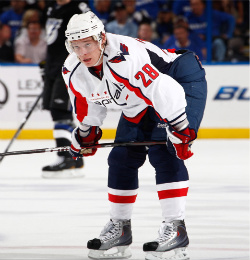 By: Adam Gretz
Matt Bradley
, one of the Florida
Panthers
many offseason additions,
appeared on TEAM 1200 radio in Ottawa this week
and spent some time talking about his former team -- the Washington
Capitals
-- and what went wrong in the playoffs last season, particuarly why they were swept in the second round by the Tampa Bay
Lightning
.
The 33-year-old Bradley said there were a few players that didn't show up in the playoffs, and that the locker room may have been a bit too nonchalant and undisciplined. He also added that some of the players that weren't playing well were getting the majority of the ice time.
His strongest words went in the direction of the supremely talented
Alexander Semin
, basically saying that he doesn't care to be one of the best players in the world (which he certainly has the talent to be).
Said Bradley, "I don't mind saying Alexander Semin's name because he's one guy who has so much talent, he could easily be the best player in the league, and for whatever reason just doesn't care. When you've got a guy like that you need him to be your best player, or one of your best players, and when he dosen't show up, you almost get the sense that he wants to be back in Russia. That's tough to win when you've got a guy like that who's supposed to be your best player not being your best player. Or one of your best players."
After scoring 28 goals in 65 regular season games for the Capitals last season, Semin scored three goals in the Capitals five-game series with the New York
Rangers
in the opening round, before being limited to just one goal and an assist in the four-game series with Tampa Bay. He had just two assists for the Capitals during the first-round exit in 2009-10, but was also a point-per-game player in the playoffs during his first two postseason appearances in 2008 and 2009.
But the focal point of Bradley's comments were last season, where he was also asked if coach Bruce Boudreau maybe stuck with some of his star players a bit too long.
"There were a lot of guys who played well that didn't probably play as much as they needed to," said Bradley. "But I love Bruce and Bruce is a great coach. He was in a very tough position there because in Washington our top guys are definitely the
Stars
and the guys that people want to see on the ice, so I totally understand. That just doesn't happen on our team, it happens on a lot of teams. When you're paying your top guys a lot of money and those guys carry you through the whole season, and if one of them isn't going, it's very hard not to play them. And I understand that's tough. But I think in the end if you want to win, sometimes you have to sit some of those guys down and maybe send a message and try to get them going."
It wasn't all bad, however, as Bradley said he never worries about Capitals captain
Alex Ovechkin
and insisted that he's "all in" as far as winning. He did add that Ovechkin may need to grow up a little in terms of taking care of himself (
perhaps he was referring to this?
), but that he also simply wants to win hockey games.
You can
listen to the interview in its entirety by clicking here
.
Photo: Getty ImagesFor more hockey news, rumors and analysis, follow @EyeOnHockey and @agretz on Twitter.