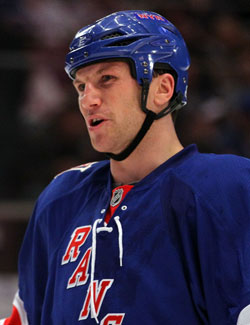 Rangers agitator Sean Avery is going to be safe from criminal chargers after all, according to TMZ.com. It was later confirmed by Rangers Newsday writer Steve Zipay.
Avery was arrested earlier this month and spent the night in jail before posting bail the next morning for battery on a peace officer at his Los Angeles-area home. The officer was responding to a noise complaint at Avery's house and when it was reported that Avery pushed the officer at the door and closed the door. It was also alleged Avery called the offers "fat little pigs" and threatened to fight them.
Instead, after an investigation, it is being determined that nobody was pushed. From the TMZ report:
We're told the officer who made the battery report did so after his foot was caught in Avery's front door -- and multiple witnesses have corroborated the story.

According to sources, police don't believe it's appropriate to charge Avery -- and agree the matter would be best handled by an informal meeting with the L.A. City Attorney, who's expected to officially close the case ... without prosecution.
Zipay added to it with a statement from the Los Angeles D.A. office saying the cops "never presented us with a case ... they closed their investigation."
Because of the initial report, Avery's role with the Rangers was in question for next year. He already figured to have a slightly smaller role, so escaping criminal charges allows him and the team to move on and prepare for the upcoming season.
Photo: Getty Images
For more hockey news, rumors and analysis, follow @EyeOnHockey and @BrianStubitsNHL on Twitter.