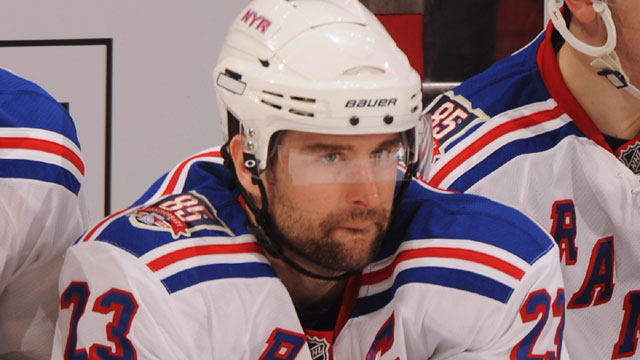 Chris Drury is retiring from hockey. He made the announcement through the NHLPA on Friday morning.
Drury, the Rangers captain, was bought out by New York and didn't find work after that. There had to be concerns about the degenerative condition in his knee that limited him to only 24 games last season and one goal.
Drury's best season came in 2006-07 with the Sabres. That season he scored 37 goals and had 32 assists.
He was also on hand for some of the Avalanche's best seasons, playing his first four years in the NHL in Colorado until 2001-02, winning the Stanley Cup with the Avs in '01. The following year he was traded to Calgary where he had a short stint with the Flames.
Adrian Dater of the Denver Post offers up a fond farewell to one of the key parts to the Avs' Cup run. Here's a taste:
Drury was beloved by Avs fans, even after he left in that ill-advised trade to Calgary in 2002. He was a heart-and-soul guy with a major knack for scoring clutch goals. At one point I remember writing, he had eight game-winning or overtime playoff goals with Colorado.

It hardly seems possible his career is finished. I can still remember the first time he came to Avs camp back in 1998, just a doughy-faced kid not that far removed from being a Little League World Series hero for his town of Trumbull, Conn. I remember his first Burgundy-White game down in Colorado Springs, when he immediately got challenged to a fight by Pascal Trepanier. Drury aced his first rite of passage by standing up for himself – something almost every NHL rookie has to do at some point.
He ended up in Buffalo and had a very strong three seasons with the Sabres. At that point, though, he became a free agent and signed with the Rangers, his hometown team considering his roots stem from Trumbull, Conn. When Jaromir Jagr left the Blueshirts, Drury was bestowed the C on his jersey, making him just the second American-born captain in Rangers history.
NHL writer Andy Strickland says this was a decision Drury knew was coming for some time. "Chris Drury has known he would be retiring for several weeks ... had a great career who delivered when it mattered." Strickland also shot down any notions that Drury had been in discussions with the Maple Leafs at any point about playing in Toronto. "There was speculation several weeks ago that Drury had met with Toronto GM Brian Burke...tis was 100% wrong ... never happened "
Unfortunately, such an injury made the decision somewhat easy for Drury to make -- from a decision standpoint, not emotional.
Because he had two years left on his contract, the Rangers will have Drury hitting the cap over that time. According to capgeek.com that will mean the Rangers will take a $3.72 million hit next season and a $1.67 million hit in 2012-13.
Among the reactions on Twitter came this tweet from Rangers backup goalie Marty Biron: "Congrats to a friend and teammate on a great career. Chris Drury, you'll always be one of the best captain I've had the chance to play with."
Photo: Getty Images
For more hockey news, rumors and analysis, follow @EyeOnHockey and @BrianStubitsNHL on Twitter.