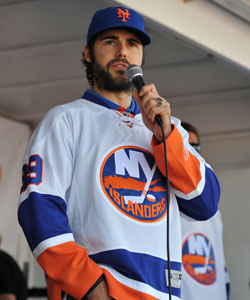 The possibility of the Islanders staying on Long Island, just much closer to the city, is growing.
Katie Strang of Newsday reported on Friday that NHL officials met with Barclays Center developer Bruce Ratner and CEO Brett Yormark. Both men are not only involved with the arena being built in Brooklyn, but are also involved with the New Jersey Nets organization. It's not reported what the discussion concerned, but the logical assumption concerned hockey in Brooklyn and the Islanders.
Perhaps the first place that popped up as a future home of the Islanders after their arena vote on August 1 was met with a resounding no was Brooklyn. Considering there is a state of the art arena that is going up, the fit seemed natural. The Islanders wouldn't have to go but a few miles down the road instead of relocating to Canada or west of the Mississippi.
But the elephant in the room has been the size of the Barclays Center. It will be a great fit for the NBA's Nets, but the number of adequate seats for hockey is an issue.
Here is what Yormark said in an email to Newsday soon after the August 1 vote.
"The Barclays Center will have an ice rink that can support professional hockey. Due to the venue's design, the capacity for hockey would be a few thousand seats less than for basketball. While we hope to explore hockey opportunities in the future, our primary focus at the moment is to build the best sports and entertainment venue in the world."
Specifically, the arena would figure to host a little more than 14,000 for hockey. That would make it easily the smallest venue in the NHL, lower than the MTS Centre in Winnipeg. But that isn't a deal-breaker.
"We have no set seating capacity or requirements established," a league spokesperson told Newsday.
This is pretty much good news any way you slice it unless you are in Quebec City keeping your fingers crossed. I've said all along that after the rejection of the vote, Brooklyn would be the next best alternative to staying in Nassau County. The concerns about the size of the arena for hockey are justified, but I feel could be mitigated with the location of the arena. Demand would likely increase for tickets with the location closer to the city and the prices would certainly rise. All in all, the numbers could come out to around the same or better. That's before you consider the lease situation.
Photo: Getty Images
For more hockey news, rumors and analysis, follow @EyeOnHockey and @BrianStubitsNHL on Twitter.