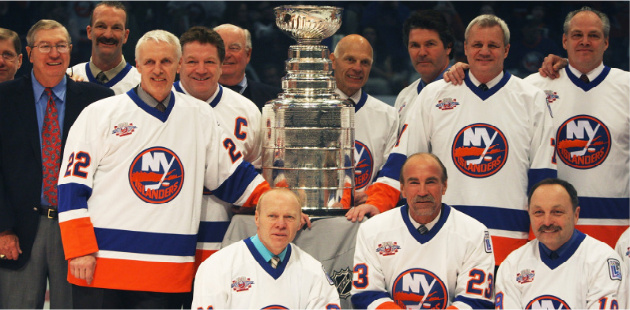 By: Adam Gretz and Brian StubitsEven though they've struggled in recent years, the Edmonton Oilers and New York Islanders were the two most dominant teams in the NHL during the 1980s. Adam Gretz and Brian Stubits debate which one of these franchises with promising young talent returns to glory first.
Adam Gretz:
The Edmonton Oilers and the New York Islanders were the two most dominant teams of the 1980s. How dominant? Between 1980 and 1990 they combined to win nine of the 11 Stanley Cups, with Edmonton winning five (and owning the last half of the decade) and the Islanders winning four (and owning the first half of the decade). Recently the two teams have fallen on some tougher times. Both teams are looking for new buildings, and postseason success has been few and far between, as have actual trips to the postseason. The Islanders haven't won a playoff series since 1993 with only four playoff appearances since then, while Edmonton, outside of its Stanley Cup Final trip in 2005-06, hasn't advanced past the first round since 1998.
I don't think, at this point, either one of these teams are a playoff team right now, but which one do you think returns to glory first? Or is closest?
Brian Stubits:
I'm not convinced the Islanders aren't a playoff team this year. They will be in contention to the end is my guess at this point. I am really liking the nucleus they are putting together. As for Edmonton, I don't see a team that's ready to battle for the playoffs yet. In their rebuilding phases, I think the Isles are ahead of the Oilers, as you would expect considering they had a slight head start in the bad seasons department.
Gretz:
I think the Islanders might be closer (or more likely) to simply earning a playoff spot this season because the Eastern Conference is probably a bit easier for them to potentially sneak in than the Western Conference is for Edmonton. But I still like Edmonton's group of forwards and think, at this point, they have a bit more upside, especially with back-to-back No. 1 overall picks in
Taylor Hall
and Ryan Nugent-Hopkins. Hall looks like he's on his way to being a player, and assuming Nugent-Hopkins becomes the player he's expected to become, that's quite a core. Add in players
Jordan Eberle
,
Magnus Paajarvi
and, heck, even an older (relatively speaking, as he's still only 28) player like
Ales Hemsky
who is close to a point-per-game player when he's healthy (and that always seems to be the key for him) and that's an impressive group. You win with impact players, and Edmonton has quite a few impact players up front.
Stubits:
We
think
they have impact players. Hall and Nugent-Hopkins have a long way to go to get to that level. I agree, it looks like the Oilers are future impact players, but there are no guarantees of that, especially seeing as though Nugent-Hopkins hasn't skated in an NHL game yet. Don't forget the Islanders have been drafting high, including getting the No. 1 spot themselves in recent years.
John Tavares
is showing he too has a bright future ahead of him, leading the team in points last season with 67. The Isles had six players total more than any Oiler, who were led by Jordan Eberle at 43 points. But New York has a trio of 30-goal scorers now (well, 29-plus) in Tavares (29 last season),
Michael Grabner
(34 goals) and
Matt Moulson
(31). Plus, the organization feels like they drafted a winner in Ryan Strome earlier this summer. I know you remember his skills, Adam,
considering this post you put up
. There is impact on the island, too.
Gretz:
Yes, potential impact, that's obviously what I meant. I mean, a lot of this is talking about upside and projection because both teams are dealing with potential and question marks. The one thing I will say is both teams seem to have some concerns on the back end with their defense and goaltending. The Islanders are locked into
Rick DiPietro
for what seems like forever, while the Oilers have
Nikolai Khabibulin
and a bunch of question marks behind him. Devan Dubynk was a first-round pick back in 2004, and had a solid sophomore campaign last season, but no matter which guy is between the pipes, the defense in front of them is going to struggle this year. It needs a serious upgrade.
Again, I don't expect the Oilers to be a playoff team this season (in fact, they'll probably be near the bottom of the conference again, which could lead to another potential impact player in the 2012 draft, which will only help the future -- and yes, eventually you want to stop picking at the top of the draft), but that's not really what I'm looking for here: I'm looking at which team becomes a true contender for the Stanley Cup, not just simply making the playoffs, and I just think their core group of forwards offers a bit more potential and upside and the ability to help turn a franchise around than the Islanders core.
Stubits:
I think you might be underrating the Islanders' organizational depth. In July,
puckprospectus.com proclaimed the Islanders
the second best in talent in the system, highlighting Kiril Kabonov and Matt Donovan in addition to recent draft picks Strome and Scott Mayfield. I understand the concerns in net, but this is a team that has one luxury: it has three goaltenders on the payroll that there's a decent chance one of them can be good enough to play behind an improving and maturing defense.
The team's biggest obstacle right now isn't cultivating talent, it's being appealing to free agents. A team can usually build the core of it's franchise through the draft, but it's the final free-agent and trade pieces that put a team over the top. Until the Isles get their arena situation squared away, that won't happen. Nobody wants to make a commitment to an organization that they don't know its whereabouts in four years. The sooner they can resolve this issue, the better, because I believe they have a very nice foundation at this point to win. As already stated, I think the Islanders will be a borderline playoff team this year, and by following logic they grow from there. It's a very young roster. That's why I like them to get back to that elite level first, they should continue to grow together and I think there are some very talented prospects in there.
Gretz:
Yes, the Islanders certainly have a strong group, and you may be right that I'm underrating what they have, but I guess at the end of the day, for me, it simply comes down to thinking the Oilers players (particularly Hall and Nugent-Hopkins as top overall picks) have a bit more upside, and we've seen with other teams how much of an impact two young players like that can make. Granted, they need the complementary players around them and an upgrade on defense, but I still really like what Edmonton is building up front and the potential they have. Maybe not this year, but soon.
Stubits:
Not that I have any reason to whatsoever, but I feel like Garth Snow has built himself a solid enough core. It's shocking to type that. I guess we'll find out in a couple of years.
Photo: Getty ImagesFor more hockey news, rumors and analysis, follow @EyeOnHockey, @agretz and @brianstubitsNHL on Twitter.