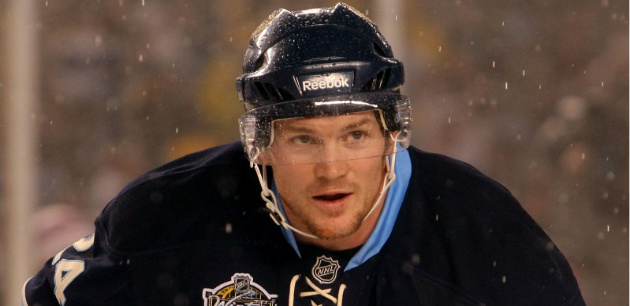 By: Adam Gretz
If you're a fan of one of the 29 NHL teams that Pittsburgh's
Matt Cooke
doesn't play for there is a pretty good chance you dislike the way he plays the game of hockey.
The easiest way to describe his role is as one of the NHL's top agitators. He's paid to get under the skin of opponents and get them off their game playing a physical, in-your-face brand of hockey. Along with that, his style of play, and numerous run-ins with the NHL's disciplinary board, has resulted in him being suspended multiple times over the past couple of seasons, including twice last season.
The second suspension cost him the final 10 games of the regular season and all seven of Pittsburgh's playoff games following a hit on New York's
Ryan McDonagh
. It was a play that not only helped swing the momentum of that game, but also put a dent in the
Penguins
lineup for the remainder of the season.
All of that has added to his reputation, and seemingly made his name synomonus with "dirty" play in the eyes of many fans and observers.
Cooke has promised to change the way he plays the game, as he explained to John Hartstock of the
Altoona Mirror
on Monday night during an appearance at a minor league baseball game in Altoona, Pennsylvania.
From the Mirror
:
"It's a mentality, it's how I'm going to approach the game,'' Cooke said of his plan to clean up his act. "And the team has worked hard in supporting me to accomplish these minor tweaks in my game.''
Cooke tends to be viewed as a player that
needs
to play the game on the edge, which is part of what makes him so effective in his role -- but that doesn't excuse some of the plays he's been involved in, including the aforementioned one on McDonagh. Because they're not neccessary for him to do his job.
Here's the thing about Cooke: all of the controversy that surrounds him on the ice (all of which he has brought on himself, of course) overshadows the fact that he really is good hockey player -- one that 29 other NHL teams would probably love to have patrolling their third line -- that doesn't need to be involved in such nonsense to be a valuable player. He's an excellent penalty killer (one of Pittsburgh's best), and possesses enough offensive ability to chip in between 10 and 15 goals every season.
The other stuff doesn't add to his game, it takes away from it, and cleaning up his act will not only be good for the rest of the league and the Penguins, it will be good for him, too. So let's hope he's not only serious about changing the way he plays, but actually follows through with it.
Photo: Getty Images
For more hockey news, rumors and analysis, follow @EyeOnHockey and @agretz on Twitter.