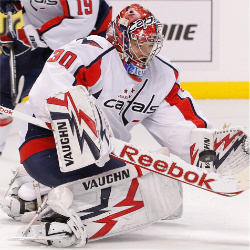 By: Adam Gretz
Not that we know these things before even one game is played during the 2011-12 season, but the Washington
Capitals
addition of free agent goaltender
Tomas Vokoun
on a one-year, $1.5 million contract has the potential to be one of the best deals of the summer.
For the past four years he's been the proverbial big fish in the small pond, quietly going about his business as the best player -- and one of the best goalies in the NHL -- on one of the worst teams in the league. He's finished in the top-10 in save percentage in each of the past five seasons, including four finishes in the top-five, all while usually facing over 32 shots per game.
His addition was just one part of a busy summer of activity for the Capitals, which included the additions of forwards
Joel Ward
and
Troy Brouwer
, defenseman
Roman Hamrlik
, as well as the trade of one of their young goalies,
Semyon Varlamov
, to the Colorado
Avalanche
for a future first-round pick. It's already been assumed that Vokoun will be the Capitals' starting goaltender when the season begins, which means last year's No. 1,
Michal Neuvirth
, will be pushed to backup duty. Still, that's not stopping him from enterinng camp with the intentiions of taking back his starting gig, as he told Tarik El-Bashir of the
Washington Post
on Thursday.
From the Post
:
Coach Bruce Boudreau has said he anticipates that Vokoun will start the season as the Capitals' No. 1 option in net. But Neuvirth said Thursday that he's conceding nothing.

"Tomas might be one of the top three goalies in the league," Neuvirth said. "So it's a big opportunity for me to show I can be as good as this guy or even better. Obviously, I want to play the most games and I still want to be the number one goalie."

Reminded of Boudreau's comments, Neuvirth fired back, "It's still summer. We still have three weeks until training camp. Whatever Bruce is saying, it doesn't bother me. We'll see what happens in training camp. Obviously, Tomas is a great goalie and I respect him."
Neuvirth is certainly right about one thing: it is still summer and, at this point, starting jobs are most certainly still up for grabs, but it's going to be difficult for him to reclaim his No. 1 job this season, if that even matters.
Whether he has the "No. 1" role or not, Neuvirth is still going to get his share of playing time this season (even if it's a decrease from last season), and it's important to keep in mind that he's still only 23 years old and represents the future of the position in Washington (and don't forget, the Capitals still have
Braden Holtby
in the system as well).
If there's a concern for Vokoun at this point it could probably go back to the part about him playing the past four seasons on one of the worst teams in the NHL and not having to deal with the pressures of postseason hockey. Despite playing 12 years in the NHL with the
Predators
and
Panthers
, the 35-year-old Vokoun has appeared in just 11 playoff games. Though, it's also worth pointing out that he's played well in those games -- all with the Predators -- recording a .922 save percentage.
A little competition at this point in his career shouldn't hurt Neuvirth, and there's not a team in the league that is going to worry about having too many good goaltenders that can start for them, especially when they're only taking up
a combined $2.6 million salary cap space
.
Photo: Getty Images
For more hockey news, rumors and analysis, follow @EyeOnHockey and @agretz on Twitter.