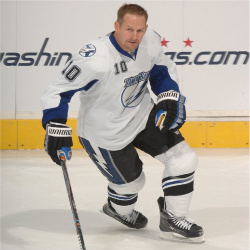 By: Adam Gretz
Even at 45 years of age and two years into his retirement former NHL player Gary Roberts is probably in better physical shape than most of the players that are still active..
He's a health food freak and workout junkie (and whatever other cliche you can think of) and has spent the past couple of years working with young NHL players -- perhaps most famously
Steven Stamkos
of the Tampa Bay
Lightning
-- to whip them into shape and improve their overall conditioning.
A large portion of that program is dietary, and James Mirtle of the Globe and Mail has an excellent piece highlighing the strict -- and limited -- diet Roberts instructs young players to follow.
Writes Mirtle
:
Players are assigned a diet that has no wheat, no sugar, no soy and no processed or packaged foods. Everything must be organic, from deli meats on up, and the 26-item list of what players should eat includes goat's milk, sunflower sprouts, mung beans, salba, chia and hemp.

While their workouts at Mr. Roberts's High Performance Centre gym north of Toronto get most of the outside attention, players find that it's what they eat that's the most important part of the program.

"It's nutrition, then body maintenance – treatment or yoga – and then it's the training. If you don't do the first two, the third one's not going to work out that well," says Mr. Roberts.
In other words: No late-night stops (or any stops) at the drive-thru window. I can honestly say I've never tasted a mung bean, and the only thing I know about them is that Creed Bratton
once mentioned them on an episode of The Office
and described them as, "very nutritious, but they smell like death."
You can check out the
complete menu over at the Globe and Mail
, as well as a couple of sample recipes that Roberts has players like
Brayden Schenn
,
Jeff Skinner
,
James Neal
,
Jordan Staal
and
Cody Hodgson
chowing down on to stay in top physical shape. I have to admit, I think I'm going to try some of them, especailly the shakes, including "Gary Roberts's Molten Chocolate Mousse" and "Steven Stamkos's Mango Mousse."
Photo: Getty Images
For more hockey news, rumors and analysis, follow @cbssportsnhl and @agretz on Twitter.