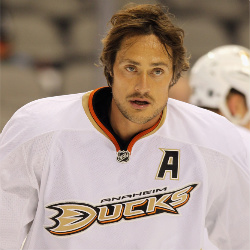 By: Adam Gretz
Teemu Selanne has yet to decide whether or not he's going to return to the Anaheim
Ducks
this season,
saying last weekend that he still wants to test his knee
before making a final decision. If he returns he'll once again be one of the oldest players in the NHL, and be relied on to be a top-scoring threat for a playoff contender in the Western Conference.
Last season, at the age of 40, Selanne was the fourth oldest player in the NHL (trailing only Mark Recchi,
Nicklas Lidstrom
and Mike Modano) and still managed to finish eighth in scoring and points per game. It was not only a fantastic season for any player, regardless of age, it was almost unheard of for a forward age 40-or-olrder.
Going back over every season dating back to 1979-80, there have been 34 cases of a forward playing in the NHL over the age of 40, and none of them came close to matching what Selanne produced for the Ducks last season. As a group, they appeared in an average of just 56 games and managed to score an average of 31 points.
Here's a look at the top-15 scoring seasons for forwards over the age of 40 dating back to 1979-80, a stretch of 31 seasons:
Top Scoring Seasons For 40-Year-Old Forwards Since 1979-80
Player
Age
Year
Games
Goals
Points
Teemu Selanne
40
2010-11
73
31
80
Mark Messier
40
2000-01
82
24
67
Mark Recchi
40
2008-09
80
23
61
Mark Recchi
42
2010-11
81
14
48
Dave Keon
40
1980-81
80
13
47
Adam Oates
44
2002-03
67
9
45
Mark Messier
43
2003-04
76
18
43
Igor Larionov
42
2002-03
74
10
43
Igor Larionov
41
2001-01
70
11
43
Mark Recchi
41
2009-10
81
18
42
Gary Roberts
40
2006-07
69
20
42
Gordie Howe
51
1979-80
80
15
41
Ron Francis
40
2003-04
80
13
40
Mark Messier
42
2002-03
78
18
40
Igor Larionov
40
2000-01
65
9
40
Nobody was even close to Selanne, as he managed to score 13 more points than the No. 2 player on the list, Mark Messier, despite playing in nine fewer games. He's also shown no signs of slowing down in recent years, having his point-per-game number increase in each of the past three seasons.
Mark Recchi's multiple appearances on this list are remarkable as well, especially since his career looked like it was over early in the 2007-08 season at the age of 39 as a member of the Pittsburgh
Penguins
. He was eventually placed on waivers and landed with the Atlanta Thrashers, a move that proved to turn his career around. After turning 40 he missed only four of a possible 246 regular season games, continued to provide some offensive depth for the Boston
Bruins
, and was also a solid contributor in the playoffs as they ended their Stanley Cup drought this past season, recording 14 points in 25 playoff games.
Still, there is perhaps no name more impressive on the above list than the presence of 51-year-old Gordie Howe with the Hartford Whalers back in 1979-80. That was the year the Whalers joined the NHL (Howe had played for the team during its WHA days) and ended up finishing the season as the seventh-leading scorer on the team, and 148th out of the 585 players that played in the NHL that season. Granted, that was during an era where the average NHL game featured seven goals (the average NHL game in 2010-11 had 5.59 goals, for example) so he may not have had that many points at that age in any other era, but again ... 51 years old. The fact he even played a single game is mind blowing.
We already knew Selanne is a special talent, and the only thing standing between him and the Hockey Hall of Fame is his retirement, but what he's done at this age is just another example as to how incredible his career has been.
Photo: Getty Images
For more hockey news, rumors and analysis, follow @EyeOnHockey and @agretz on Twitter.