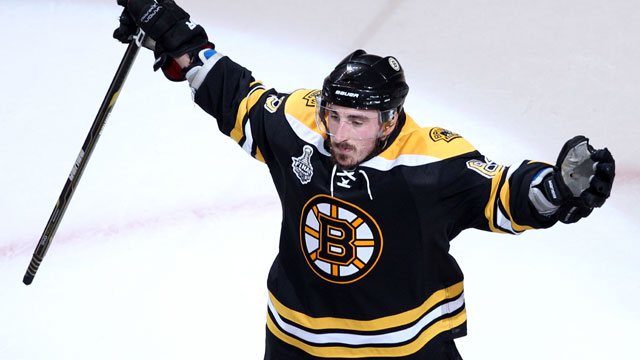 Remember back a few months, when they were actually playing hockey. The breakout star of the playoffs was Brad Marchand for the Bruins. He was second in goals scored for the entire playoffs despite playing in his first postseason, a run that included two goals in the Game 7 win in Vancouver.
But success isn't cheap. That's why Marchand still doesn't have a contract to talk about at this point. Clearly Bruins GM Peter Chiarelli and Marchand's camp can't agree on what kind of money he should receive. There is no doubt both sides want to stay together. The B's have a promising player coming out of his rookie season while Marchand found himself on a championship team and fitting in with Boston.
Therein lies the dilemma. Is Marchand worth big bucks after showing all that he's capable of in the playoffs? That's what his agent has to be saying. Or could it be that he played just a little over his head in the playoffs. He wouldn't be the first to have done that. That has to be the concern for Chiarelli.
Now you have to give the Bruins GM this: he's being very prudent. Boston has the room to sign Marchand to a relatively big contract. Per Cap Geek, the B's still have more than $7 million in cap space available. So you could understand if he conceded to get Marchand back in the fold ASAP. But the goal is to set up a longtime winner and that could be damaged by bad contracts. Not to say signing Marchand to a big deal would be a bad contract, but it could be.
In cases like this, you are always on the lookout for precedents. Thankfully, Flyers GM Paul Holmgren gave a pretty good one last week when he signed James van Riemsdyk to an extension. Philly gave him a six-year deal that carries a $4.25 million annual cap hit.
Comparing the two, JVR has two full NHL seasons under his belt as opposed to one-plus for Marchand. But last season, the players had strikingly similar numbers. In 75 games, Van Riemsdyk had 21 goals and 19 assists. In 77 games, Marchand had 21 goals and 20 assists. They both also stepped up their scoring pace in the playoffs as Van Riemsdyk had seven goals in 11 games while Marchand had 11 tallies and eight assists in 25 games.
So at this point, the two could pass for career twins. So if Chiarelli was looking to keep the figure low, this didn't help. When the sides finally get this worked out, I'd expect to see a deal very similar to Van Riemsdyk's, just for a shorter length.
In the meantime, Marchand can continue to work on the promising rapping career.
Now a look at the other high-profile restricted free agents still sans deals.
Drew Doughty, Kings: This one has been discussed at incredible length this offseason, but we can't ignore it here. The assumption was that the deal coming from Shea Weber's arbitration hearing would lead to a resolution in Los Angeles. Now it wasn't expected that Doughty would receive the same money that Weber would, but something close. It's hard to imagine this getting resolved without Doughty getting north of $5.5 million-plus, and that's on the conservative side.
Luke Schenn, Maple Leafs: The Leafs continue to try and bring Schenn into the fold long-term, hoping he can be a significant piece to their future. The good news for fans in Toronto is that GM Brian Burke remains confident Schenn will be signed before training camp begins, indicating that the sides might not be that far apart. Judging by the fact that Burke has been unwilling to trade Schenn and the Leafs seem to believe he will develop into an elite shutdown defenseman, you are left to assume Schenn will get a decent amount of scratch, probably somewhere around $3 million-$3.5 million annually, along the likes of the Rangers' Marc Staal. But with Burke it's almost impossible to accurately guess.
Zach Bogosian, Jets: Bogosian was billed as a very solid two-way defenseman coming out of the 2008 draft, but so far he hasn't matched that billing. Five goals and 12 assists like a season ago don't exactly scream two-way star. Realistically, he shouldn't expect to get a pay day similar to Schenn, perhaps a comparable player. The only problem in their numbers from last season being very similar, Schenn isn't expected to give a lot on the offensive side while Bogosian is. Of course there's still plenty of time from Bogosian to grow and perhaps become the player scouts envisioned once upon a time. But considering he's still a second-pairing defenseman for Winnipeg, the best guess would be a modest money amount over a shorter length to give more time to evaluate Bogosian's NHL value.
The rest of the RFAs:
Kyle Turris, Coyotes: The third overall draft pick in 2007, he doesn't appear to be near a deal with Phoenix at this point, asking for about $4 million annually over three years per ESPN.com. As you would guess, the Coyotes aren't willing to go near that mark. This one will take some serious concessions, likely on Turris' behalf.
Shawn Matthias, Panthers: The former prized prospect is going to have to swallow the fact the Panthers won't give him a guaranteed, one-way contract. That seems to the hold up in the negotiations here, but the Panthers feel there is too much competition for roster spots to guarantee a guy who hasn't proven he deserves a spot yet.
Josh Bailey, Islanders: He has shown some promise for becoming a decent scorer in the NHL, finding the net 16 times as a 20-year-old two seasons ago. Lighthouse Hockey did a good job of comparing Bailey to Phoenix's Mikkel Boedker and his recent $1.1 million annual contract a few weeks back, concluding Bailey has shown he deserves more than that.
Kyle Cumiskey, Avalanche: The Avs did give him a qualifying offer on the heels of an 18-game season, but that's as far as negotiations have gone. But Adrian Dater at the Denver Post expects the hurdles will be overcome in the next week and Cumiskey will be back for camp.
Photo: Getty Images
For more hockey news, rumors and analysis, follow @EyeOnHockey and @BrianStubitsNHL on Twitter.