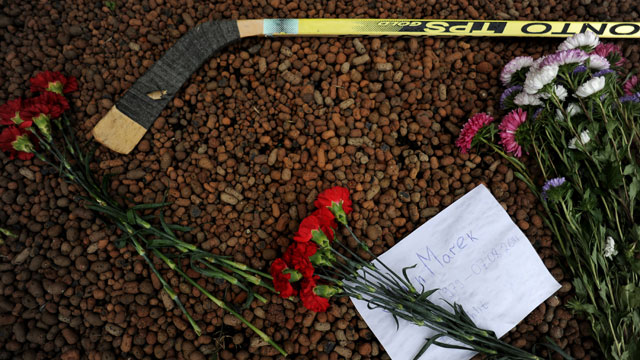 It was an accident half the world away that continues to touch people over here. The plane crash that took the lives of 43 people, including almost all of the KHL's Lokomotiv Yaroslavl team, was one of the worst tragedies to ever hit a sports team.
The reactions from players and personnel across the NHL have poured in. They knew people in the crash personally, feeling the pain even more having lost friends. But then there was this gut-wrenching tale from A Chick's Perspective, a sports blog.
It's a first-hand account from a driver in the Dallas area called on a last-minute pickup for a trip to the airport. Soon enough the driver came to realize the transport wasn't for a hockey player, but for his family. The player? Karlis Skrastins, the former Stars defenseman who died in the plane crash.
Here's an excerpt:
Then it happens. 2 girls, about 2 and 5 come running out the door, completely elated about the trip they are about to go on. Long blonde hair, blue eyes and giant smiles. I nearly burst into tears. My body gets tight. Every second feels like an eternity. The pain inside me is almost unbearable. I don't even know these people and I am on the verge of a breakdown, right in their driveway. Knowing that these girls are utterly oblivious, to the true nature of their trip, is agonizing. I can't help but think of my own children, and what it would be like if they woke up tomorrow and I was gone forever. Devastating!
Read the whole story to capture the true emotion. It will no doubt tug at your heart strings.
NHL.com also put together a tribute video to the former NHL players involved in the crash, including Skrastins.
if you want to stay up to the minute with the tragedy, be sure to follow @dchesnokov and @SlavaMalamud on Twitter.
Photo: Getty Images
For more hockey news, rumors and analysis, follow @EyeOnHockey and @BrianStubitsNHL on Twitter.