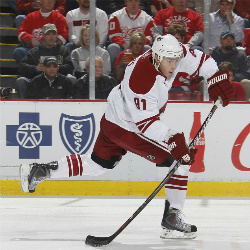 By: Adam Gretz
It's been reported that Phoenix
Coyotes
restricted free agent
Kyle Turris
wants somewhere in the neighborhood of $3 and $4 million dollars on his next contract. If you think that seems a bit excessive for a player that, in parts of three seasons in the NHL, has never recorded more than 25 points and has scored more than 10 goals just once, you're probably not wrong.
And there's a good chance Coyotes general manager Don Maloney agrees with you.
The 22-year-old Turris was not among the players to report for the opening of Coyotes training camp on Friday, and Maloney addressed the topic of his still unsigned restricted free agent.
Said Maloney,
via the Coyotes website
, "This is just so illogical, from our standpoint, the position he's taken. It makes absolutely no sense to me. I have no intention of trading him whatsoever, we still think he's a young developing player. But He's still developing. Once you're a proven 30 or 40-goal, 80-point guy, then yes you can get the brass ring, but until you get there you have to settle. Well, that's what makes America great, he doesn't have to settle, he can stay at home and, you know, watch Oprah."
Maloney also said that Turris believes in himself, which is a strength, and that he feels he can be a top player in this league. He also added that the Coyotes are not a developing team; they're ready to win right now.
The Coyotes selected Turris with the No. 3 overall pick in the 2007 draft, right after
Patrick Kane
and James vanRiemsdyk went to Chicago and Philadelphia respectively, and in 131 regular season games has scored just 19 goals and been credited with 27 assists. Of all the players
that were selected in 2007
, 11 of them have recorded more points in their career to this point, and only two of them (Kane and vanRiemsdyk) will make more than the $3-4 million Turris has reportedly been looking for. Players like
Wayne Simmonds
,
Jakub Voracek
,
Brandon Sutter
and
David Perron
, players that have all been way more productive than Turris to this point, will be making between $1.5 and $2.5 million on their current contracts.
It's one thing for a team to pay for potential when you're talking about a player like
John Tavares
or
Tyler Myers
, or even
Drew Doughty
, who remains unsigned in Los Angeles. With those players you're dealing with a person that has proven he can be a franchise player and should continue to grow into one of the top players in the league. You might "overpay" a bit in the short-term, but in the long-term it could prove to be a steal. With a player like Turris there's really no reason to believe that sort of development will take place as he's yet to prove that he's capable of being that type of player.
Maloney finished by saying that it's not a matter of the Coyotes not wanting to pay, but that the player has to show he can produce.
"You look at
Keith Yandle
, who had a terrific year, and we signed him to a lucrative contract. So it's not about not paying, but you have to perform before you get paid."
All salary figures via CapGeekPhoto: Getty Images
For more hockey news, rumors and analysis, follow @EyeOnHockey and @agretz on Twitter.