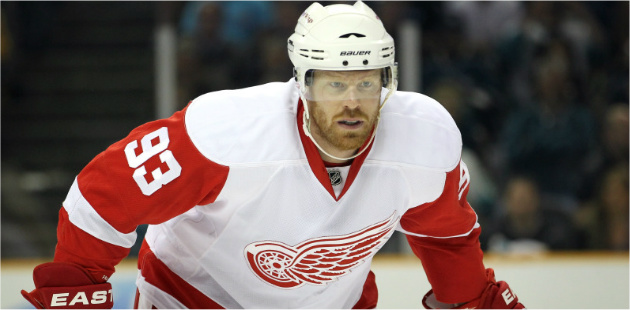 By: Adam Gretz
On Feb. 2 of last season Detroit
Red Wings
forward
Johan Franzen
had a career night scoring five goals during 7-5 win against the Ottawa
Senators
.
Unfortunately for Franzen and the Wings, he would score just two more goals over the final 27 games of the regular season, a goal-scoring drought that is rather unheard of for a player that's established himself as one of the NHL's best power forwards. Even with the slow finish to the season he was still Detroit's leading goal-scorer with 28 goals, two more than Dan Cleary, who finished with 26.
Still, the veteran forward has been facing questions about his slump that also carried over to the playoffs, the time of year Franzen has typically dominated throughout his career, where he recorded just three points in eight postseason games as the Wings were eliminated in the second round of the playoffs by the San Jose
Sharks
in seven games.
Ted Kulfan of the
Detroit News
wrote about Franzen's season-ending slump, as well as his hopes for bouncing back in 2011, following an intra-squad scrimmage this week where Franzen scored a pair of goals.
From Kulfan
:
"I hate these questions," Franzen said. "I didn't even know I had that (deep of a slump)."

The Red Wings don't know the answers either; they just hope Monday intra-squad scrimmage was the first step to a bounce-back season.
The two goals in 27 games was the worst stretch of Franzen's career since his rookie season in 2005 when he scored 12 goals in 80 games -- the only time in his career he's played 80 games in a single season -- and was playing just over 12 minutes per game.
In the years since he's been one of Detroit's most consistent -- and productive -- goal-scorers when he's been in the lineup. Over the past four seasons Franzen has had just one 27-game stretch (the season-ending one last season), which is basically one-third of the season, where he scored fewer than six goals. Six times he's scored at least 10 goals over such a stretch. If you go back to the start of the 2007-08 season and break each season down to 27-game segments here's how many goals he's tallied over each stretch, in order: 6, 6, 15, 14, 12, 8, 10, 13, 13, 2.
The last one, of course, is the one that's getting the attention this preseason, and it seems to be the obvious outlier of the group.
When a player like Franzen goes through such a slump it's obviously big news because you're not used to seeing it happen, which also makes it easier for it get overblown. If he can stay healthy, which is always the No. 1 question regarding Franzen, it should be a safe bet to pencil him for another season near the 30-goal mark. Or above it.
Photo: Getty Images
For more hockey news, rumors and analysis, follow @EyeOnHockey and @agretz on Twitter.