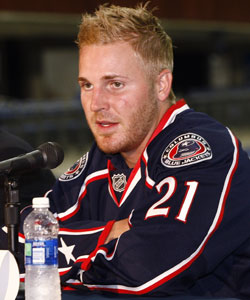 We see it over and over again in sports. Player has a career year, player gets a fat new contract with new team, said player fails to live up to the new deal.
After an offseason of numerous exorbitant contracts, this description will likely apply to plenty of players this upcoming year. That includes the guy who received the biggest bounty on the first day of free agency, James Wisniewski.
Signed by the Columbus Blue Jackets for a robust six-year, $33 million, Wisniewski is the second-highest paid player on an annual basis on a team that includes Rick Nash and Jeff Carter. That's a lot of coin for a player who has one season on his resume worthy of such. In his defense it was last season, so he picked a good time for his best season.
But surely you can see the red flags here. Wisniewski would appear to be a prime target for a step-back season. Now it's possible that last season was the Wiz actually stepping into his prime, after all he is 27 years old now, the magical age in all sports. But when a guy scores 21 more points in a season higher than his previous career high, it is only fair to wonder if it can be repeated. Such a jump indicates likelihood to regress to the mean a little bit.
Throw in the fact that Wisniewski is coming to a new environment, joining players he has never played with before and in an organization that has not had much success to talk about and you have the making for much quieter year.
What could help Wisniewski replicate his 51 points from a season ago with the Canadiens would be getting a lot of ice time, especially on the power play, with Rick Nash and Jeff Carter. Depending on how quickly they jell up front could impact Wisniewski's play and numbers. He'll certainly share the ice with the two high- scoring forwards a bit, but the more (probably) the better.
Now is as good a time as any to explain the rationale here, because it always gets misunderstood. This is no way to say that Wisniewski or any of the other players below will have bad years. That isn't the object one bit. It's simply players who might see a regression. Think of it this way: If a player is great and he regresses, he can still be very good. That fit Alexander Ovechkin last season, despite still being one of the best players in the league, it can't be argued he didn't have as strong a season last year. Now, on to the ...
Step-back candidates
Michael Grabner/Taylor Hall/Logan Couture/Jeff Skinner/Tyler Seguin/Brad Marchand: We're just throwing all of last season's top rookies into one category and labeling this one the "sophomore slump" group. Chances are one of them won't continue to blossom or match their rookie outputs. If I had to pick one, it would be Grabner of the Islanders.

Teemu Selanne, Ducks: The guy is a wonder, recording more than a point per game last season with the Ducks at 40 years old. But his offseason knee surgery and subsequent wait to see if he'd be ready to go (and advanced age) would seem to indicate a player who doesn't seem likely to keep up his pace. Just playing the odds on this one. Then again, we are talking about Selanne here.

Danny Briere, Flyers: Somebody is likely going to suffer a setback in Philadelphia with the absence of Jeff Carter and Mike Richards, and Briere would be my best guess. He posted 34 goals and 34 assists last season, his highest point total in since 2007-08 and he's no spring chicken any more as he will turn 34 years old on the Flyers' opening day.

Christian Ehrhoff, Sabres: He is coming off a season where he posted 14 goals and 36 assists along with a plus-19. That in and of itself is tough to repeat. My colleague Adam Gretz wrote about the prospect of replacing Ehrhoff in Vancouver, noting that he was a bit protected. Now he will still be surrounded by a very good team in Buffalo, but it's looking like he will be paired with Jordan Leopold, the second defensive pairing behind Tyler Myers and Robyn Regehr. It's going to be very tough to replicate his excellent last two seasons.

Michal Neuvirth, Capitals: This is the gamble the Caps are taking by bringing in Tomas Vokoun. Neuvirth was very solid last season, posting a 27-12-4 record with a 2.45 GAA and .914 save percentage. They are risking him taking a step back in his growth as a player by relegating him to backup minutes, not to mention the possibility of a hit to the psyche of bringing in another goaltender and naming him the starter soon after the acquisition.

Sean Bergenheim, Panthers: He had the best season of his career with the Lightning a season ago, scoring 14 goals and 15 assists through 80 regular-season games. Where he drew plenty of attention for himself, though, was in the playoffs when he had nine goals for the Bolts. Coming up with the Islanders there had been plenty of hope and potential for Bergenheim, so perhaps he's just starting to break out. I'm expecting a point total in the low 20s, like his numbers in the days on the Island.
NHL season preview schedule
Wed., Sept. 21: Step-back players
Tues., Sept. 27: Atlantic Division
Thur., Sept. 22: Breakout players
Wed., Sept. 28: Central Division
Fri., Sept. 23: Southeast Division
Thur. Sept. 29: Northeast Division
Mon., Sept. 26: Pacific Division
Fri., Sept. 30: Northwest Division
Photo: Getty Images
For more hockey news, rumors and analysis, follow @EyeOnHockey and @BrianStubitsNHL on Twitter.