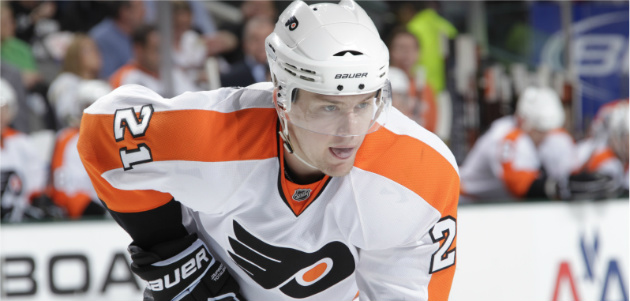 By: Adam Gretz
There are plenty of new faces in the Philadelphia
Flyers
locker room this season, and they are going to have the difficult task of replacing the offensive production that belonged to several of last season's top-scorers that are no longer with the team, including
Mike Richards
(traded),
Jeff Carter
(traded) and
Ville Leino
(free agency). Players like
Danny Briere
and
Claude Giroux
are still there to help lead the charge, and big things are expected from 2007 No. 2 overall pick
James van Riemsdyk
.
The 22-year-old van Riemsdyk is entering his third season in the league and signed a brand new six-year, $26.5 million contract extension earlier this summer, coming off a 21-goal, 19-assist season for the Flyers in 2010-11. Solid numbers for a second-year pro, but it was during the playoffs where he really started to excel. Considering the expensive new deal he signed a couple of months ago, it's pretty obvious the Flyers expect him to continue his development and become a top player in a suddenly re-tooled Flyers lineup. And it's something he should be able to do.
Van Riemsdyk's breakout started during last year's playoffs when he played top-line minutes against Buffalo and Boston, typically against their best players, and finished tied for the team lead in playoff goals with seven. Along with the goals he was arguably the Flyers' best overall forward in the playoffs, making an impact every time he stepped on the ice, even with star players like Richards and Carter still on the roster.
That should continue to be the case in 2011.
He's going to be asked to take on a larger role for the Flyers this season, and as he showed in last year's playoffs, when the game becomes a little faster and goals a little harder to come by, he is more than capable of handling that assignment. Thirty-or-more goals shouldn't be out of the question.
Four more players, in no particular order, that could be on the verge of a breakout season…

T.J. Oshie, Blues
A former first-round pick by the Blues in 2005, Oshie has had his ups and downs in St. Louis, including a suspension last season following an unexcused absence. He's reportedly
shown up to Blues camp in top shape
and has apparently dedicated himself to becoming more of a pro. Talent has never been an issue for the 24-year-old Oshie, and now that he appears to be in great shape and committed to becoming a top player, a breakout season could be right around the corner.

P.K. Subban, Canadiens
With
Andrei Markov
's status for the start of the season up in the air due to a setback in his recovery from a knee injury, as well as the departure of
Roman Hamrlik
and
James Wisniewski
, Subban could quickly become the top offensive option for the Canadiens along the blue line. And the flashy 22-year-old definitely has the tools to make a huge impact. He's kind of a polarizing player at this point in his career -- among both fans and players -- and seems to have that "love him or hate him" attraction, but there's no denying the ability and upside. As a rookie he scored 14 goals to go with 24 assists, which is impressive enough, but he's capable of doing even more damage to opponents.

Colin Wilson, Predators
There is perhaps no team in the NHL that relies on its farm system more than the Nashville Predators. This year's team has a couple of interesting youngsters including Nashville native
Blake Geoffrion
, who scored six goals in 20 gameas last year, and
Craig Smith
, a fourth-round pick in 2009 that had a sensational summer at the World Championships and the recent prospects tournament. There's also former first-round pick Colin Wilson who has a ton of talent but has yet to fully realize it at the NHL level. Entering the final year of his entry level contract, this could be the season the 21-year-old forward becomes the player the Predators anticipated when they selected him at the top of the 2008 draft.

John Carlson, Capitals
Like Subban, Carlson is coming off an excellent rookie season with the Capitals and has All-Star level potential. He already has experience playing top-pairing minutes -- he also saw time in every situation, including the power play and the penalty kill as a rookie -- and is loaded with offensive ability. One of the top young defensemen in the NHL and figures to be a core player for one of the best teams in the NHL.
NHL season preview schedule
Wed., Sept. 21: Step-back players
Tues., Sept. 27: Atlantic Division
Thur., Sept. 22: Breakout players
Wed., Sept. 28: Central Division
Fri., Sept. 23: Southeast Division
Thur. Sept. 29: Northeast Division
Mon., Sept. 26: Pacific Division
Fri., Sept. 30: Northwest Division
Photo: Getty Images
For more hockey news, rumors and analysis, follow @EyeOnHockey and @agretz on Twitter.