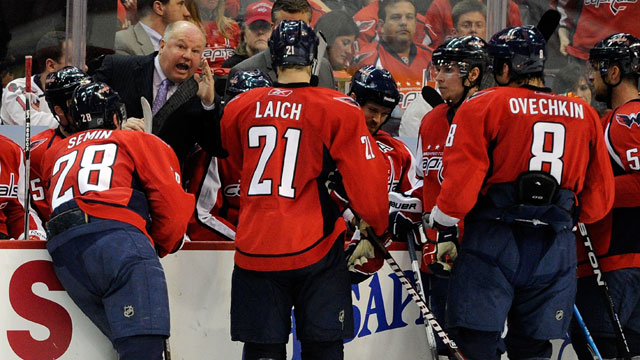 The days of the South-least Division are slowly fading away.
For the last half decade, the Southeast Division has been the Washington Capitals' playground with four teams chasing. Of course the Caps have been very good through that time, but fattening up on their division "rivals" undoubtedly helped them to four straight division championships.
Just take the 2009-10 season as an example. That year the Capitals had 18 more points than the next closest team in the East while no other team in the division finished even in the top nine of the conference standings. That's especially amazing when you consider there are only 15 teams in the East.
They stil finished atop the East despite a transformation. Head coach Bruce Boudreau changed the way the team plays, trying to lock down on defense. As a result, the league's highest-scoring team the past few years dipped all the way to 19th in scoring. Alex Ovechkin had a very good season by almost anybody's standards. Just not his own.
The trick for Boudreau is to find that happy medium. They showed defense is something they can and in the past they showed they can score. Now they need to show they can do both. If they don't, especially early, Boudreau will hear the calls for his firing. The most successful regular-season team hasn't done enough after it to satisfy the increasingly antsy and demanding fan base.
But the somewhat surprising emergence of the Lightning last year has beefed up the division's rep. Tampa Bay figured to be on its way back up the NHL ladder, but the boom that came out of last season seemed to be ahead of schedule. Now the division has two of the game's elite scorers in Steven Stamkos and Ovechkin. With the Bolts unceremoniously sweeping the Caps in the playoffs last year, we just might have the beginning of an actual division rival for Washington.
The division also features something new: the most amped up fan base in the league, at least for one season. The Winnipeg Jets are still stuck playing in a division that will have them being true fish out of water. To say the Jets will suffer from jet-lag isn't just a fun pun but a reality they face. With that said, what was one of the easiest road trips in the NHL just became one of the toughest, especially for the teams in the Southeast that should look into taking the Concord to Manitoba.
Southeast Division (in order of predicted finish)

Washington Capitals: The Caps have become one of the league's elite teams and have done a pretty remarkable job of keeping their core together. Well this offseason owner Ted Leonsis and crew decided it was time to shake up the roster a touch to try and find the missing recipe to move Washington deeper into the playoffs. Enter Joel Ward, Troy Brouwer and Tomas Vokoun among others. I don't think there was a bigger offseason addition in this division than the Caps getting Vokoun, especially when you factor in the salary he'll be getting. Vokoun's talents have been hidden in Florida in the past four seasons, but he's an excellent goaltender but he is (or at least was) prone to prolonged slumps. As for Ward and Brouwer, they considerably beef up the Caps' toughness up front along the boards who are very capable two-way players.
Strengths: They have shown they can do every facet of the game well. It is a challenge to find a more talented team in hockey, including on the blue line. That's not something you could say in the past, but John Carlson and Karl Alzner complement each other well enough to make one of the best young defenseman duos in the NHL.
Weaknesses: It is tough to pinpoint any with this team, it is very well-rounded. It will be interesting to see how they handle expectations and increased heat when they hit some rough patches. Also, from an organizational standpoint the team has very little room to maneuver under the salary cap. That could be worth monitoring if/when GM George McPhee decided to tweak the roster.

Tampa Bay Lightning: Everything came together for a great run to a seven-game series in the Eastern Conference finals last season under new coach Guy Boucher. He brought in the ol' 1-3-1 system that seemed to be a magic trick for the Bolts. Now the question becomes can they repeat or was last year lightning in a bottle (that pun really was not intended)? One thing strongly in their favor is that the return almost the entire roster intact from last season. They did lose a couple of players such as Simon Gagne, but not much in the way of being unable to repair. one player who is back is Eric Brewer, and he'll be better for having spent camp and beginning the season in Tampa Bay. It will be interesting to see how this team fares with expectations on their shoulders.
Strengths: They roll out two excellent lines at the top. The Ryan Malone-Stamkos-Martin St. Louis line is one of the best in the game and the second group of Nate Thompson-Vincent Lecavalier-Teddy Purcell isn't too shabby, especially if Purcell continues his growth. They also had excellent special teams last year, ranking in the top 8 of both power play (it helps to have Stamkos, who scores 17 on the PP last year) and penalty kill a season ago. I also love the man on their bench as Boucher is a star in the making among coaches.
Weaknesses: I am still not in love with the goaltending situation. Dwayne Roloson was very good after being picked up by GM Steve Yzerman (he would qualify as another strength), but he just doesn't inspire a lot of confidence in me to keep it up. The addition of Mathieu Garon to back him up is a good one, though. Moreover, consistency might be an issue, especially for Stamkos. He really slowed down last season, failing to score 50 goals when he appeared to be on his way to 60 midseason.

Carolina Hurricanes: If the playoffs were a night club, the Hurricanes have been the guy standing at the front of the line until the bouncer says they're full. Every year it seems they are squarely on the playoff bubble, including last season when it came down to Game 82, which was a sound defeat. This season figures to be more of the same for the 'Canes as they might just be the next-best thing to a playoff team the East has to offer. They had a very pleasant surprise in Calder Trophy winner Jeff Skinner last season and captain Eric Staal is still leading the show. Gone, though, is another Carolina long-timer in Erik Cole (now in Montreal). One thing you have to love about this franchise, though, is its consistency. GM Jim Rutherford has been there ever since they became the Hurricanes (and before). It seems like their best players don't leave the organization, either. Hopefully for them the consistency in their finishes doesn't stay the same, but instead they crack the postseason. But in a beefed up East, that will be tougher said than done.
Strengths: They have an excellent captain in Staal, both from a leadership standpoint and player quality. They also boast one of the better goalies in the league in Cam Ward, an All-Star last season. And there's that whole consitency thing they have going on, often helps in the old chemistry department.
Weaknesses: There is not much depth to talk about in Carolina. After Stall, Skinner, Jussi Jokinen and Tuomo Ruutu, they aren't likely going to find a whole lot of scoring. They also don't posses a ton of size among the forwards, hence the reason they brought in Anthony Stewert and Alex Ponikarovsky this offseason to help. There just doesn't seem to be enough to crack the postseason, but Rutherford admits to this being somewhat of a "rebuilding" phase. That's a pretty competitive team for one that's rebuilding.

Florida Panthers: The Panthers were incredibly active in the free-agent market in July, adding a slew of veterans to hold the tide while the youngsters develop. Undoubtedly the Panthers are better than they were last season, but how much better? They did lose arguably their best player in Vokoun and are replacing him with the combination of Jose Theodore and Scott Clemmensen, not exactly an exciting development. But it can't be denied that the Panthers now at least have NHL-quality players across their lines (and defensive pairings, led by Brian Campbell and Ed Jovanovski), but they still aren't high-quality players, not guys that you figure can get them into the playoffs, finally. The trick in Florida is not doing anything now to hinder the future, which is very bright as the system is loaded.
Strengths: I do like the defensive corps they are putting together, especially if 2010 No. 3 overall draft pick Erik Gudbranson makes the team as expected. It's very hard to say at this point with so many new faces coming together what kind of strenghts we're looking at, it's tough to predict how they will play together. But we do know something that isn't likely be a strength this year ...
Weaknesses: The aforementioned goaltender position. With Vokoun gone, the Panthers are relying on the combination of Jose Theodore and Scott Clemmensen. Now, both do have experience, Theodore more so than the Clemmer, but in no way do they make up for what Vokoun, Florida's best player in recent seasons, took with him. You also have to wonder about chemistry issues with this team having brought in so many new faces. We'll put new coach Kevin Dineen as an "unknown."

Winnipeg Jets: The virtue of such a home-ice advantage will likely make the Jets a little better than the Thrashers were last season, but not enough. Thankfully for them the new home crowd in Winnipeg will just be jacked to have hockey back. They will need to take advantage of the home crowd, especially with a stretch of 10 home games in 11 contests that stretches from the end of November through December. But they will need to find scoring punch, especially from the forward group. They have excellent point producers among the defensemen in Dustin Byfuglien and Tobias Enstrom, but Ladd needs more help. Hopefully, that's where Evander Kane will fit in. In his third year since being drafted in the first round (all of his time spent at the NHL level) this could be the year he steps up his game and becomes a franchise fixture. He is already a popular figure partly by virtue of his Twitter account and the way he has taken to Winnipeg.
Strengths: They were above average on the power play last season, finishing 12th in the league thanks to Byfuglien and Enstrom. Thrown in the potential of Zach Bogosian as an offensive weapon and that's a lunch of firepower coming back the blue line. I like Ondrej Pavelec in net if he can get a little better support from his teammates. I will put one more in this category, and that's the patience of the front office. They have a lot of first-round talent on the roster and they don't seem willing to abandon the long-term plan for a quick fix to appease the riled up fans.
Weaknesses: The forwards need to show more. Outside of Ladd, nobody up front cracked the 20-goal barrier last season in Atlanta. They need to find a way to tighten down defensively after giving up the second-most goals per game in hockey last year at 3.20. The forwards doing a better job of creating scoring chances and possessing the puck will certainly contribute. The penalty kill was almost equally bad last year, clocking in at 27th in the NHL. Like the Panthers, we'll put new coach Claude Noel as an "unknown."
NHL season preview schedule
Wed., Sept. 21: Step-back players
Tues., Sept. 27: Atlantic Division
Thur., Sept. 22: Breakout players
Wed., Sept. 28: Central Division
Fri., Sept. 23: Southeast Division
Thur. Sept. 29: Northeast Division
Mon., Sept. 26: Pacific Division
Fri., Sept. 30: Northwest Division
Photo: Getty Images
For more hockey news, rumors and analysis, follow @EyeOnHockey and @BrianStubitsNHL on Twitter.