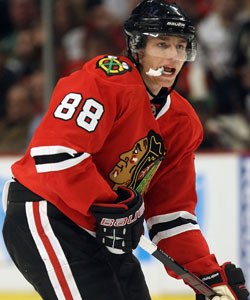 If the Blackhawks have any hole on their roster as it's currently constructed, it would be at the center position. Coach Joel Quenneville would like to have more depth in the circle, especially since Marcus Kruger isn't completely impressing the staff.
So it isn't surprising that the team is looking from within to find an understudy. But it is a slight surprise that Patrick Kane is in the discussion. The star wingman has shown enough to get a tryout at center in the coming days. Tracey Myers of CSN Chicago had the quotes from Quenneville.
"He's been playing center throughout scrimmages and practices now and we'll see," Quenneville said.
"Defensively he's gotten better as he's grown in that position with us, down low on the walls. It's something we're going to at least take a look at."
As Myers points out, how about Michael Frolik? He's been a wing man since coming into the NHL but he has potential in the faceoff dot. And by trying him out you aren't disrupting the rhythm Kane has built with Jonathan Toews on the top line.
Even if he is the best of the rest for the Blackhawks at center, I would think he's too valuable to the team in his current position to move. Sure, he could be a fill-in, but I can't imagine the team is giving serious consideration into Kane being one of the four centers. No way would they move him to the another line just to fill the position.
Much more likely scenarios if Kruger doesn't convince them he can handle the center spot include shifting the aforementioned Frolik or maybe Jamal Mayers to the position. Or they could look to fill the void from within the system or even on the scrap heap that is remaining free agents -- John Madden is available for a return to Chicago.
As for Kane's feelings on the possibility, all Quenneville would say is that Kane is "not complaining."
Photo: Getty Images
For more hockey news, rumors and analysis, follow @EyeOnHockey and @BrianStubitsNHL on Twitter.