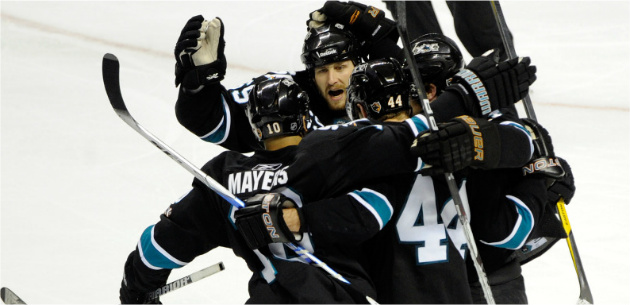 By: Adam Gretz
The San Jose
Sharks
have comfortably controlled the Pacific Division the past four seasons, winning it each year by an average margin of about 11 points.
Regular season success hasn't been much of an issue for the Sharks, reaching the 100-point mark six of the past seven seasons. The issue has always been whether or not they can avoid what seemed to be an annual early exit from the playoffs. They've done some work to help break their negative postseason reputation the past two years, reaching the conference finals each year before ultimately losing to Chicago and Vancouver respectively.
Will this be the year they finally break through and win the Conference? Will they be able to continue their dominance within the division, or did their four divisional rivals do enough to catch up this summer?
The Pacific was the only division in the NHL last season to produce four playoff teams, as Anaheim, Phoenix and Los Angeles joined the Sharks in the postseason. The
Ducks
boast the NHL's reigning MVP in
Corey Perry
, while the Los Angeles
Kings
made what was perhaps the biggest addition in the Western Conference by acquiring
Mike Richards
in an offseason blockbuster trade with the Philadelphia
Flyers
.
Pacific Division (In order of predicted finish)

San Jose Sharks:
The Sharks avoided disaster in the second round of the playoffs last season by escaping with a Game 7 win over the Detroit
Red Wings
after watching a 3-0 series lead slip away, advancing to the Conference Finals for the second year in a row where they lost to the
Canucks
in five games. General manager Doug Wilson made a few significant changes to his roster this summer by sacrificing a bit of offense (
Devin Setoguchi
) to get a defensive upgrade in
Brent Burns
, while also sending
Dany Heatley
, a player that is coming his worst goal-scoring season since his rookie year, to Minnesota for
Martin Havlat
.
Strengths:
Even after trading Dany Heatley and Devin Setoguchi the Sharks still have two outstanding lines with
Joe Thornton
,
Patrick Marleau
, Martin Havlat,
Joe Pavelski
and
Logan Couture
. Boyle, Burns, Marc Eduard Vlasic and
Douglas Murray
is a strong top-four on the blue line that combines offensive ability (Boyle and Burns) and strong defensive play (
Marc-Edouard Vlasic
and Douglas Murray, who also happens to be one of the biggest hitters in the league). They have an outstanding power play that should still be a force even with the loss of Heatley and his 11 power play goals from a year ago. Burns (eight power play goals a year ago) gives them another weapon on the point to go along with Boyle.
Weaknesses:
The third and fourth lines aren't great, and the injury questions surrounding goaltenders
Antti Niemi
and
Antero Niittymaki
should be a concern early in the season, but should go away once Niemi returns to the lineup, and may be as early as the season opener. Penalty kill was a major problem last season -- can the addition of
Michal Handzus
make a difference?

Los Angeles Kings:
The Kings haven't advanced beyond the first round of the Western Conference playoffs in over a decade, and have only won one playoff series since reaching the Stanley Cup Finals all the way back in 1993. This roster, on paper, looks to be their best chance for postseason success -- assuming they finally work out something with unsigned defenseman
Drew Doughty
. For years we've been waiting for the Kings to make a big move given their tradable assets and cap space, and they finally pulled off the blockbuster trade this summer by acquiring Mike Richards from the Philadelphia Flyers.
Strengths:
If you believe championship teams are built down the middle, then the Los Angeles Kings should have a great foundation. Already having
Anze Kopitar
on the roster, the Kings added Richards, one of the best two-way centers in the NHL, back in June in exchange for
Wayne Simmonds
,
Brayden Schenn
and a draft pick. Combine those two with
Jarret Stoll
, and the Kings top-three centers should be able to match up with just about any team in the Western Conference. Thanks to steady stay-at-home defensemen like
Rob Scuderi
and
Willie Mitchell
the Kings had one of the top penalty killing units in the league last season.
On the wings
Dustin Penner
,
Dustin Brown
,
Justin Williams
and
Simon Gagne
help create what should be an improved offense over the one that finished 25th in goals scored last season.
Weaknesses:
As of this moment the biggest weakness for the Kings might be the fact that their best defenseman, Drew Doughty, remains unsigned as a restricted free agent, and with each passing day we're one day closer to him missing games that actually count in the standings. The power play needs to improve, finishing just 21st in the NHL last season.

Anaheim Ducks:
Without looking it up, do you know which player led all NHL defensemen in scoring last season?
Nicklas Lidstrom
?
Shea Weber
? Maybe
Dan Boyle
? Try again. It was Anaheim's
Lubomir Visnovsky
, giving the Ducks the NHL's top-scoring defenseman as well as the leading goal-scorer (Corey Perry, the only player to hit the 50-goal mark).
Strengths:
Corey Perry.
Ryan Getzlaf
.
Bobby Ryan
.
Teemu Selanne
. Those four players combined for nearly 60 percent of Anaheim's goals in 2010-11, and that was with one of them, Getzlaf, missing 15 games. Perry, who finished as the NHL's leading goal-scorer and won his first MVP award, probably isn't going to score 50 goals again, and Selanne is a year older (but still productive) but this is still an excellent quartet of forwards.
Weaknesses:
Which forwards after the four mentioned above can provide offense?
Jonas Hiller
is an excellent goaltender when he's in the lineup, but how much will his battle with vertigo impact him this season? If he has to miss any extended time the options behind him (
Dan Ellis
is currently the backup) aren't really all that promising.
The defense can certainly provide some offense with Lubomir Visnovsky, who is coming off a career year with 68 points, and
Cam Fowler
having a very promising rookie season -- from an offensive perspective -- with 10 goals and 30 assists, but questions remain as to how good they can be in their own zone.

Dallas Stars:
There are disappointing ways to finish a season, and then there's what the Dallas Stars did to close out the 2010-11 season, losing nine of their final 14 games to miss the playoffs -- the only team in the division to do so -- by just one point. All they had to do on the final day of the regular season was beat the Minnesota
Wild
, a team that had completely gone in the tank and won just seven of its final 22 games. The Stars lost, 5-3, allowing the Chicago
Blackhawks
to clinch the No. 8 spot.
Strengths:
Some very good forwards with players like Louii Eriksson and
Jamie Benn
leading the way, and Mike Ribiero still gives them a No. 1 center in the absence of
Brad Richards
who signed a huge deal with the New York
Rangers
in free agency. Based on his play after coming over in a mid-season trade with the Pittsburgh
Penguins
,
Alex Goligoski
looks like he could be on the verge of a breakout season.
Weaknesses:
Losing Brad Richards to free agency is a big blow, even with Mike Ribiero -- who trailed Richards by just six points last season -- still on the roster. No disrespect to
Steve Ott
, who is a fine all-around player, but a 1-2 punch of Richards and Ribiero down the middle is more dangerous than Ribiero-Ott from an offensive perspective.
Mediocre special teams a year ago with the Power Play finishing middle of the pack and the penalty kill in the bottom seven.

Phoenix Coyotes:
Yes, the Coyotes are still here, and yes, they're looking to make the playoffs for a third consecutive season after having been eliminated by Detroit in each of the past two seasons. They locked up one of their most important players to a long-term contract extension by signing
Keith Yandle
to a five-year deal this summer, but also said goodbye to another key player in goaltender
Ilya Bryzgalov
.
Strengths:
Dave Tippett has done a masterful job the past two seasons with the Coyotes taking a team in a financial mess with little star power to speak of and helping to get them to the playoffs each year with a disciplined, defensive style that the players have bought in to. Keith Yandle is one of the best up-and-coming defenseman in the NHL,
Weaknesses:
Replacing Bryzgalov with
Mike Smith
and
Jason LaBarbera
seems like a significant drop in talent. The one thing Phoenix does have going for it here is that it has a tight defensive system and some excellent two-way players, while Smith has past experience playing in Tippett's system. Still, will that be enough to overcome the loss of Bryzgalov? The Coyotes don't have a true big-time goal-scorer on the roster, but did manage to have 11 different players score at least 10 goals last season. Three of those players (
Lee Stempniak
,
Eric Belanger
and
Scottie Upshall
) are gone, and another,
Kyle Turris
, is holding out with some absurd contract demands.
NHL season preview schedule
Wed., Sept. 21: Step-back players
Tues., Sept. 27: Atlantic Division
Thur., Sept. 22: Breakout players
Wed., Sept. 28: Central Division
Fri., Sept. 23: Southeast Division
Thur. Sept. 29: Northeast Division
Mon., Sept. 26: Pacific Division
Fri., Sept. 30: Northwest Division
Photo: Getty Images
For more hockey news, rumors and analysis, follow @EyeOnHockey and @agretz on Twitter.