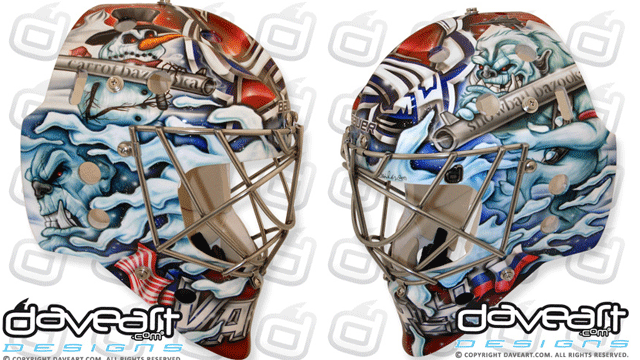 So I thought we had seen all of the cool goalie masks for this season considering it is just over a week from beginning for real. Well I thought wrong.
Check out (In Goal Magazine) new Colorado Avalanche goaltender Semyon Varlamov's mask. I take back calling anybody else's mask the coolest, this one is my favorite for this year, hands down.
In Varly's new cage, there is a battle going on. In one corner, hailing from Russia, is an angry Yeti wielding a snowball bazooka! And in the other corner, representing the United States of America, an angry snowman holding a carrot bazooka! In the words of John McCarthy (and the late Marvin Gaye, but we're using it in the McCarthy sense here), "Let's get it on!"
While I'm picking a Yeti over a snowman any day of the week even with magical powers to come to life, if they have weapons I gotta pick the snowman. He's at least hurling pointy projectiles. Unless the Yeti is loading the snowballs with rocks, I've got Frosty.
On a little more serious note, it's a really awesome and interesting design that sticks with the Avs' winter theme. The object of the two sides is one that we're seeing in a lot of goaltenders now that many are coming from overseas, and that's to represent both his home country (in this case Russia) and adopted country.
Mask designer extraordinaire Dave Gunnarson describes the mask thusly: It is a "mix of Rocky Mountains and Russia, a lot and a lot of cool details. For example one of the mountain tops are transformed into one of the tops of the Vasilij Cathedral, and you also find a cool russian jet flying there, and much much more…!"
Photo: In Goal Magazine
For more hockey news, rumors and analysis, follow @EyeOnHockey and @BrianStubitsNHL on Twitter.