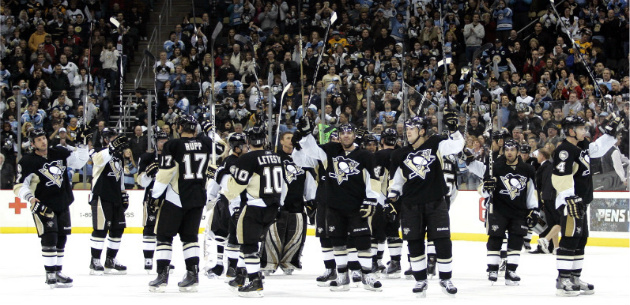 By: Adam Gretz
Since the NHL went it to its current divisional alignment with Pittsburgh, Philadelphia, New Jersey and both New York teams occupying the Atlantic Division it's pretty much been a three-team race at the top every year.
Since the 1998-99 season only three teams have managed to win the Atlantic outright -- New Jersey (seven times), Philadelphia (four times) and Pittsburgh (one time). The
Rangers
and
Islanders
have never won it, while only one of them, the Islanders during the 2001-02 season, has finished higher than third (second place).
Will it be one of the same three teams fighting for the top spot this season, or will one of the New York clubs find a way to win it for the first time under this current setup?
This year the division is loaded with story lines. The
Flyers
, the defending division champs, re-tooled their roster over the summer, while the
Penguins
may have to start the season without their best player -- and arguably the best player in the world -- as
Sidney Crosby
continues to recover from a concussion.
The Islanders look to be a team on the rise, while the Rangers landed the biggest free agent that hit the open market over the summer (of course they did). Meanwhile, the
Devils
look to build on the momentum of a strong second half and have to figure out what to do with
Zach Parise
, playing on a one-year deal, as he's eligible to become an unrestricted free agent next summer.
Atlantic Division (in predicted order of finish):

Pittsburgh Penguins:
Playing without
Jordan Staal
for the first half of the season and without Sidney Crosby and
Evgeni Malkin
for the second half of the season the Penguins still managed to finish tied for the top spot in the Atlantic last season with 106 points, losing in a tiebreaker to the Flyers. That's an impressive accomplishment given how the team is built around those three players. Malkin and Staal look to be ready to go this season, and assuming Crosby returns to his former self, the Penguins should have the personnel to not only finish on top of the division, but also make up for two straight early exits in the playoffs.
Strengths:
How did the Penguins manage to stay competitive last season without their three best players for such a long period of time? An outstanding defense anchored by
Brooks Orpik
,
Kris Letang
,
Zbynek Michalek
and
Paul Martin
. Combine the defense with the goaltending of
Marc-Andre Fleury
and
Brent Johnson
and the Penguins finished the regular season allowing the sixth fewest goals per game in the league. Even if Crosby isn't ready for the start of the season the Penguins still have excellent depth down the middle with Malkin, Staal and
Mark Letestu
, a nice two-way player that excels in the faceoff circle.
Weaknesses:
When you have so much money invested down the middle (centers, defense and goaltending) it's going to be difficult to fill in talent on the wings.
James Neal
is supposed to be the goal-scoring winger they've been searching for, but he struggled in his debut season with the Penguins after coming over in a trade with Dallas.
Steve Sullivan
signed a one-year deal this summer and can still provide some offense, assuming he's able to stay on the ice.
The Penguins power play has been, well, pretty awful the past three years, even with the talent they're capable of putting on the ice. There are a lot of reasons they went out in the first round last year, and their 1-for-35 showing on the power play is at the top of the list.

New York Rangers:
Surely you're not surprised that the biggest free agent available (
Brad Richards
) landed with the New York Rangers. Especially when said free agent has such a great track record playing for coach John Tortorella. The two spent a number of years together in Tampa Bay, including the 2003-04 season when the
Lightning
won their Stanley Cup, while Richards took home the Conn Smythe Trophy as playoff MVP.
Still, a lot of their success will depend on how well Richards and Gaborik play together, and whether or not Gabork bounces back from a disappointing season a year ago.
Strengths:
Henrik Lundqvist
is as steady and durable as they come in the crease, and a goaltender that's capable of stealing a game by himself.
Brandon Dubinsky
and
Ryan Callahan
bring a nice mix of skill and grit to the top lines.
Strong team defensively -- and Lundqivst certainly helps that -- even if their blue line, which is anchored by
Marc Staal
and
Dan Girardi
, doesn't contain a single player over the age of 27.
Weaknesses:
Speaking of Staal, he's still dealing with some symptoms as a result of a concussion he suffered at the end of last season, which is not a good thing. Gaborik, for all his skill and ability, is always one shift away from his next injury (and yes, that's technically true for every player, but Gaborik's career speaks for itself: he's played more than 65 games just five times in 10 years). Mediocre power play during the regular season that scored one goal in 19 attempts during their first-round playoff loss to the
Capitals
.

Philadelphia Flyers:
Talk about a team that went through a transition this summer. When all was said and done the Flyers basically swapped
Mike Richards
,
Jeff Carter
,
Ville Leino
,
Daniel Carcillo
,
Sean O'Donnell
and
Darroll Powe
for
Ilya Bryzgalov
,
Jaromir Jagr
,
Wayne Simmonds
,
Jakub Voracek
,
Brayden Schenn
,
Andreas Lilja
and Max Talbot. Better? Worse? The same? Paul Holmgren and Flyers fans are about to find out.
Strengths:
Claude Giroux
and
James van Riemsdyk
are excellent young forwards, and Van Riemsdyk could be ready to have a breakout season following his impressive postseason run from a year ago.
Danny Briere
is still around to be one of their leading offensive weapons.
In a bizarre twist, goaltending moves from an area weakness to one of their biggest strengths thanks to the offseason addition of Bryzgalov from the Phoenix
Coyotes
.
Weaknesses:
Unfortunately, in order to improve their goaltending the Flyers had to make a series of moves that involved trading Richards and Carter, while also losing Leino to free agency. That's three of their top-five scorers from a year ago.
It's possible the addition of Bryzgalov, combined with the development of the young players and draft picks they acquired in the Richards and Carter deals, could allow this to allwork out for the better in the long run, but they may have taken a step back in the short-term.
Will Giroux and Briere be as productive now that they'll be facing the other teams best players in the absence of Richards and Carter?
Chris Pronger
and
Kimmo Timonen
are both a year older, and Pronger's health was a big problem last season.

New Jersey Devils:
When it comes to making coaching changes, no league seems to make more than the NHL, and within the NHL, no team seems to make more than the New Jersey Devils. After a summer-long saga involving their pursuit and eventual signing of
Ilya Kovalchuk
(who they acquired at the trade deadline of the previous season), the Devils had a disastrous start to last season, winning just nine of their first 31 games, resulting in the firing of head coach John MacLean.
Who did the Devils turn to at the point? Jacques Lemaire, naturally, for his third different stint with the team.
They finished with a 29-17-3 record under his watch and managed to stay in the playoff race longer than anybody could have expected following their awful start. Pete DeBoer takes over behind the bench this season, making him the 9th different coach to lead the team since the start of the 2000-01 season.
Strengths:
The Devils should have a strong top-six once
Travis Zajac
returns, and they'll also benefit from the return of Zach Parise after he missedall but 13 games of last season. He's also playing on a one-year contract (perhaps a "show me" contract. As in,
show me you're fully recovered and can once again be one of the top left wingers in the league before we sign you long-term
).
As always, they finished with strong numbers defensively allowing just over 2.5 goals per game. Will they be as strong defensively without LeMaire running the ship?
Weaknesses:
Who on the defense is going to provide some offense? No defenseman scored more than
Andy Greene
's 23 points a season ago.
Adam Larsson
, the Devils first-round pick in June, looks to have a ton of upside but some growing pains should be expected as a rookie.
Martin Brodeur
is a Hall of Famer and one of the best goalies to ever play in the NHL, but he's clearly not the player he once was. And if the Devils do make it back to the playoffs, well, he's been pretty bad in two of his past three postseason appearances, while the Devils haven't made it out of the first round since 2006-07.

New York Islanders:
The New York Islanders made headlines last season because of a massive on-ice brawl in early February. They should make headlines this season because they're an improving team that's going to compete for a playoff spot thanks to their impressive collection of young forwards, with the recently signed
John Tavares
leading the way.
The Islanders offseason didn't see them bring in anybody significant from outside the organization, unless you're counting on
Brian Rolston
returning to his 30-goal form from four years ago, but they are getting back their top defenseman,
Mark Streit
, who missed all of last season with a shoulder injury, and that can be a huge addition to a team that's thin on the blue line.
Along with the return of Streit, a full-season for
Kyle Okposo
, an excellent two-way forward, will be a welcome addition as well.
Strengths:
Definitely their forwards. They're young, they're productive, and many of them are signed long-term for what could be excellent value against the salary cap. The Islanders had eight different players score at least 10 goals last season, and seven of them are returning this season (the only one that isn't is
Rob Schremp
and his 10 goals).
Michael Grabner
,
Matt Moulson
, Tavares,
Blake Comeau
and
P.A. Parenteau
all scored at least 20 goals for the Islanders a year ago.
Frans Nielsen
is one of the NHL's most underrated defensive forwards and showed last season he's also capable of chipping in some offense, scoring 13 goals. He finished sixth the voting for the Selke Trophy which goes to the NHL's best defensive forward.
Weaknesses:
Even with the return of Streit, as well as the presence of emerging young defenseman
Travis Hamonic
, who looks like he's going to be quite a player, there is still a lot of questions about this team defensively and in goal, and in the end that could prove to be their downfall this season.
Rick DiPietro
is still signed through the 2020-21 season and has appeared in just 39 games over the past three years.
Photo: Getty Images
For more hockey news, rumors and analysis, follow @EyeOnHockey and @agretz on Twitter.