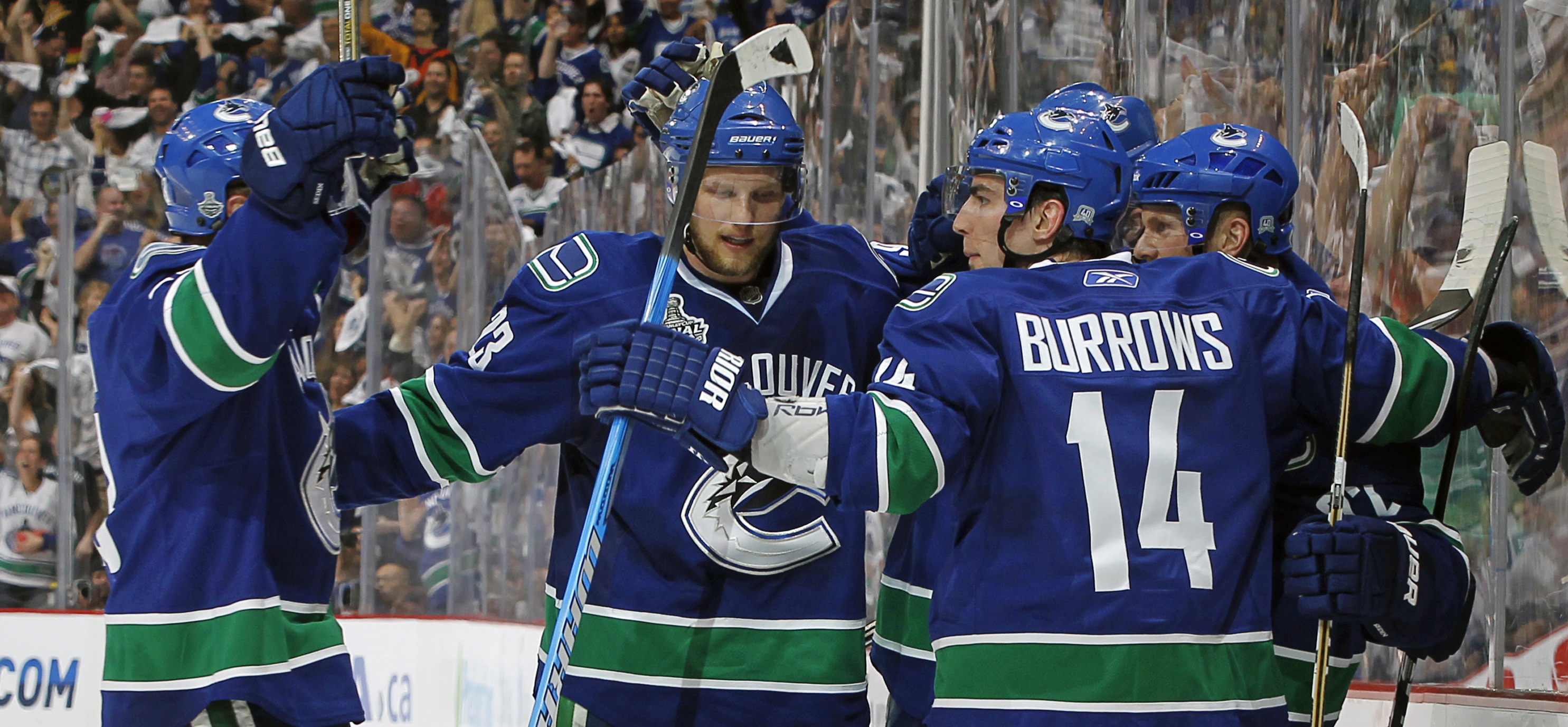 By: Adam Gretz
This was the only division in the NHL last season to produce only one playoff team, and that was the Western Conference champion Vancouver
Canucks
, the team that's won the division three years in a row.
Playoff teams have been difficult to come by in the Northwest in recent years, as Colorado and Calgary are the only teams other than Vancouver to reach the postseason over the past three years; and they only managed to qualify once each. You have to go back to the 2007-08 season to find the last time more than two teams went to the playoffs in the same year out of the Northwest, and it's probably not going to happen this year.
Once you get past Vancouver, the
Flames
are probably the best bet to reach the playoffs, and even they're not a lock, having failed to qualify two years in a row, and then there's a steady dropoff to a pair of rebuilding teams in Colorado and Edmonton, and a team in Minnesota that seems to be stuck somewhere in the middle between being in contention and in a rebuilding phase.
The Northwest Division (In predicted order of finish):

Vancouver Canucks:
The Vancouver Canucks reached the Stanley Cup Finals for the third time in franchise history last season, losing to the Boston
Bruins
in seven games. After jumping out to a 2-0 series lead, Vancouver went on to lose four of the final five games of the series. And they not only lost, they were absolutely dominated, losing by a combined score of 21-4. Even with that disappointment in the rearview mirror, the Canucks are bringing back a roster that remains loaded from top to bottom, and is one of the top two or three cup contenders in the league.
Strengths:
Just about everything is a strength for the Canucks. They're deep down the middle with
Henrik Sedin
,
Ryan Kesler
and the underrated
Manny Malhotra
at center, and even with the loss of
Christian Ehrhoff
, they have an excellent defense led by Alex Edler,
Dan Hamhuis
,
Keith Ballard
,
Kevin Bieksa
and
Sami Salo
.
Roberto Luongo
is still one of the best goaltenders in the NHL, and
Cory Schneider
, his young backup, could probably start for quite a few teams as well. They have quality depth up front with wingers like
Daniel Sedin
,
Alex Burrows
,
Mikael Samuelsson
,
Jannik Hansen
and
Maxim Lapierre
, and they excel on special teams, finishing with the top power play in the league last season and the third best penalty kill.
Weaknesses:
It's really difficult to find one. Is there one? An obvious one? The Canucks are as deep as just about any team in the NHL at forward, defense and goaltender and have outstanding special teams. Where is the weakness?

Calgary Flames:
A slow start that resulted in just 11 wins in their first 27 games put the Flames in a hole that was simply too deep to dig out of in the Western Conference, missing the playoffs by just four points. It's actually the exact opposite path they followed the previous season when they opened the with a 17-6-3 mark, only to completely fall apart over the final four months of the season and missed the playoffs by five points.
Strengths:
Jarome Iginla
is simply fantastic. He hasn't missed a game in four years, has scored at least 32 goals in each of those years, and managed to put in 43 during the 2010-11 season.
Rene Bourque
,
Lee Stempniak
,
Curtis Glencross
and
David Moss
is a solid group of forwards to put around Iginla, and all have the ability to score somewhere between 20 and 25 goals. A lot of other teams teams can -- and will -- do worse up front.
Weaknesses:
How much does
Miikka Kiprusoff
have left in the tank? He's declined in recent years and his workload might be catching up with him and
Henrik Karlsson
could (and perhaps should) be getting a bigger role this season. Losing
Robyn Regehr
could be a significant loss on the blue line, and
Jay Bouwmeester
's first two years in Alberta have to be considered a tremendous disappointment. In his final three years with Florida he scored 12, 15 and 15 goals. In his two years with the Flames? He's scored seven. Total. And he's taking up over $6.6 million in cap space to be an offensive-defenseman. That's not going to work.

Minnesota Wild:
Mike Yeo takes over a team that hasn't made the playoffs in three years, hasn't won a playoff series since it went to the Conference Finals nine years ago, and he's introducing his version of the neutral zone trap (insert your own "it's boring hockey" comment here). Actually, it's pretty similar to the system the
Penguins
run -- the team Yeo was an assistant with for a number of years -- and is a bit more up-tempo than the Jacques Lemaire trap Minnesota fans witnessed all those years.
Strengths:
Yeo is pushing for
Mikko Koivu
to win the Selke Trophy as the NHL's best defensive forward, and he's definitely a worthy player to put on your early season watch list. An excellent two-way player that makes an impact in all three zones and all phases of the game.
Dany Heatley
, acquired from the
Sharks
over the summer, is coming off a down year (by his standards) in the goal-scoring department but possesses the best natural goal-scoring ability of any player on the roster and is a legitimate 40-goal threat.
Weaknesses:
With
Brent Burns
no longer on the roster Minnesota has a bit of a hole on its blue line when it comes to providing offense.
Marek Zidlicky
, who was limited to just 46 games a season ago, was the only other defenseman to register at least 20 points. The 13th ranked power play in the league a season ago lost its top-three power play goal scorers (Burns, Antti Miettinen and Andrew Brunnette). Heatley should be able to help in that area, but will he be enough?
How good is
Niklas Backstrom
? He hasn't approached the numbers he put up the first three years of his career while playing under Lemaire, and his backups have pretty consistently put up similar save percentages in recent years. Was he a product of the system or is he set to play like one of the best goalies in the league again?

Colorado Avalanche:
Their decision to trade a first-round draft pick to the Washington
Capitals
for goaltender
Semyon Varlamov
was panned over the summer, as most observers are expecting Colorado to once again finish near the bottom of the NHL's standings, meaning that pick could turn out to be a lottery selection. The jury is still out on that trade, obviously, but there's no denying the Avalanche needed a significant upgrade in net after a disappointing season from
Craig Anderson
helped put the Avs at the bottom of the NHL in save percentage last season.
Strengths:
The 1-2 punch of
Matt Duchene
and
Paul Stastny
down the middle is the foundation of this team, and they picked up another top young forward prospect back in June when they selected
Gabriel Landeskog
at the top of the draft.
Weaknesses:
The Avalanche bulked up their defense this summer by putting an emphasis on adding size to their blue line, but will it result in a better product?
Erik Johnson
, acquired in last season's blockbuster trade with the St. Louis
Blues
, has the most potential of the group and is still only five years removed from being the No. 1 overall pick in the entire draft. Even with the addition of Varlamov, goaltending remains a question mark, especially since he's had problems staying injury free throughout his career.
The Avs had the worst penalty killing unit in the league last season. Can a full season of
Jay McClement
to go along with Daniel Winnick help improve that area?

Edmonton Oilers:
It's another rebuilding year, but they're getting closer, slowly but surely, to making an impact. And they might be the most entertaining -- and exciting -- non-playoff team in the league with an impressive list of young forwards led by last year's top pick,
Taylor Hall
.
Strengths:
Even if No. 1 overall pick
Ryan Nugent-Hopkins
doesn't spend the entire season in Edmonton, the Oilers still have some outstanding young talent up front.
Ales Hemsky
is one of the NHL's most creative players with the puck and a tremendous playmaker, typically averaging near a point-per-game. The biggest flaw in his game, unfortunately, is that he tends to miss at least 10 games (or more) per season. Getting him for a full season would be a welcome change. Hall looks to be a star in the making, and players like
Jordan Eberle
,
Magnus Paajarvi
and
Sam Gagner
are loaded with potential and should make the Oilers worth watching every night, even if they don't win a ton of games.
Weaknesses:
Defense. Goaltending. Goaltending. Defense. After
Ryan Whitney
it's a very thin team on the blue line, and additions like
Cam Barker
aren't likely to help that. Their defense and goaltending, led by
Nikolai Khabibulin
and
Devan Dubnyk
, will keep the Oilers at the bottom of the division, as well as the Western Conference, for at least another year.
Photo: Getty Images

For more hockey news, rumors and analysis, follow @EyeOnHockey and @agretz on Twitter.