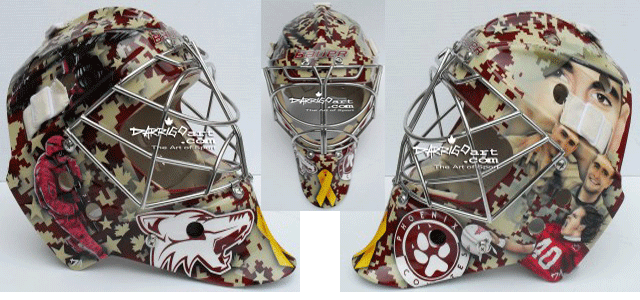 We've seen this summer how goalie masks run the gammut from scary (Steve Mason's horror look), creative (Semyon Varlamov's snow battle) and appropriately fun (Mike Smith's Wile E. Coyote theme).
But in a way, they all pale in comparison to the design Coyotes goalie Jason LaBarbera will wear this season.
His mask will serve as a tribute to both the American and Canadian militaries through a memorial to former Arizona Cardinals star safety Pat Tillman. Tillman, who was killed in Afghanistan by friendly fire after leaving the NFL to join the army, is seen on one side of the mask both in his army uniform and football uniform, with his brother posing right beside him. The opposite side features a faceless soldier with helicopters flying above.
All through out there is a camoflauge design that uses the Coyotes colors of red and white. Interspersed among the camo are Stars to represent the United States armed forces and some Maple Leafs to represent the Canadian military.
At the bottom of the mask is a yellow ribbon, symbolizing support for the men and women fighting overseas surrounded by two Phoenix Coyotes logos.
The design was done by sports designer Dave Arrigo, who is a regular goalie mask maker. He posted LaBarbera's new cage on his website and had this to say: "Pat Tillman will live in on in our memories, I hope that this helmet assists with that in whatever facet possible."
This mask is sure to be a hit in the desert, paying homage to not only one of Phoenix's great heroes, but the USA's as well.
Photo: Dave Arrigo
For more hockey news, rumors and analysis, follow @EyeOnHockey and @BrianStubitsNHL on Twitter.