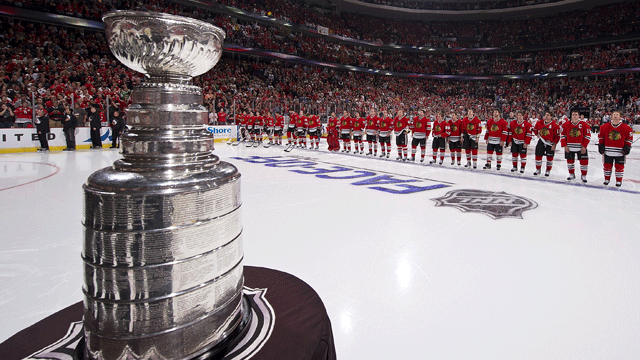 Last season there was a hangover in Chicago. Champagne-induced ones are the worst. That's a big reason why the Blackhawks had to fight at season's end to earn the West's final playoff spot.
But like a regular ol' college student, a day after being bed-ridden it's time to party again. That's my forecast for this season's Stanley Cup: a return to the Madhouse on Madison.
By now everybody has heard enough about the salary cap trouble Chicago found itself in. Former GM Dale Tallon gets a lot of credit for building a Stanley Cup winner, but when he was forced out of town, there was more than a parade to clean up after. For that, current GM Stan Bowman deserves a lot of credit.
Chicago was so crippled by their cap crunch that they lost a few key players to their championship like Dustin Byfuglien, Andrew Ladd, Antti Niemi and Kris Versteeg. But the core remained, and now Bowman has reshuffled the cards to stack the deck around said core again.
Welcome into the fold Andrew Brunette, Dan Carcillo, Jamal Mayers, Steve Montador and Sean O'Donnell to the existing group that includes two of the best young players in the game of Patrick Kane and Jonathan Toews, it's a solid group that also now has a true grinder line. Add the apparent solution to the goal riddle with Corey Crawford and you can see why optimism is back in the Windy City.
Three reasons to like the Blackhawks:
1. Skill: There are three players on this team that topped the 70-point mark last season. Patrick Kane, Jonathan Toews and Patrick Sharp are each capable of doing it again. Marian Hossa is right there with them. If second-round draft pick Brandon Saad really is as good as he showed this preseason as he earned a spot on Chicago's TOP line, then it's an unexpected lethal addition.
2. Defense: Oh yeah, the group on the blue line has some skill, too. There's a past Norris Trophy winner who will be in the conversation again this season in Duncan Keith. He's a horse for Chicago. Last season he played more minutes than any skater in hockey. He is teamed up with another outstanding and young defenseman in Brent Seabrook. The belief is that they don't have to rely on those two as uch this season as the corps got deeper, adding Montador and O'Donnell to round out a rock solid group that also includes Niklas Hjalmarsson and Nick Leddy. But the big key is Crawford. He was very impressive in his first full season and with a group like that in front of him, can continue to look stellar.
3. Chemistry: I'm not a massive believer in the intangibles in sports, but you can't deny its impact, especially among linemates. This group in Chicago doesn't seem to have any personality problems on the horizon as it is a close-knit group. "We've had that chemistry right from Day 1 -- no question about it," the veteran Sharp said on Wednesday. "When you bring in veteran players who have had success all across the league on different teams it seems like there's one excitement in the room." Let me put it this way; good chemistry can't hurt matters. Also under intangibles: They have been there before.
Photo: Getty Images
For more hockey news, rumors and analysis, follow @EyeOnHockey and @BrianStubitsNHL on Twitter.