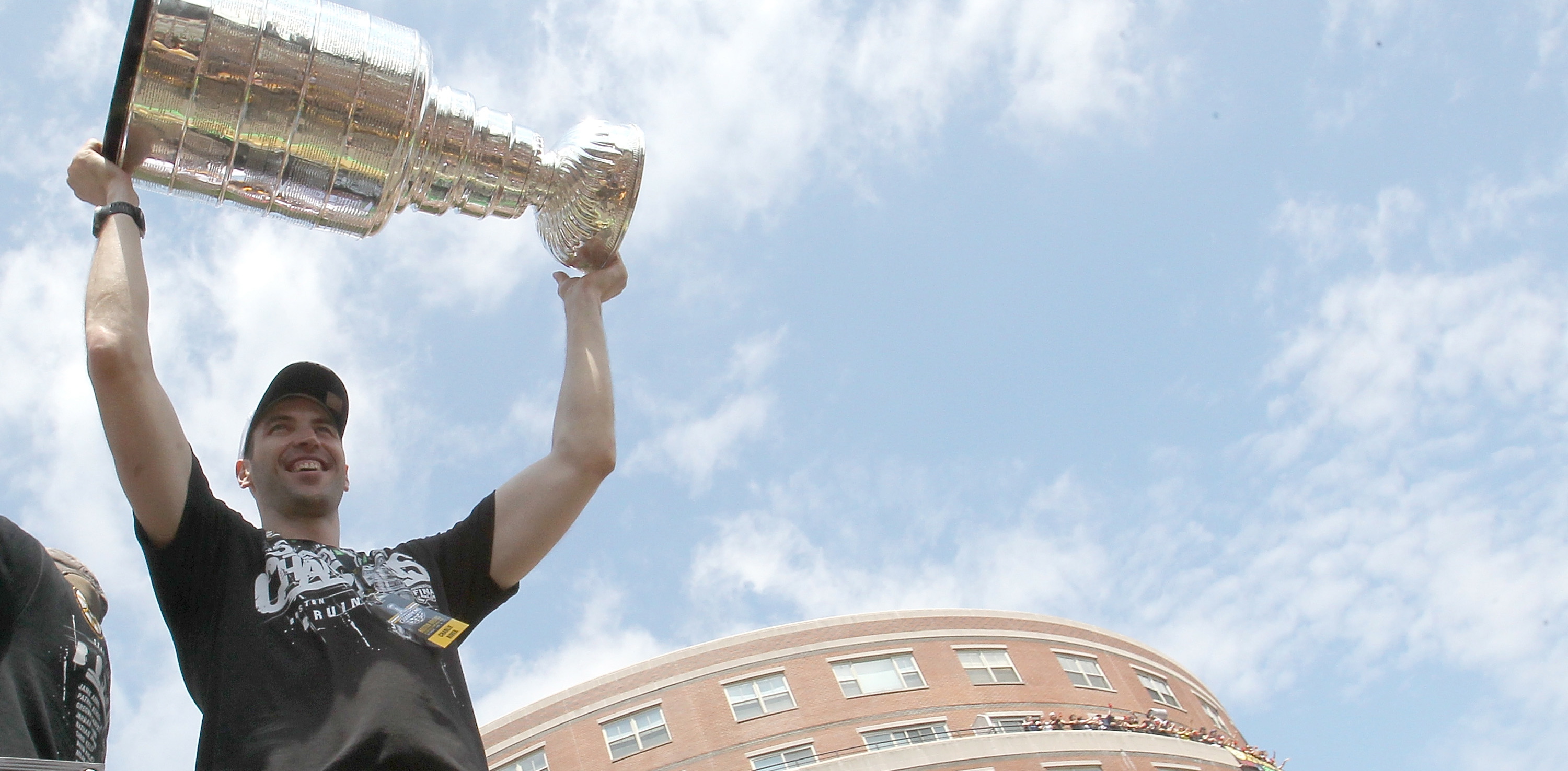 By: Adam Gretz
Recent history suggests it's a terrible, pointless idea to pick the defending Stanley Cup champions to repeat. It hasn't been done since 1997-98 when the Detroit
Red Wings
swept the Washington
Capitals
, and only three times since then has a defending champion even managed to return to the finals (the Dallas
Stars
in 2000, the New Jersey
Devils
in 2001 and the Red Wings in 2009).
Winning the cup one time is hard enough. But to come back following a shortened offseason, after going through a grueling 82-game regular season and four best-of-seven playoff series just to do it all over again has to take a tremendous toll on the body.
Despite all of that, I'm still picking the
Bruins
to repeat anyway.
They have a great 1-2 punch in net, balanced scoring depth through all four lines and one of the best defenseman in the NHL. What's not to like about their chances to repeat?
Three reasons to like the Bruins:1) Tim Thomas and Tuukka Rask:
You can probably count on one hand -- and have fingers remaining -- the number of goalies in the league that are capable of carrying a team all the way to the Stanley Cup, and Boston has one of them in Tim Thomas. A former ninth-round pick that had to bounce around the minor leagues and Europe before finally getting his shot in the NHL, Thomas has become the best goaltender in the league and won two of the past three Vezina Trophies, leading the league in save percentage each year, and is one of the few true game-changers at his position. His margin of victory in the save percentage race last season (.008 points) was the largest in the NHL in over 12 years.
If Thomas isn't enough, his backup, Tuukka Rask, has proven that he's capable of being a No. 1 goaltender as well, and sandwiched between Thomas' two Vezina seasons he ended up getting the starting job in Boston and had the best save percentage in the NHL himself. That, of course, means the Bruins have had the goaltender with the top save percentage in the league three years running. There's not many teams that can say that.
2) Depth down the middle:
Unfortunately,
Marc Savard
's career appears to be in jeopardy due to his ongoing concussion problems, but even without him the Bruins boast impressive depth down the middle with
Patrice Bergeron
and
David Krejci
leading the way. They may not put up huge numbers offensively, but they're excellent two-way players that can control the puck and shut down whoever is on the ice against them.
Bergeron finished fourth in Selke Trophy voting last season and is my pick to win it this year.
The Bruins may not have had a single player finish higher than 40th in the NHL scoring race last year, but they still managed to finish fifth as a team in goals scored due to their depth, and even with the losses of
Michael Ryder
and Mark Recchi this offseason, they're still able to go four lines deep.
3) Zdeno Chara:
Of course, any time you have one of the best defenseman in the NHL it's always a boost to your chances, and Chara has become a regular in the yearly discussion for the Norris Trophy thanks to his ability to match up with the other teams top line and also provide offense from the blue line with his booming slap shot. Along with Chara,
Dennis Seidenberg
is an underrated player on the blue line that is a fearless shot-blocker and can also provide some offense. There's not a ton of depth on the blue line after that, but Chara and Seidenberg are a pair of workhorses that can carry the load, and when you combine their goaltending with the relentless defensive play of their forwards they should able to overcome whatever shortcomings their bottom two defensive pairings might have.
Photo: Getty Images
For more hockey news, rumors and analysis, follow @EyeOnHockey and @agretz on Twitter.