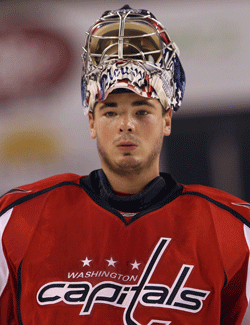 Perhaps the biggest of the Capitals offseason acquisition was the steal of Tomas Vokoun for only $1.5 million. So naturally he's starting the season opener, right? Wrong.
The Capitals threw a minor curveball on Friday by announcing that Michal Neuvirth, not Vokoun, will start the season opener Saturday against the Carolina Hurricanes.
"I just found out after practice, and, yeah, I was a little surprised," Neuvirth said after Friday's practice. "I think I had a great training camp and had very good preseason games and probably that's why I'm playing tomorrow."
The news was actually broken by Vokoun himself. When asked if he was at all nervous about Friday's game, he responded honestly.
"No, I'm not really nervous because I'm not playing," Vokoun said. "Supposedly I'm going to play the next game.
"Certainly, it's a surprise," Vokoun told CSN Washington. "It's not my decision. Sometimes you like [those decisions], sometimes you don't like them. We haven't even played a game yet, so it's premature to be upset. It's not a good feeling, but I've played hockey for 30 years. Things happen."
He says he's not upset about it yet, but it seems clear he's not happy.
Since the Caps signed Vokoun, coach Bruce Boudreau has made no bones about it: Vokoun is his starting goaltender. Neuvirth took a majority of the starts last year, splitting the duties with Semyon Varlamov, now with the Avalanche. But Vokoun has experience, a history of success -- but not in the playoffs -- and the endorsement from management on his side.
Dare we say this is the beginning of a controversy in Washington? It's still too early to answer that question. But it certainly seems unusual to start your backup goalie on opening night ... at home no less. Not the best way to start the relationship with Vokoun for Boudreau.
Neuvirth did play very well this preseason, going 2-1-0 with a .949 save percentage and 1.35 goals against average and perhaps Boudreau is just honoring for that. But that won't quiet the questions.
Bombshell? Not exactly. But surprising? For that it qualifies.
Photo: Getty Images
For more hockey news, rumors and analysis, follow @EyeOnHockey and @BrianStubitsNHL on Twitter.