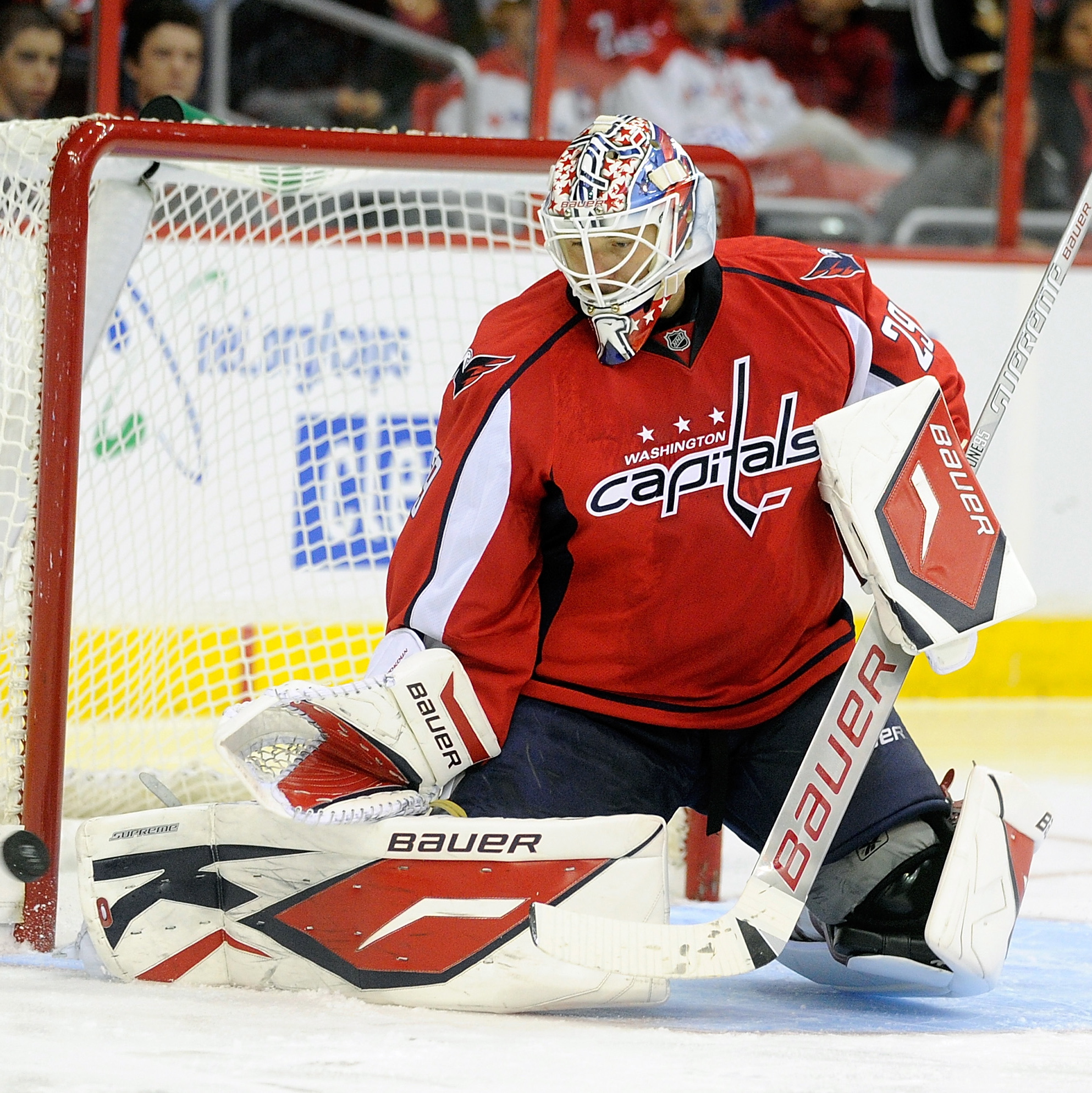 By: Adam Gretz
When it was reported on Friday afternoon that
Michal Neuvirth
, and not
Tomas Vokoun
,
would be the opening night goaltender
for the Washington
Capitals
you had to expect some sort of controversy to build, and it didn't take long for that to happen.
Allan Walsh, the agent for Vokoun, told Stephen Whyno of the
Washington Times
Friday evening
that coach Bruce Boudreau's decision "could be perceived as a slap in the face"
to the 35-year-old goaltender who signed a one-year, $1.5 million deal with the Capitals this summer.
It's been an interesting situation to watch from the start as it was widely assumed that Vokoun would be the No. 1 starter due to his recent track record with the Florida
Panthers
. Neuvirth, however, refused to concede the job that he perceived to be his and talked multiple times about
how he planned to keep his spot as the starter
. And for at least one night -- the first night of the season -- he did.
More from the
Times
:
To Vokoun's agent, it was not only a surprise but it also could be "perceived as a slap in the face." Allan Walsh told The Washington Times in a telephone interview Friday night that his client was "very disappointed" by the decision.

"He was told he was coming into Washington as the No. 1 goalie," Walsh told The Times. "They were very public in their comments about that. … There's a certain symbolism attached to who starts the first game of the season at home. It doesn't mean he's not a No. 1 goalie. But this can certainly be perceived as a slap in the face."
Walsh, who is no stranger to taking to Twitter and social media to speak up for his clients, also added that "all around the league, the No. 1 goalie on teams is starting on opening night." And that's how your controversy starts. For now, anyway. Earlier this week Boudreau said that he considers the two players to be "1 and 1B" when it comes to their standing on the depth chart, and anytime you're dealing with two players that are capable of being the starter -- and both of these guys are -- somebody is going to have to swallow some pride every now and take the occassional seat.
Plus, most teams like to get both goalies a start as early as possible at the beginning of the season, and the Capitals' next two games after the opener are against Tampa Bay, their top competition within the Division, and Pittsburgh, their top competition within the conference. It should be interesting to see which goalie gets the call in those two games.
If it's Vokoun, this whole thing likely blows over and becomes much ado about nothing. If it's Neuvirth? Things might get interesting.
Photo: Getty Images
For more hockey news, rumors and analysis, follow @EyeOnHockey and @agretz on Twitter.