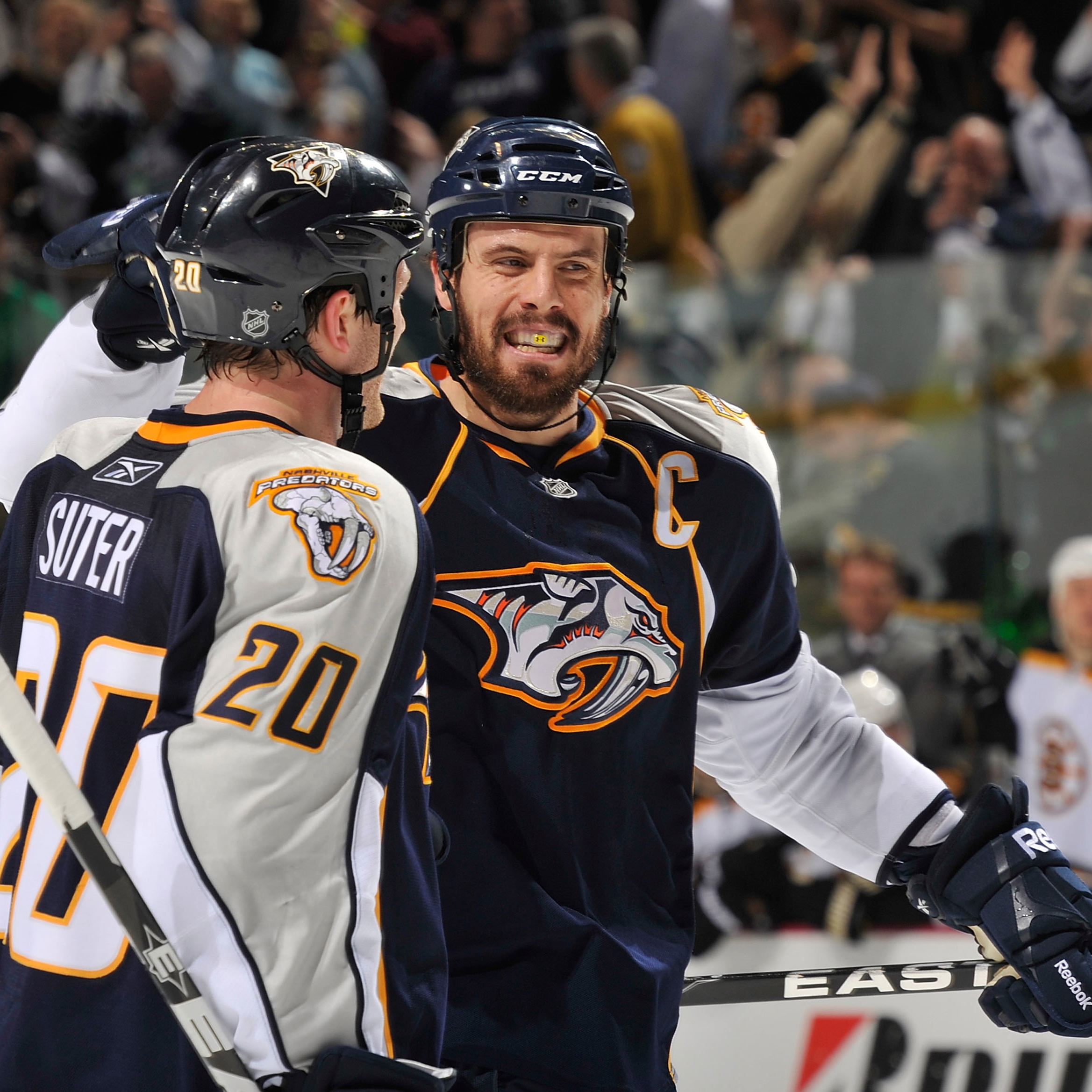 By: Adam Gretz
Every team in the NHL says they want to build through the draft, and like any other aspect of the sport, some have done a better job than others, not only based on the number of home-grown players they have on the roster, but also the quality of said players.
It's always been an important part of constructing a roster and has taken on an even greater level of significance in the salary cap era where teams need to get quality production for an affordable price. There are few things more damaging to a team in the cap era than overpaying a free agent and handing out a large contract for a second-or-third tier player.
Looking across the league at every team's opening night roster and you get an idea as to which teams have done the best job at building from within. Here are the three teams with the most homegrown talent on their opening night rosters.
1) Nashville Predators:
No team in the NHL has more drafted-and-developed players on its opening night roster than the Predators' 18. Their group ranges from core players like
Shea Weber
,
Ryan Suter
and
Pekka Rinne
, to role players like
Jordin Tootoo
, to young prospects
Craig Smith
and
Blake Geoffrion
.
The farm system has always been the lifeblood of the Predators organization, and it has to be. They don't have the resources to acquire superstars in free agency -- and may struggle to keep their own -- and must rely on their own system to continue to produce talent. The concern has to be whether or not Nashville will ever be able to take the next step as a championship contender, or if the organization has hit its peak with this current strategy.
Other teams across the league are not only able to draft and develop same type of core players, they are also able to re-sign them and keep them long-term once they're eligible for free agency and add complementary pieces from outside the organization.
2) Buffalo Sabres:
There's a ton of excitement in Buffalo right now thanks to new owner Terry Pegula. He proved over the summer with his spending that he's committed to utilizing every possible resource he can to make sure the Sabres a contender.
The signings of
Christian Ehrhoff
and
Ville Leino
, as well as the trade for
Robyn Regehr
, made all the headlines, but the Sabres roster is made up of 15 homegrown players. And we're not just talking role players and and roster-filler.
Ryan Miller
,
Tyler Myers
,
Derek Roy
, workout warrior
Drew Stafford
and their newest captain,
Jason Pominville
, were all drafted and developed by the Sabres front office.
3) Detroit Red Wings:
While teams like Pittsburgh, Chicago, Washington, Edmonton and the New York
Islanders
have collected multiple lottery picks at the top of the draft to rebuild their franchises, the Red Wings have managed to do it by routinely picking near the bottom of the draft, and finding impact players after the first two rounds. Whether or not it's great scouting ability or great player development is a chicken-or-egg debate, but the Red Wings open the season with 15 players they drafted. That list includes
Pavel Datsyuk
, Henrik Zetteberg and
Tomas Holmstrom
, taken in the sixth, seventh and tenth rounds respectively, as well as third-rounders
Johan Franzen
and
Nicklas Lidstrom
.
In the pre-lockout NHL, before the salary cap, some of the Red Wings' best teams were built largely with big-money players from outside the organization, whether it be Brendan Shanahan, Luc Robitaille or Brett Hull. Today, their roster is made up almost entirely of players they brought up themselves, and whatever players they've managed to acquire through trades or free agency are mainly role players (
Patrick Eaves
,
Drew Miller
) or players they managed to pick up on the cheap and developed into productive players (
Daniel Cleary
).
For more hockey news, rumors and analysis, follow @EyeOnHockey and @agretz on Twitter.