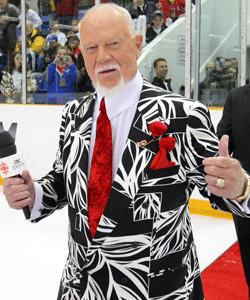 Stu Grimson, Chris Nilan and Jim Thomson, the players mentioned by Don Cherry during the now infamous first edition of Coach's Corner on CBC this season, are considering legal action against the always opinionated Cherry.
When making his stance known on fighting in the game (as if anybody wondered where Cherry could possibly fit in this conversation), he took a jab at a few of the former enforcers who discussed fighting after the deaths of Wade Belak, Derek Boogaard and Rick Rypien. In the process, Cherry said that the former players -- or "pukes" as he called them -- "reason that they're drinking drugs and alcoholic because they fight" before calling them turncoats and hypocrites.
Grimson and Nilan came out the next day and denied ever saying such things and wanted an apology from from Cherry. So in the second edition of Coach's Corner, Ron MacLean, Cherry's co-host, asked him if he had any regrets and this is what they got: "Well, maybe one, with the puke stuff ... it was rude."
So now the three released a statement together through the firm where Grimson works now -- yes, he's an attorney -- explaining their beef.
"During CBC's broadcast of Coach's Corner on October 6, 2011, Don Cherry inserted himself into a prominent debate that involves the recent tragic deaths of three (3) NHL players, drug addiction, alcohol abuse and mental illness. In doing so, Mr. Cherry targeted the above-named individuals, some of whom have suffered from such diseases, as a result of views they previously expressed. Mr. Cherry's comments were more than inappropriate; they were vulgar and malicious. Furthermore, Mr. Cherry's subsequent attempt to qualify his comments on October 8, 2011, was entirely ineffectual. Mr. Cherry's conduct throughout has demonstrated a complete lack of decency.

In light of the damaging and inflammatory nature of Mr. Cherry's comments, Mssrs. Grimson, Nilan and Thomson are considering further recourse."
Yes, further recourse could mean exactly what you were thinking. From Josh Cooper at the Tennessean:
"I'm sure what the intuitive reader is going to be asking is, 'does further recourse include legal recourse?' That is certainly true," Grimson said. "Further recourse does include an investigation into what legal recourse might be available to this group. Whether or not we go in that direction is a completely separate matter. But, obviously given the nature of the comments and the forum for those comments, those two things, I think investigating what legal recourse is available is a prudent step.

"They [Cherry's remarks] were completely without a basis of fact," Grimson said. "I never said any of the things that he said I said. I feel a little bit like the innocent victim in a drive-by shooting, standing there minding my own business and all of a sudden I'm reading 'puke,' 'turncoat,' 'hypocrite,' all these adjectives used to describe me."
For their part, CBC's only statement on the matter has been that Cherry's views are his own only and don't reflect those of the CBC.
At this point, I can't imagine anything legal ever becomes of this. You have to imagine that Cherry will either decide to do it on his own or will receive a very strong push from the CBC to give a much bigger apology and retraction. Because while the threshold is high for a charge such as slander, they would likely be able to show a blantant disregard for the facts in this case. So the potential is probably real, meaning the threat carries some serious weight.
Photo: Getty Images
For more hockey news, rumors and analysis, follow @EyeOnHockey and @BrianStubitsNHL on Twitter.