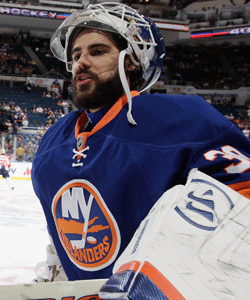 So here's one you've never heard before: New York Islanders goaltender Rick DiPietro is hurt and won't suit up for Thursday night's game against the Lightning. We can hear the gasp of shock from across the NHL, particularly Long Island. DiPietro, hurt? Who'd a thunk?
What has sidelined him this time was a puck he took to the facemask during practice.
"He took one high and hard there and it shook him up a little bit," Islanders coach Jack Capuano said. "He looked all right."
Now we don't want to downplay the severity of this too much because at this point, doctors have yet to rule out a concussion, according to Katie Strang of ESPN New York. It's just at the point that DiPietro being injured is what you expect to see.
Al Montoya had seemingly already taken the job as the No. 1 goalie for the Islanders, but DiPietro was backing him up. In his first two games on the season, Montoya has a 1.53 goals against average and a .940 save percentage. He will get the start again Thursday dagainst the Tampa bay Lightning.
One good thing for New York is that they were actually carrying three goalies on the roster, so former Sharks goaltender Evgeni Nabokov is around to handle the understudy role.
To say DiPietro, the former No. 1 overall draft selection by the Isles, has been injury prone would be like saying water is wet. He has played a combined 39 games in the last three seasons, an average of 13 games per year. When he has actually played, he has hardly been stellar, too. Last season he played in 26 games and a save percentage of .886. For his career it's at .903.
For a player making $4.5 million per season until the year 2021, it's not exactly what you want -- both production wise and injury wise. Especially when you consider New York shipped out Roberto Luongo a decade ago to make room for DiPietro, and it's all just a little maddening for the Isles and their fans.
It's precisely why DiPietro headed one this list from the Hockey News: the 10 most untradeable contracts. Ouch.
Photo: Getty Images
For more hockey news, rumors and analysis, follow @EyeOnHockey and @BrianStubitsNHL on Twitter.