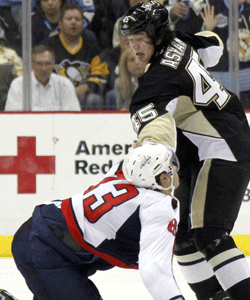 In an email to the Washington Times NHL spokeman John Dellapina says the NHL won't hand down any further punishment for Arron Asham for his post-fight gestures on Thursday night.
"While nobody liked the gestures, they simply did not violate the rules as currently written (Rule 75.2 (i) which calls for a minor penalty for unsportsmanlike conduct for 'any identifiable player who uses obscene, profane or abusive language or gestures directed at any person,'"
In case you somehow missed it, Asham stepped up to challenge the Capitals' Jay Beagle to a fight after taking exception to a hit Beagle laid on the Penguins' Kris Letang. Despite never dropping his gloves in an NHL game before and Asham being a veteran of the tussel, Beagle obliged. Once Asham got his right hand free, it was two punches square to Beagle's face and a bloody mess on the ice.
What drew the ire of some, though, was Asham's arm waving and go to sleep sign with his hands. It didn't take long for him to realize the severity of the situation, however, and seemed almost immediately repentant. When Beagle was helped off the ice, Asham was seen tapping his stick against the glass from the penalty box showing his support.
He was further apologetic after the game, calling his own actions classless and uncalled for.
I'm glad that the NHL isn't going to throw any discipline Asham's way for this. I don't disagree that it was an ugly display from Asham, but his repentance seemed genuine to me. It was a heat-of-the-moment thing that was simply not sportsmanlike. Any additional punishment will come from the Capitals the next time the two teams meet. That's old time hockey.
Photo: Getty Images
For more hockey news, rumors and analysis, follow @EyeOnHockey and @BrianStubitsNHL on Twitter.