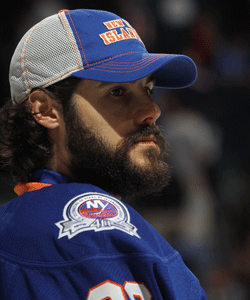 At what point do you begin to feel sorry for Rick DiPietro? I mean, if there were ever a goalie that fit the old saying "if it weren't for bad luck, I'd have no luck at all" it's him.
The injury-riddled goaltender for the Islanders is out again. He did not dress in the Islanders' romping of the Tampa Bay Lightning 7-1 on Thursday night after taking a puck to the head in practice the day before. On Friday the team announced he's going to be out for longer as he suffered a concussion on the play. There is no timetable for his return.
As we have learned, there's no idea to know how long it will be until DiPietro might play again. Concussions are finnicky that way.
"You feel for him. The last couple of years it's been a lot for him," Rangers goaltender Henrik Lundqvist said when asked about his fellow New York-area netminder. "When you are hurt that much it's also really tough on you mentally to all the time having to start over and rehab"
Yesterday we detailed some of the struggles that DiPietro has undergone. In the past three seasons, he has played in only 39 games. For the non-math whizzes out there, that's only 13 games per season. When you consider he has a contract for $4.5 million a year (that runs through 2021), that's nearly $350,000 per game played in that time.
Good thing the Islanders were carrying three goalies on their roster, huh? Al Montoya was a somewhat surprising opening-night starter, but he has been terrific in the Islanders' three games, giving up a total of four goals. There's a completely capable backup behind him in veteran Evgeni Nabokov.
I don't know about you, but I feel for the guy and am almost at the point of rooting for DiPietro. The expectations on him were placed mighty high when New York drafted him No. 1 overall, made room for him by sending out Roberto Luongo and then gave him a monstrous contract.
His injury woes are almost beyond jokes at this point. The way I see it, I'd like to see DiPietro remain healthy long enough to play extended time. If he falls flat on his face then, that's on him. But I'd just like to see him get the chance one way or the other.
Photo: Getty Images
For more hockey news, rumors and analysis, follow @EyeOnHockey and @BrianStubitsNHL on Twitter.