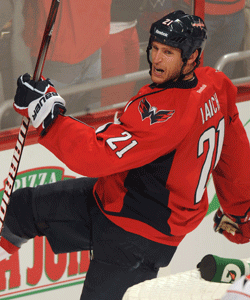 There are a few ongoing hot topics in the NHL these days, one of them is the concussion debate. It was already a big conversation before Sidney Crosby was sidelined with one, but since the superstar has been out for 10 months and counting, it has seemed to be an even bigger deal.
The whole idea of the concussion movement, for lack of a better term, is to protect the players. We're talking about something that has proven to be a very serious danger. Paul Kariya went on a bit of a tirade concerning concussions when announcing his retirement. After all, they shortened his career. In football, there have been high school players who died from concussions.
It isn't hyperbole when you hear people say this is life and death discussion. It truly can be.
But Washington Capitals forward Brooks Laich doesn't much care for it (Washington Times) and has heard just about enough.
"I really don't care about that awareness stuff. To be honest I'm sick of hearing all this talk about concussions and about the quiet room," Laich said. "This is what we love to do. Guys love to play, they love to compete, they want to be on the ice.

"How do you take that away from somebody? We accept that there's going to be dangers when we play this game and know that every night that you get dressed. Sometimes it just feels like we're being babysat a little too much. We're grown men and we should have a little bit of say in what we want to do."
Teammate Mike Green, who missed a good portion of last season because of a concussion, basically echoed Laich's standpoint.
"You've got to make that call. I think at times the protocol for testing for concussions -- they're just tests, they're not exactly how you feel," Green said.
I'm one of the first people to support people's rights to do something, even if they are endangering themselves. Ever see the shots from the beach during a hurricane where they show a couple of people surfing while the reporter begs people to stay away from the beach? I say go right ahead. The police shouldn't arrest them. Warn them they are putting their lives at risk and if they still want to do it, that's their right.
So in that way, I support what Laich has to say. I agree that a player should be able to make this decision on his own. But not the day of. A player in the moment probably isn't wise enough to make a rational decision on the matter. It's like a criminal trying to enter a plea when they are deemed incompetant. A court won't take it until the person is aware of what they are being charged with.
But where Laich loses me is not caring about awareness stuff, the discussion and quiet rooms. It's an important conversation and players need to be aware of the dangers and procedures. You know the old saying keep your friends close and your enemies closer? This is sort of the same idea. You need to know the ins and outs of concussions before you can make a truly informed decision on the matter, on your own health.
Hockey is a tough game, a sport filled with machismo. We know that. Guys still fight bare knuckles and tough out injuries all the time. It's not a sport where showing any perceived weakness is something a player wants to do. So I get where this is coming from.
I feel that what Laich and other players want to do with the information at their disposal is up to them. But the conversation is too important to tune out.
Photo: Getty Images
For more hockey news, rumors and analysis, follow @EyeOnHockey and @BrianStubitsNHL on Twitter.