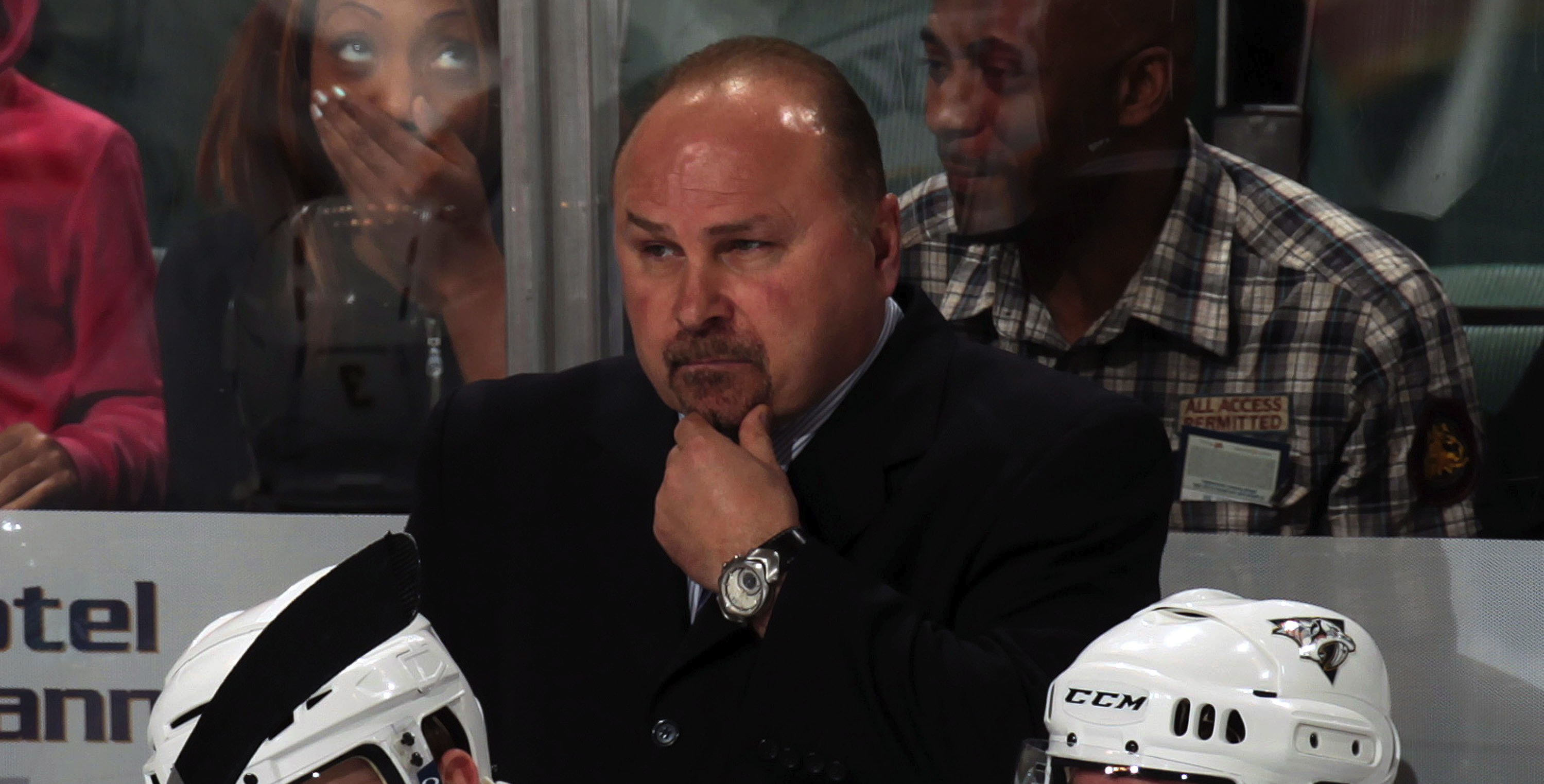 Pucks and Numbers: a weekly statistical look at what's happening around the NHL. This week: a look at how the Nashville Predators are being dominated on the shot charts.
By: Adam Gretz
The Nashville Predators lost to the Edmonton
Oilers
3-1 on Monday night. It was a game that saw them generate just 12 shots on goal, with only eight of them coming in even strength situations. Against any team that would be a shockingly low series of numbers.
Against a young, inexperienced team like the Oilers, a team with serious question marks on its defense (and without its best defenseman,
Ryan Whitney
) and with a second-year goaltender,
Devan Dubnyk
, occupying the crease, it's downright stunning.
And it's been a problem all season for the Predators.
A few things to consider:
1) The Predators have been out-shot in every single game they've played this season, and in five games have managed just 115 shots on goal, an average of just 23 per-game, the second worst mark in the league. Calgary is the only team averaging fewer.
2) Only 84 of those shots have come in even strength situations, while Nashville has scored just six of its 14 goals during 5-on-5 play. The Predators have been out-shot 139-84 in even strength situations so far, and been out-scored 9-6.
Here's a game-by-game breakdown that illustrates just how much the ice has been tilted against the Predators so far.
(Shots Att = Shots on goal+missed shots+shots blocked; SOG = Shots on goal; ES SOG = Even strength Shots on goal)
Nashville's Negative Shot Differential
Opponent
NSH Shots Att.
NSH SOG
NSH ES SOG
OPP Shots Att.
OPP SOG
OPP ES SOG
Columbus Blue Jackets
45
31
27
70
34
31
St. Louis Blues
35
16
9
68
33
27
Phoenix Coyotes
36
25
16
57
31
30
New Jersey Devils
48
31
24
67
41
32
Edmonton Oilers
27
12
8
57
25
19
Totals
191
115
84
319
164
139
Yes, in two games this season the Predators failed to record at least 10 shots on goal at even strength.
Basically, the Predators are being dominated when it comes to offensive zone time, as their opponents are keeping them bottled up in their own end of the ice, as shown by the fact their opponents have managed to attempt 319 shots to Nashville's 191. And that's not exactly a who's who list of the NHL's power house offenses. If you're a Predators fan, thank goodness for
Pekka Rinne
, because he's facing a shooting gallery every time he steps on the ice, and according to some of the post-game comments on Monday, he's the only player that's getting any praise in the music city.
He's also probably the only reason they've managed to win the two games they did win.
Here's what Predators forward
Jerred Smithson
said following Monday's loss
, via Joshua Cooper of the
Tennesseean
:
"Just embarrassing. We just got out-worked. It was right from the drop of the puck. If it wasn't for Peks it could have been 5-1. It seems like I've been saying that every time now, but it's the honest truth, we rely on this guy way too much. We don't work, we don't skate, we don't forecheck, we have a hardworking team that doesn't work hard and I don't know, it's beyond frustrating right now. I've never been a part of something like this. It's gotta change right now, or we're going to be on the outside looking in – December we'll be out of this, we have to change it right now."
He also went on to add "It's not one guy, it's not two guys, it's the whole group. Pekka is the exception. He's the only guy playing his balls off right now and if it wasn't for him, we don't have any points. I don't know what to say about tonight, it was terrible."
It doesn't get any more brutally honest than that.
Whatever optimism there was coming into this season after the first playoff series win in franchise history a year ago has seemingly been rocked with this start. This group has been built around its two All-Star defensemen (
Shea Weber
and
Ryan Suter
) and Rinne, while managing to grind out just enough goals to win games 3-2 or 2-1 with a collection of forwards that are castoffs from other teams or young, homegrown players (of which the Predators have a ton) that are still relatively cheap (by NHL standards).
It's a strategy that has led them to the postseason in six of the past seven seasons, and earned general manager David Poile and his staff plenty of worthy praise for putting together a playoff team on one of the NHL's smallest budgets. But there's also been some concern, as Dirk Hoag of On The Forecheck address before the season,
as to whether or not the current makeup of the roster will ever score enough
to allow the team to become a true Stanley Cup contender.
Right now they're not only not scoring, they can't even get into the offensive zone.
Following Monday's game coach Barry Trotz said the Predators were going to "start from scratch." As it stands right now, the Predators don't have the personnel to play a vastly different brand of hockey. Their strengths are still on the blue line and in net and offense will continue to be a struggle, but if they don't reverse this trend of being manhandled when it comes to puck possession they're going to need Rinne to go from a Vezina finalist to an MVP.
And perhaps a miracle worker.
Photo: Getty Images
For more hockey news, rumors and analysis, follow @EyeOnHockey and @agretz on Twitter.