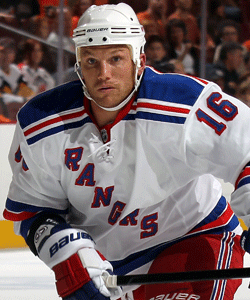 Sean Avery could have gone to Europe to play hockey and made millions more. Instead he turned it down to play for the Rangers' AHL affiliate in Connecticut.
"There was a lot of money on the table to go to Russia, but I don't necessarily feel that was something that I wanted to do," Avery told the Connecticut Whale writer Bruce Berlet. "There wasn't enough money to go somewhere like Switzerland. I'm 100 miles from home, and that certainly factors into it, for sure."
Clearly Avery loves New York too much to want to leave. And why wouldn't he? As Kevin DeLury at the New York Rangers Blog points out, Avery has interests in Manhattan, namely two of his own restaurants and the abundance of fashion.
I share this because it seems this is the message fans are always screaming for players to understand. Here we have a guy who took less money to stay somewhere he is happy, making a decision that goes beyond the bank. Of course, it's the dispised Avery and he's choosing between less attractive options than usual, i.e. NHL clubs, it's unlikely to garner any positive sentiments.
Of course, another reason he could be sticking around is the possibility he could be recalled to join the Rangers. It's still an option, however unlikely it might be.
When asked if he thought he might return to the Rangers this season, his answer was "Probably not, I doubt it."
It has been no secret that he and coach John Tortorella haven't seen eye to eye on a lot. Here's some more of what he told Katie Strang at ESPN New York.
Avery, who has been rehabbing an injured right shoulder since reporting to the Connecticut Whale earlier this month, indicated he didn't believe he was given a fair shot to make the Rangers out of training camp.

"I'd say it's pretty obvious," Avery said. "I'll let everyone else decide for themselves.

"[Tortorella] told me it was his decision and that was pretty much it," Avery said.
Avery continued to say that he thinks he can still play in the NHL. The only problem is I can't foresee any team giving him the chance to prove it at this point.
Photo: Getty Images
For more hockey news, rumors and analysis, follow @EyeOnHockey and @BrianStubitsNHL on Twitter.