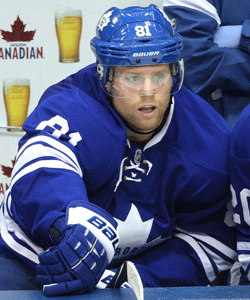 For the rest of time, or at least Brian Burke's tenure in Toronto, the trade he executed to land Phil Kessel from the Bruins will be dissected. If his time in Toronto were up today, there's no doubt it would be his lasting legacy.
The Bruins gave up Kessel at a cost of three draft picks from the Maple Leafs, their first- and second-round selections in the 2010 draft and first pick in the 2011 draft. Those draft slots yielded Tyler Seguin, Jared Knight and Dougie Hamilton for Boston.
Since that trade, it's been all things up for the B's. That's not to say Kessel was the problem in Boston, just that the good times have rolled since the trade and Seguin played a small part in the Bruins capturing the Stanley Cup.
That led Burke to his conclusion as to who actually "won" the trade, from the National Post.
"Peter Chiarelli has a ring. There's no argument," Burke said before the Leafs lost 6-2 in Boston on Thursday. "Whenever people question whether the trade worked or not, he holds up his right hand and you can't say anything."
Don't mistake the candor for regret. Burke doesn't have any of that.
"When people ask: Would we make the trade again? I say, 'In a heartbeat,'" Burke said. "I don't care about the other team. I think Phil is a great player for us and he's showing it.

"The goals and assists are nice. But he's been so much more."
This is why I can't get on board with Burke. I get the sense he's saying it to be humble as well as to put the conversation to rest. It is still impossible to grade this trade accurately. After all, Kessel is on his way to putting up Wayne Gretzky numbers (we just had to include that, ahhhh Leafs fans).
Moreover, the trade didn't directly lead the Bruins to the Cup. As mentioned, only Seguin played a role in Boston's championship.
That didn't stop the Boston faithful from showering Kessel with their appreciation during the game.
I know everybody likes to jump to conclusions on these things quickly. But trades can often take years to fully review. At this point, with Kessel getting off to such a hot start, it's hard to say the Leafs are going to get that short of a short end on the stick. Maybe Hamilton and Knight don't pan out for Boston, You never know. But what we do know is that Kessel has been pretty good for Toronto. Maybe he ends up leading them to a Stanley Cup down the line (hey, it could happen). What then?
So while Burke thinks the decision is already final, only more time will tell.
Hat Tip to Pro Hockey Talk
Photo: Getty Images
For more hockey news, rumors and analysis, follow @EyeOnHockey and @BrianStubitsNHL on Twitter.