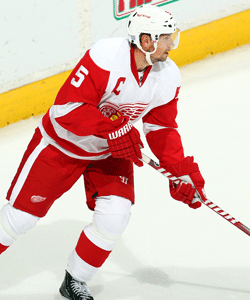 WASHINGTON -- Nicklas Lidstrom, the venerable blueline for the Detroit Red Wings, took part in his 1,500th game of his career on Saturday night against the Capitals. Of those 1,500, he probably didn't have many like this one.
Taking a 7-1 beating by the Caps can't be how he envisioned this milestone night going, right?
"No, not really, especially after playing game number 1,500," Lidstrom said. "I wanted to end on a better note."
It didn't begin too badly for Lidstrom. He helped the Red Wings get back in the game, albeit momentarily, by assisting on Niklas Kronwall's power-play goal, the only one Detroit was able to get past Tomas Vokoun.
He also had an early recognition from the 111th consecutive sold-out crowd at the Verizon Center -- with many Red Wings fan in attendance -- and the Capitals, which didn't go unnoticed.
"It was nice to see the crowd's reaction, I was happy that the Capitals organization announced it too," Lidstrom said. "Class effort of their bench as well for the standing up and giving me an applause there."
Normally a milestone like 1,500 games is something you want to remember. I'm sure Lidstrom would rather soon forget.
Photo: Getty Images
For more hockey news, rumors and analysis, follow @EyeOnHockey and @BrianStubitsNHL on Twitter.