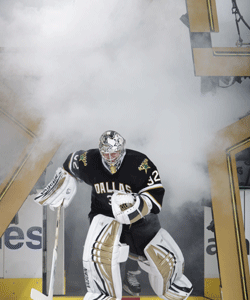 There is a light at the end of the Dallas Stars' ownership tunnel.
The deadline for suitors to bid on the team has come and gone and the only bidder remains Vancouver businessman Tom Gagliardi, who has been the frontrunner to buy the team for some time. Now there are just a few technical hurdles to jump before they can move on with life in Dallas, where they have been hamstrung by owner Tom Hicks' financial troubles and have since been hemorrhaging more than $30 million per season.
More details from ESPNDallas.com:
The next step in the process is a November 23 hearing in a Delaware bankruptcy court, where the court will consider "approval of the Sale, and confirmation of the Debtors' Prepackaged Plan and any objections thereto and to consider any other matter that may properly come before the Bankruptcy Court."

Approval of the NHL Board of Governors and closing of the sale also are needed for the deal to be finalized.
In a statement, NHL Deputy Commissioner Bill Daly talked about what comes next from the league's standpoint.
"Now that the bidding deadline has been reached, we will continue our due diligence process and will proceed with the Board's ownership transaction review process," Daly said. "We also will work with the courts in the continued hope of bringing this matter to a successful and expeditious resolution."
Assuming everything goes through without a hitch, this could be a very big development to watch as the season unfolds. If Dallas continues to play as well as it has to open the season, the lowest payroll in the league would have lots of room to add players and an owner who would likely be willing to do it.
Worried about relocation with a Canadian businessman purchasing a team in Texas? Don't be. Gagliardi has connections to Texas. Not only does he have family living in the Metroplex, his mother is from Longview.
Photo: Getty Images
For more hockey news, rumors and analysis, follow @EyeOnHockey and @BrianStubitsNHL on Twitter.