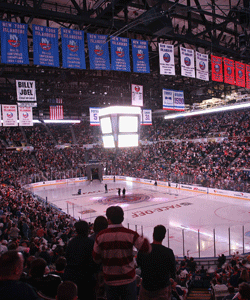 Gary Bettman doesn't think the Islanders are going anywhere.
The commish made a stop on Mike Francesa's show on WFAN in New York and among other things, he discussed the plans to keep the Islanders where they are (not Nassau Coliseum, but Long Island).
"I refuse to accept that this team is not going to get a new building at some point," Bettman said. "[Owner] Charles Wang is committed to the Island, committed to the Islanders. He's devoted almost a decade of his life, tens of millions of dollars in pursuit of this and fortunately there are a few years left. They're not going to stay in the Nassau Coliseum no matter what, so we're going to need to come up with a solution somehow, somewhere."
That's all encouraging for Isles fans to hear. Nobody wants to lose their team.
Bettman continued:
"The team needs a new building and there has to be concrete plans on the horizon that's going to get it done otherwise we're going to have a problem," Bettman said. "I don't know exactly how we're going to solve that problem, but it's inconceivable to me that the Islanders wouldn't be on Long Island because it would be malpractice for those in charge to let that happen."
This part made my ears perk up. A "malpractice" if the Islanders were to leave New York? Well yes, I'd agree. However, why wasn't it a malpractice for the Thrashers to leave Atlanta, or the Whalers to leave Hartford? Bettman's answer probably would be simply that it was a malpractice in those spots too, but don't you think they would have liked to see the commish fight the same way?
The only differences between the Thrashers and Islanders is that the Isles didn't always suck and they are in New York. Then just swap ownership issues for arena issues and you have similar stories. It's just Bettman doesn't seem willing to let this one end the same way Atlanta's did. Which is good. I've stated many times that I don't like the idea of contraction or relocation (although at this point I think I'd be willing to bend on Phoenix).
You can listen to the entire Bettman segment here. One thing Bettman does well is interview on the radio. Just don't ask him to act in any commercials.
Photo: Getty Images
For more hockey news, rumors and analysis, follow @EyeOnHockey and @BrianStubitsNHL on Twitter.