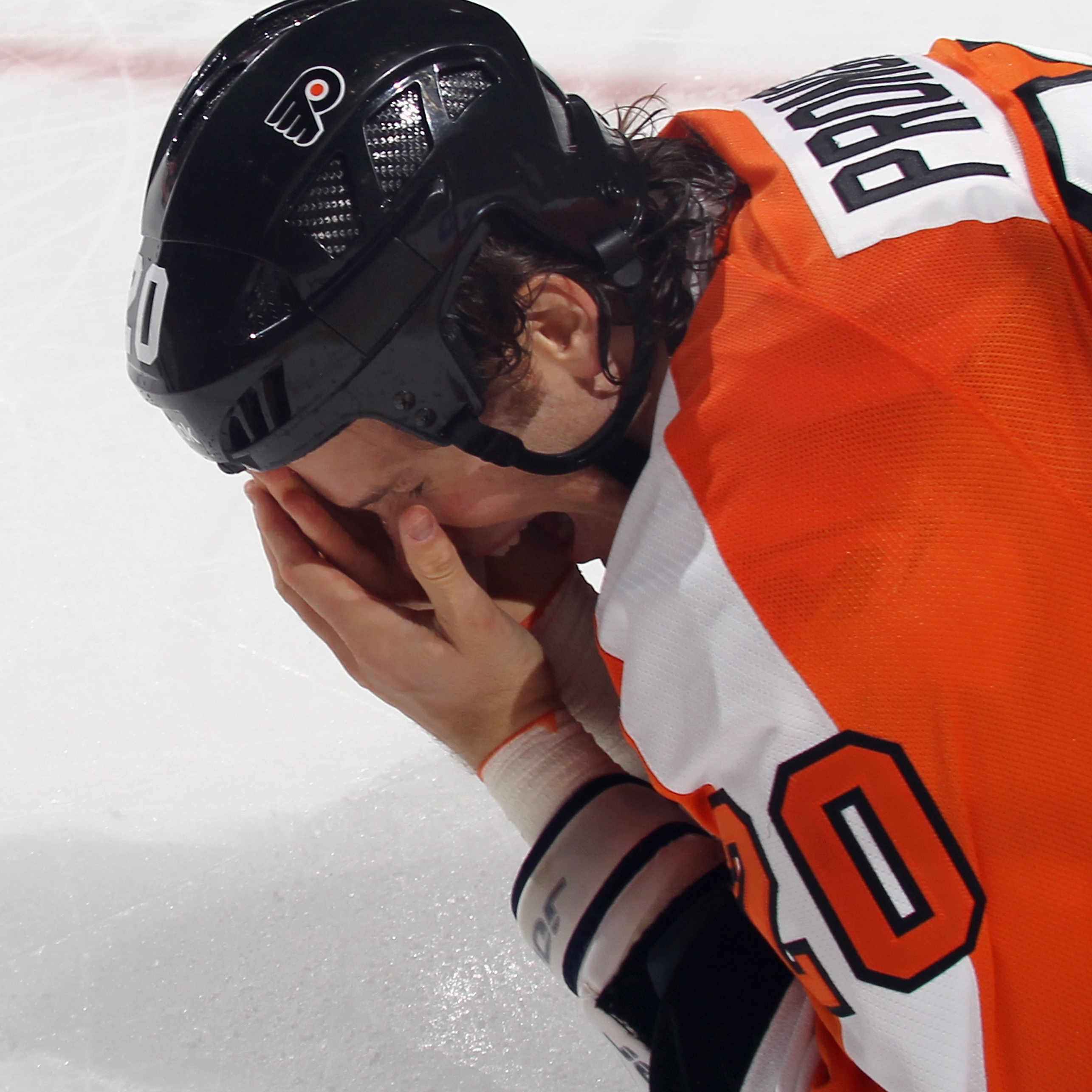 By: Adam Gretz
The eye injury suffered by Philadelphia
Flyers
defenseman
Chris Pronger
on Monday night
produced the obvious reaction, as the debate as to whether or not protective visors should be made mandatory at the NHL level was instantly fired up.
Had Pronger been wearing one it's likely he wouldn't have suffered the injury and wouldn't be out of the lineup for a couple of weeks. When he does eventually return to the lineup it's expected that he'll be wearing a visor.
Will this injury, isolated as it may be, bring the NHL any closer to making visors a required piece of equipment? Probably not, and we're still probably a long way off from that becoming a reality.
As Greg Wyshynski
pointed out on Monday afternoon
there are still more than enough players -- including some of Pronger's own teammates, players that had to watch him take a stick in the eye on Monday night and then frantically race off the ice -- that view it as their face, their risk and their decision. Whether or not Pronger keeps the visor he's expected to wear once he returns for the remainder of his career remains to be seen, but he wouldn't be the first player to have a change of heart after suffering an injury to his face.
Helene St. James of the
Detroit Free Press
spoke with
Red Wings
defenseman
Nicklas Lidstrom
who started wearing a protective shield following an incident during the 2008-09 season when a puck hit him in the face.
Said Lidstrom
:
"If I'd had a shield on, it probably just would have hit the shield," Lidstrom said. "That's why I put one on. It kind of gave me a wake-up call, not having been wearing a shield for 17, 18 years maybe. So that's why I put one on. That's one of the precautions I wanted to take.

"You just have to get used to it, get over the hump of wearing it," Lidstrom said. "When you're so used to not wearing one and put one on, it's not the same. But once you get used to it, you're OK with it."
Despite Lidstrom's experience and comments, he still thinks it should be the players decision, a sentiment that was seemingly echoed by his head coach, Mike Babcock, who said "A guy like Prongs, who plays the game the way he does, and he's been doing it so long, and suddenly, someone is going to make you wear a visor. I don't know. I don't know the answer. It's an individual question."
It is an individual question, and the players, despite the occassional incident when a preventable injury does occur, seem to like it that way. And if past NHL history is any indication we're still probably a long way from having that particular piece of equipment become mandatory. Take, for example, how it took the NHL
11 years
to officially make helmets mandatory following the death of Bill Masterson which came after he fell and hit his head on the ice during a game in January, 1968.
There was a time when something as practical -- and now accepted -- as helmets, and even goalie masks, were considered to be the individual players choice. And even then it was a struggle. When Jacques Plante wanted to wear his first goalie mask, because he had so suffered so many broken bones in his face, his coach, Toe Blake, attempted to prevent him from wearing it during games because, as the story goes, he felt it would hurt his goaltenders vision (oddly enough, that's one of the biggest complaints current players have regarding visors).
Eventually common sense prevailed in both cases, and helmets and goalie masks are now accepted pieces of equipment at all levels of hockey. It seems inevitable that the same thing will one day happen with the visor, but based on the mindset of so many current players it doesn't seem like that day is as close as it probably should be.
Photo: Getty Images
For more hockey news, rumors and analysis, follow @EyeOnHockey and @agretz on Twitter.