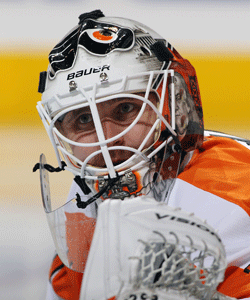 Pardon me while I rant. ...
Philadelphia Flyers goalie Ilya Bryzgalov is the latest player to sign an exclusive autograph signing deal with BC Sports.
He joins a list of other players signed to similar deals with BC Sports that includes Michael Vick, Reggie Jackson and Bernie Parent. As a result, next month Bryzgalov will have an appearance in a New Jersey mall where he will "sign memorabilia for a fee of up to $59."
"BC Sports continues to bring together top athletes and their fans," said Pat Waters, president of BC Sports. "This public signing exclusive with Ilya Bryzgalov for the 2011/12 season is the latest in our ongoing efforts to bring our customers unparalleled athlete experiences."
I hate it.
This idea that continues to grow is awful. I understand that it is capitalism at its finest, getting a dollar for everything you can, but frankly, it sucks.
A chance to bring customers unparalleled athlete experiences? What a load. What is unparalleled is when a fan has a chance encounter with a player, maybe in an airplane, perhaps at a hotel. An unparalleled experience is a little kid having something signed by an athlete at the stadium/arena. You know, the priceless moments so many kids cherish and remember forever?
This idea that you have to pay money to get a player to just give an autograph is elitist and reclusive. What about those people who don't have an extra $59 to throw out? They are now deprived of a chance to get an autograph from Bryzgalov?
I understand that for a lot of players to take a few hours to go have a signing session will require the athlete getting something in return. But what I don't understand is passing the buck on to the consumer. If a store owner wants to increase traffic to his/her business, he/she should pay for the athlete's time. After all, they benefit almost as much by the influx of people coming to their story.
Not to mention it does little to help the image of pro athlete's as selfish. I don't say that to demean the athletes, in this case Bryzgalov, but it's a perception that exists and things like this won't help.
I don't direct my anger for this at the players. Even though most all of them have a ton of money already, I won't begrudge people for taking a buck or 59 that is offered to them. Instead my vitriol is for the people who came up with the idea and the folks who run this business. Monopolizing a little scribble that so often is nothing more than a great memory for the fans? Because of this exclusive agreement, will Bryzgalov have to tell a little kid that sees him at the grocery store, "sorry, I can't sign that?"
I hate it.
Photo: Getty Images
For more hockey news, rumors and analysis, follow @EyeOnHockey and @BrianStubitsNHL on Twitter.