The refurbished Madison Square Garden finally hosted a Rangers game on Thursday night, and it wasn't enough like old times for the fans. And I'm not talking about the $9.50 domestic beers.
No, the fans in attendance were longing for the old MSG, where Sean Avery delighted them on the ice. OK, maybe they were just longing for Avery.
There was also a banner hanging from the upper level earlier in the game in support of Avery. Mysteriously, it was gone later in the game. I'm going to go out on a limb here and say the fan didn't have a change of heart midway through the game and took it down him/herself.
The case of Avery is an odd one. He is a player that all the teams in the NHL apparently don't want to touch with a 10-foot pole, including the Rangers, who sent him to the AHL's Connecticut Whale. If you ask 100 people to describe Avery the player in one word, the most flattering response you would receive is "agitator."
He's like a member of the Rangers family. Johnny Ranger fan can insult him all day long, just like I can call my brother a jerk (hypothetically, of course). But don't you even dare to call my brother a jerk. It's in the same vain. Avery might just be an ineffective player whose only role it seems is to piss opponents off, but he's THEIR ineffective player whose only role it seems is to piss opponents off. He's a fan favorite. His antics have gone over well in New York, clearly.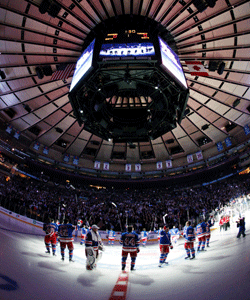 But honestly, this wouldn't be that big of a deal if the Rangers were playing better, specifically Avery's replacement, Kris Newbury. Sure, they are 3-3-2, but it has been less-than inspiring. This is a team that had a lot of hype after an offseason that saw them catch the biggest fish swimming in the free-agent lake. The combination of Brad Richards with Marian Gaborik would be gold, I tell you, gold. The Blueshirts would finally be able to give Henrik Lundqvist the kind of scoring support to show he is a Vezina-quality goaltender.
Well, it hasn't happened yet -- the scoring, not Lundqvist showing he is Vezina-quality. The Rangers offense has scored 16 goals in eight games. Even the mathematically challenged should easily recognize that as two goals per game, not very impressive.
"I've known [Gaborik] for a month now," Richards said. "It would be great if we'd come in here and click perfectly. Realistically, we have some work to do, and we've got to get to know each other on the ice. We're both used to having the puck. That's a work in progress, for sure."
"It's no secret that we have to put more pucks in the net," Ryan Callahan said after Thursday's game.
This has coach John Tortorella tweaking the lines, trying to find the right combinations. The pairing of Gaborik and Richards just hasn't produced yet the way they hoped. Gaborik was practicing on Friday with Wotjek Wolski and Erik Christensen on one line while Richards was with Brandon Dubinsky and Callahan on another.
It's under that backdrop that the Rangers welcome the Ottawa Senators to new-look MSG on Saturday. You know the Senators, the team most everybody saw as being the worst in the Eastern Conference this year but has surprised the masses by winning four games in a row? The plus side is that the Senators could be the team to jumpstart the typically sluggish Rangers offense. Ottawa has surrendered a league-high 39 goals in 10 games.
Let's look at that game as a second chance to make a first impression at home.
Scorer's delight
Speaking of that Rangers season debut at MSG, it was the Toronto Maple Leafs who spoiled the party with a 4-2 win in New York. With the victory they remained one of the surprising starters of the season, improving to 6-2-1.
But I pose this question: What's more surprising, Toronto starting so well thanks to Phil Kessel's nine goals, or Penguins forward James Neal being tied with Kessel for the league lead in goals scored? We'll have a chance to see them at the same time on Saturday when the Penguins visit the Leafs.
Normally, hearing that a Pittsburgh Penguins player leads the league in scoring doesn't come as a surprise. Rather, it is expected. But that's expected from guys named Sidney Crosby and Evgeni Malkin, not James Neal.
Which brings me to that trade from last February when the Penguins acquired Neal. Talk about one of those trades where both sides win. Well, let me rephrase; a trade where it looks like both sides came out well. I caution against calling winner and losers in a trade so soon. But Neal has obviously been producing for Pittsburgh as he seems capable of not only reaching his career-high 27 goals he had in 2009-10, but surpassing it. On the other end, Matt Niskanen and Alex Goligoski, while having very cool surnames, have both been good fits in Pittsburgh and Dallas.
As for the Leafs' sharpshooter Kessel? Well this is what they hoped for when Brian Burke made that trade a couple of years ago. Just for fun, I'd like to point out that Kessel is on pace for an 81-goal, 144-point season and a plus-45 at this time.
Big Z, Max meet ... again
Zdeno Chara and the Boston Bruins will be in Montreal on Saturday to pay a visit to the Canadiens. Obviously it's an anticipated reunion for some folks who are into that sort of thing.
Chara has already been back to Habs Town since his hit on Max Pacioretty late last season, the Bruins had to go through the Habs on their way to the Stanley Cup. But it will mark the first time Chara has faced Pacioretty in Montreal. OK, OK, we're stretching a bit. The Canadiens just beat the B's Thursday in Boston, so let's just say this one is about the game, shall we?
These are two struggling teams. Montreal got off to such a bad start, it was their worst in 70 years! It led to the firing of assistant coach Perry Pearn and since then, the Habs have reeled off two in a row, including one over the Bruins. Not that that had much if anything to do with Pearn's dismissal, but at least the Habs are showing signs of getting out of the early season doldrums.
For Boston, they have struggled too, although much more quietly. Interesting considering they are the defending champs and all. In a way this might have been expected. You hear all the time about the dreaded hangover, and that might be in play here. Either way, the Bruins are struggling to score.
The game is just like any other in an 82-game season, but this will quietly be an important one. These teams both want to get on track and in the Boston's case, a home-and-home sweep at the hands of the hated Habs wouldn't help in that regard. But for Montreal, it could help forgive much of the early struggles.
Best games, on paper
Entering the season, these two games appeared to be monster October showdowns: The Sharks visiting the Red Wings on Friday then the Capitals taking on the Canucks in Vancouver on Saturday. If you had to pick five preseason favorites to win the Stanley Cup, there's a good chance three or maybe all four of these teams would make that list.
The Sharks have been somewhat slow to start themselves, but seem to have flipped the switch and won three games in a row, all on the road. The Red Wings, on the other hand, began like gangbusters, but have since lost two games to the Caps and previously winless Blue Jackets. However these two are still titans and will be in the Western hunt all year and just might have another playoff battle lined up. (You might remember they played a great seven-game series last season.)
As for Capitals-Canucks? Well one team has played like a Cup contender and the other, well, the Cup contention seems like a long time ago now. Washington finally took its first loss in Edmonton on Thursday night after getting off to a franchise-record 7-0-0 start. Tomas Vokoun has been spectacular. If there has been anything to complain about up to this point, it's nitpicking.
Vancouver meanwhile has a hot mess of a goaltending situation at the moment. Starter Roberto Luongo is more than a hot topic in the city, a lot of the fans want him gone and would like to see Cory Schneider play. A victory over the Capitals, while not incredibly symbolic at this time of the season, would perhaps satisfy the fan base with the notion that things will be OK. Serenity now!
Somebody get him a compass
Ilya Bryzgalov, who is admittedly "lost in the woods" right now and appears to be a broken goalie, is slated to start Saturday night against the Carolina Hurricanes. He better find his way out of the woods in a hurry.
Since his first two starts of the season when he was stellar, Bryzgalov has been a mess, never worse than Thursday's five-goals-on-10-shots showing in "reprieve" of Sergei Bobrovsky. His best showing since those first two was when he gave up three goals to the Kings in an overtime loss. His numbers right now? Ugggly. Try an .870 save percentage and 3.45 GAA. Ouch.
So Peter Laviolette might have decided that what better way to get a goalie's broken confidence going once again than start him the next time out?
Either that or Lavy didn't want to put Bobrovsky back out there either.
Pregame trash talk
One of the great things about Twitter is the ability for players to interact with fans and other players for thousands to see. Ever wonder what players talk about before the puck is dropped in the faceoff circle? Twitter has helped give fans an idea.
But Anthony Stewart of the Carolina Hurricanes and Daniel Carcillo talking a little pregame smack on Twitter before Friday night's tilt? Yes please!
Carcillo (@CarBombBoom13) got it started with this: Goin 2 Carolina to throw a beat down on the Hurricanes and on@EhStew13 Just like in bantam when I'd drop u in buckets b4 pracy #indafaaace
Here was the response from Stewart (@EhStew13): You remembered u got Tko'd, keep the Bus in the Windy City, these 2 points aren't for sale #meh.
The short back-and-forth concluded with Carcillo: @EhStew13 we aren't lookin to buy #5fingerdiscount and I recall me havin to double shift in practice bc some1 had post concussion syndromes.
Good stuff. Guys having some playful smack (I'm assuming its playful) for all to see is good fun.
As to the game itself between the 'Hawks and 'Canes in Carolina? Well Chicago is looking for its first win in Raleigh since 1998. Granted there is unbalanced scheduling, but still, that's a long time. Also, Eric Staal needs to improve and that league-worst minus-9 he's sporting at the moment. Ouch.
Back to Vancouver ...
There will be no Green Men sitting by the opponent's box to torment Alex Ovechkin and crew. Vancouver's most famous fans will instead be ... in Bakersfield, Calif.?
Well look at that, the Green Men have turned their antics into appearances at hockey arenas. The Bakersfield Condors of the ECHL (originally from the WCHL) will have the spandex-wearing fans at their game on Friday night. Then Saturday will be Star Wars night.
I don't know about you all, but I'd rather see Star Wars night. Either way, these promotions are two big reasons why minor-league hockey is so awesome.
Photo: Getty Images
For more hockey news, rumors and analysis, follow @EyeOnHockey and @BrianStubitsNHL on Twitter.