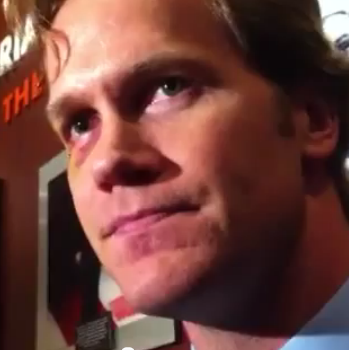 By: Adam Gretz
Chris Pronger
addressed the media on Saturday night for the first time since suffering an eye injury last week that will sideline him for the next couple of weeks. His right eye looked every bit as mangled as one would expect after taking a stick to the face during a game against the Toronto
Maple Leafs
, and the defenseman said he has no idea on a timetable for his return to the lineup.
He also said that he's experiencing some blurred vision, and when asked if he feels lucky that the injury wasn't worse, he admitted it could have easily been a lot worse but also added that you never feel lucky after getting hit.
Flyers
beat writer Anthony SanFilippo
has the video of the entire media scrum
which lasts about three-and-a-half minutes.
It's been reported that Pronger will not be cleared to return to the Flyers' lineup without wearing a visor, and when asked if the injury has changed his opinion on wearing one he simply said "You don't want to know my stance, that's for another day."
And with that, the debate rolls on. While Pronger was addressing the Philadelphia media, the folks on
CBC Hotstove were debating whether or not the NHL should make visors mandatory
and, predictably, former NHL player and New York
Islanders
general manager Mike Milbury was completely against the idea and the very suggestion of it, arguing that it would change the game and be a major step toward the elimination of fighting, while also claiming that he likes seeing players bloodied because it's a badge or honor and courage.
Leaving aside the argument as to whether or not fighting should or should not be eliminated (which is another, more difficult discussion for another day) the flaw in that argument, of course (the fighting part, anyway),
as pointed out by TSN's Bob McKenzie via Twitter
, is that the American Hockey League has made visors mandatory and fighting still takes place.
As I pointed out last week there are still are a good number of NHL players
that view wearing a visor as their own personal choice
because it's only putting themselves at risk for injury. And while that's true, that they're the only person that has to deal with the pain and injury that could come from not wearing a visor, they are putting their teams at risk -- as well as the large financial investments of their front office -- by potentially missing games due to what could be an easily preventable injury. And as far as increasing player safety is concerned, this is one change that would not, contary to Milbury's howls for blood, have a major impact on the game, unlike some other potential changes (like, for example, no-touch icing).
You're not going to completely eliminate injuries no matter what changes you make to the way the game is played or the equipment players are forced to wear. Playing the game will always carry a certain amount of risk. But the issue isn't whether or not visors can completely eliminate the potential for injury, it's about whether or not (and how much) it can reduce the risk of preventable ones.
Meanwhile, Washington
Capitals
forward
Brooks Laich
addressed the subject on Saturday, and according to Katie Carrera of the
Washington Post
, he feels the NHL is within five to 10 years of making visors mandatory.
Said Laich,
via the Post
:
"I think eventually visors will be mandatory for players coming into the league," said Laich, who is Washington's NHLPA representative. "If they do institute that rule I'd like to be grandfathered where [those already in the NHL] have a choice. I almost wish I wore a visor because incidents that can happen. Last night, you take the ear and maybe that's two inches and it's in your eye."
My only question: five to 10 years? Why so long?
For more hockey news, rumors and analysis, follow @EyeOnHockey and @agretz on Twitter.