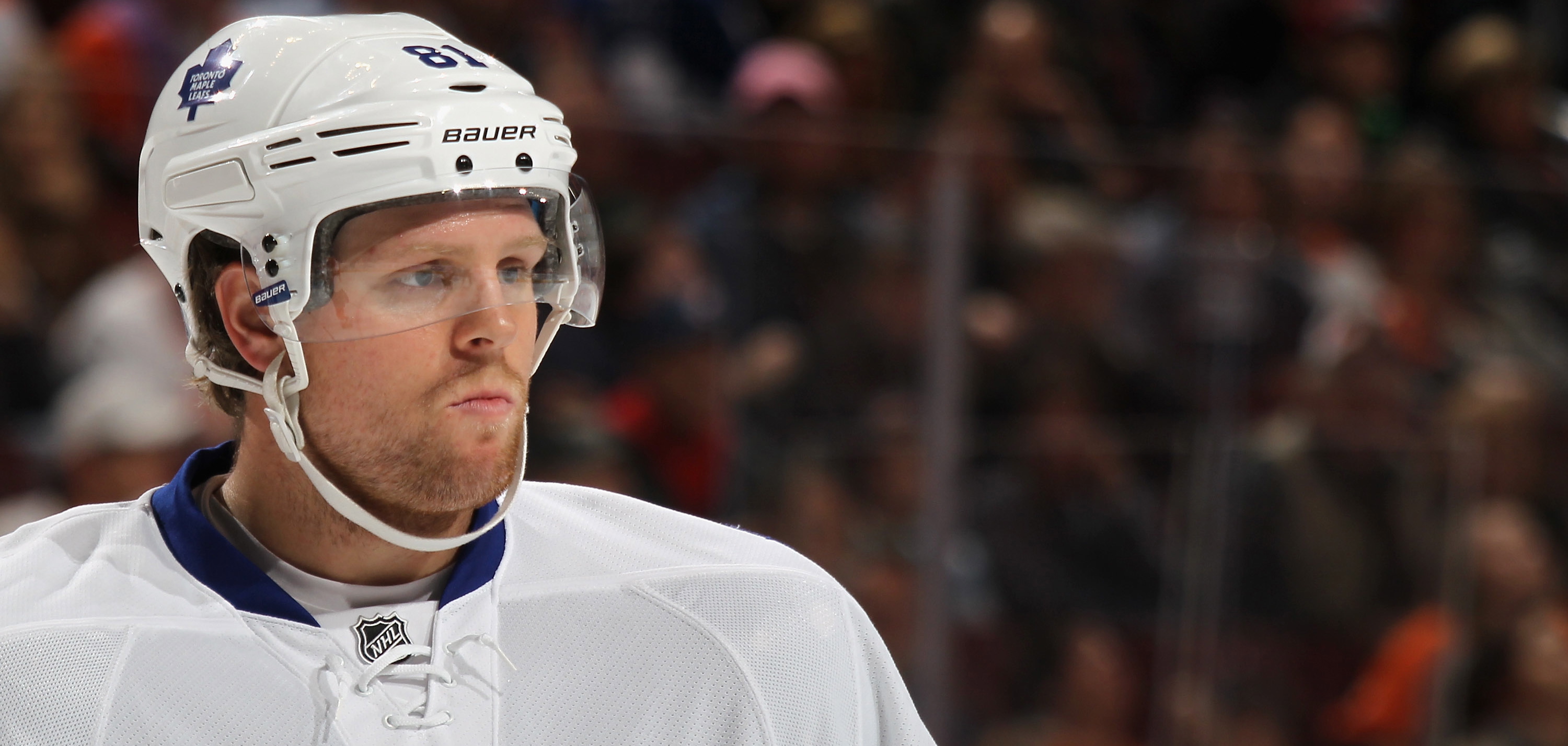 By: Adam Gretz
The first month of the NHL season is in the books and we're still trying to figure out which teams are good, which teams are bad and which hot start is for real and which one is simply an early season mirage. Let's check in with a progress report on some notable players and teams for the month of October.

Phil Kessel, Toronto Maple Leafs:
Let's pretend, just hypothetically, that Phil Kessel is able stay near the top of the NHL's scoring list all.
Now, you shouldn't expect him to maintain his current pace (his shooting percentage is currently 26 percent -- that's probably not sustainable for a full season), but what if he were to do something completely unexpected like, say, win the NHL's scoring title and help lead the Maple Leafs to the playoffs for the first time in six seasons. Would that do anything to change your opinion of the the trade that brought him to Toronto? Should it? Brian Burke
has already said Boston won the trade
because it has a Stanley Cup, but that trade -- which landed the
Bruins
two first-round draft picks, including a No. 2 overall selection used on
Tyler Seguin
, and a second-round pick -- had little to do with that championship. Seguin played about 12 minutes a game and scored 11 goals during the regular season, and only appeared in two postseason series. It's not like he was the driving force behind that cup run. The steep price Toronto paid still overshadow the fact that Kessel is a pretty darn good (three straight years of 30-plus goals) player and still only 24 years of age.
Even if he doesn't maintain this current pace he's been the most dangerous offensive player in the NHL this season and one of the biggest reasons the Maple Leafs are off to their best start in a decade, and that's worthy of a top-grade for the first month.
Other players and teams earning A's for the month of October
Jonathan Quick (Los Angeles Kings)
-- had one of the best months of any goaltender in the NHL, including three consecutive shutouts;
James Neal (Pittsburgh Penguins)
-- for a Penguins team that continues to deal with injuries, Neal has been their best overall player and looks to be the young goal-scoring winger they've been searching for for years;
Nikolai Khabibulin (Edmonton Oilers)
-- He leads the NHL in save percentage and goals against average for what has been, so far, the toughest team in the NHL to score against; and the
Dallas Stars
-- winners of eight of their first 11 games, thanks in large part to the play of
Kari Lehtonen
.

Ottawa Senators:
For the first two weeks of the season the Ottawa Senators looked to be every bit as awful as they were expected to be.
Over the next two weeks? They won six games in a row and end the month two game over .500. Even through the awful stretch to start the season the Senators were impressive with their determination to never quit in a game, regardless of the score, resulting in acouple of late come-from-behind victories (against Minnesota and the
Rangers
).
They've been outscored 27-15 over the first two periods but have outscored their opponents 21-18 in the third period. It's not likely they'll be able to continue to rely on huge third period comebacks to get wins, and they're going to have to start getting some better starts in games so they're not constantly trying to play catch up, but a 7-5 record at this point is more than could have (or should have) been expected.
Other players and teams earning B's for the month of OctoberPekka Rinne (Nashville Predators)
-- He's been the best player on a Nashville team that is losing the possession battle just about every single night and is facing more shots than any other goaltender in the league. He's keeping the Predators in it while they search for some offense;
Jaromir Jagr (Philadelphia Flyers)
-- Three years away from the NHL and at 39 years of age Jagr opened the season and showed everybody that he can still play at the highest level with a point-per-game pace for the Flyers.

Detroit Red Wings:
The A-plus honor student that brings home the rare and unexpected C. You know they can do better, and you expect them to do better. (And they will do better.) But after starting the season 5-0 the Red Wings dropped four in a row by a combined margin of 16-4. That streak includes a 7-1 thrashing at the hands of the Washington
Capitals
, a game that was followed by a 4-1 loss to the Columbus
Blue Jackets
for their first victory of the season. Their defense definitely took a hit when Brian Rafalski retired over the summer, and they're not the defensive stalwart they were a few years ago, but they should be better than they've looked over the first month.
Other players and teams earning C's for the month of OctoberMontreal Canadiens
-- Injuries to their defense, as well as top forward Michael Cammalleri, didn't help, but a rather uninspiring start for the Canadiens that only started to turn around when an assistant coach was forced to take the fall.

Ville Leino, Buffalo Sabres:
Terry Pegula spent a ton of money this summer in an effort to make the Sabres a Stanley Cup contender, and one of his biggest investments, Ville Leino, has been a complete non-factor through the first month of the season. In 10 games the 28-year-old Leino has scored just one goal to go with one assist and has recorded just five shots on goal, or one every other game. He's definitely talented, but based on what he's actually produced at the NHL level the six-year, $27 million contract was, at the very least, one hell of a gamble. And so far it's a losing one.
Other plays and teams earning D's for the month of October
Jaroslav Halak (St. Louis Blues)
-- And he's probably right on the line between D and F. Let's just say this: the only goaltender in the NHL that has a worse save percentage entering November is Ottawa's backup,
Alex Auld
.

Columbus Blue Jackets:
An offseason with such excitement and a season that seemed to have so much promise was opened with … the worst start in franchise history and the worst record in the NHL. There is obviously time to turn it around -- and I still believe the Jackets can -- and the two big offseason acquisitions have been limited so far, which isn't helping things.
James Wisniewski
was suspended for the first eight games of the regular season, while
Jeff Carter
, acquired from the Flyers, was limited to just five games in October due to a foot injury, scoring zero goals. Still … the worst start in franchise history?
Other players and teams earning F's for the month of OctoberThe Boston Bruins
-- Defending champs with the second-worst record in the league.
Photo: Getty Images
For more hockey news, rumors and analysis, follow @EyeOnHockey and @agretz on Twitter.