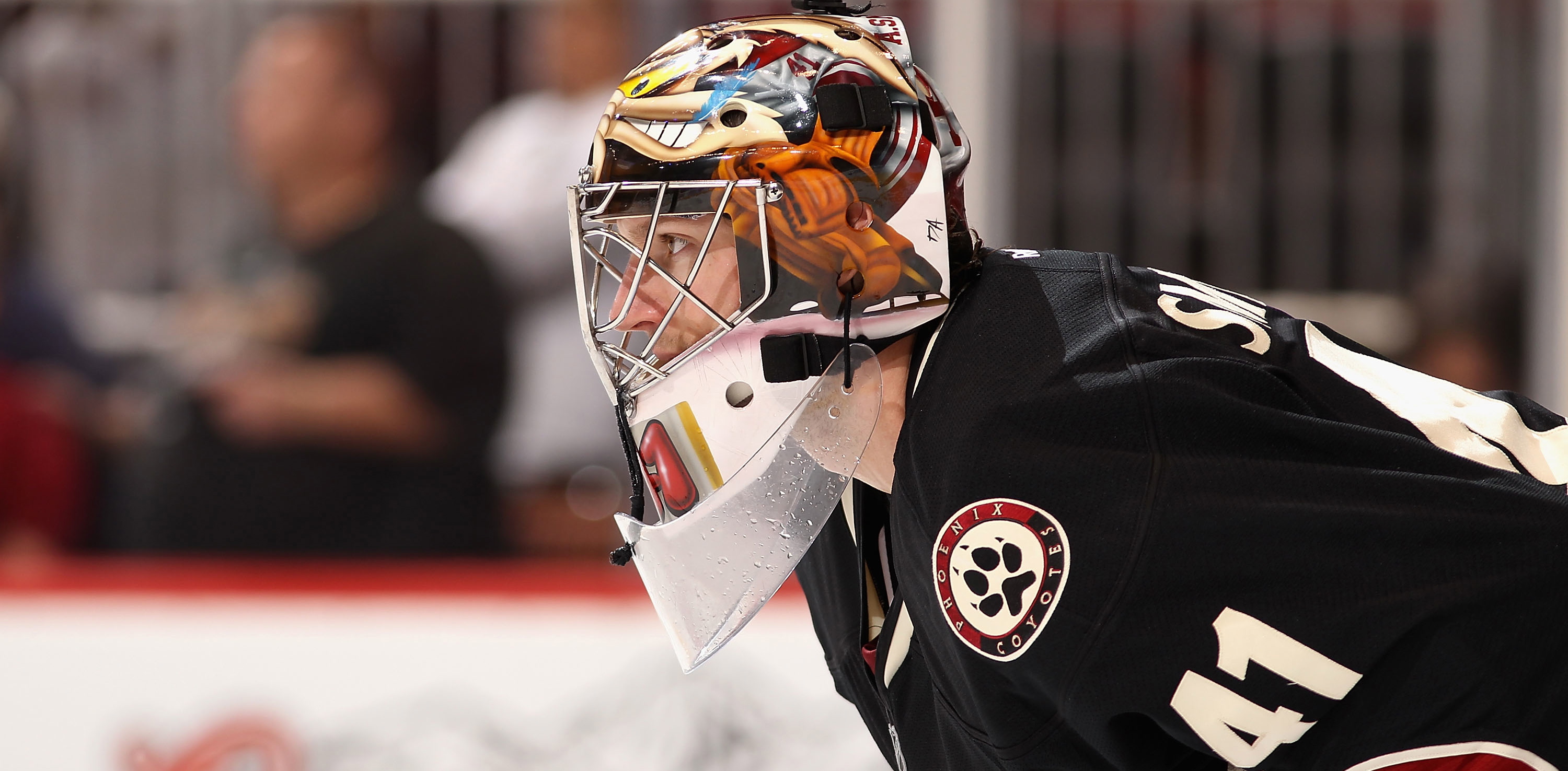 Pucks and Numbers: a weekly statistical look at what's happening around the NHL. This week: how big of a drop has Phoenix experience in goal with Mike Smith replacing Ilya Bryzgalov
By: Adam Gretz
A lot has been made about the early struggles of Ilya Bryzgalov in Philadelphia to start the season, but there hasn't been much discussion about the goalie -- Mike Smith -- that's been asked to replace him in Phoenix, and how much of a dropoff there has been from one season to the next.
Bryzgalov had an outstanding run in Phoenix after being claimed on waivers during the 2007-08 season and proved himself to be one of the better goaltenders in the NHL. We know he's better than Smith, and that the
Coyotes
would have some large shoes to fill in his absence, but how much of an impact has the drop from him to Smith had on the Coyotes through the first 10 games of the season?
The answer so far: not that much.
When I spoke to Smith over the summer shortly after he signed a two-year contract with the Coyotes, one of the things we talked about was head coach Dave Tippett and his defensive system and how favorable such a system can be for a goalie.
Said Smith back in July
: "There are systems that are favorable to goalies because you're going to get more shots from the outside. There's not going to be as many scoring chances from the great scoring chance areas in the middle of the ice. For me, with my size and my ability, if I feel like I can get a lot of shots from the outside, I'm going to do my best and have a good opportunity to make those saves."
Of course, that's not really unique to the Coyotes. Every team in the NHL wants to keep the play away from the middle of the ice and limit the number of shots they allow to actually get on net. After all, you're never going to hear a coach say, "yeah, our goal is to give up a ton of shots and scoring chances and let our goalie try to bail us out every shift."
Still, under Tippett's watch the Coyotes have been a very smart, disciplined team defensively and not only have had some underrated defensemen, they've also had a lot of excellent defensive forwards, all of which makes a goaltenders job just a little bit easier. And goaltenders have had their share of success playing for Tippett in Dallas and Phoenix.
Bryzgalov's two best seasons in the NHL came while playing under Tippett's system in Phoenix. Smith had previous experience with him in Dallas for parts of two seasons in the mid-2000's, a stretch that also produced some of his best hockey at the NHL level. And while we're on the subject of coaches, don't discount the impact of goalie coach Sean Burke. I've had more than one Coyotes
player tell me over the past year-and-a-half
that Burke had a positive impact on Bryzgalov's development, while Smith himself said he was looking forward to the oppurtunity to learn from him.
So how much of a difference are we talking about this season with Smith in goal?
Here's a look at the performance of the Coyotes goalies at this point in the season over the past three seasons. The goalies in each season: 2011-12 -- Mike Smith and
Jason LaBarbera
; 2010-11 -- Ilya Bryzgalov and Jason Labarbera; 2009-10 -- Ilya Bryzgalov and Jason Labarbera.
Phoenix Goaltending Through 10 Games
Year
ES Shots
ES Save %
Total Shots
Total Save %
Goals Against
2011-12
244
.918
320
.912
28
2010-11
263
.923
345
.924
26
2009-10
196
.938
260
.915
22
The 2009-10 gave up so few goals at that point mainly because they weren't allowing any shots on goal, taking quite a bit of pressure off the two goalies. So far this season there has been a slight been a drop from where they were a year ago, which should be expected (again, Smith isn't as good as Bryzgalov) but it hasn't been all that large.
Actually, it's been quite insignificant. At least not as large as the $8 million difference in salary for this season would indicate. At the current pace the Coyotes would only give up an extra two or three goals per 500 even-strength shots (
which can be a more accurate measure of goaltending talent
). And if that turns out to be the case, how much are they really going to miss Bryzgalov?
Photo: Getty Images
For more hockey news, rumors and analysis, follow @EyeOnHockey and @agretz on Twitter.