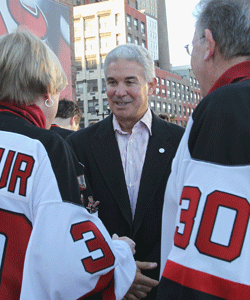 New Jersey Devils fans, you might want to study up on the ownership situation in Dallas the past few years, because that could soon be your team's fate, too.
At the beginning of September, the New York Post reported that the Devils controlling owner Jeff Vanderbeek had not paid a loan payment and that bankruptcy was down the road. For their part, the Devils categorically denied the report.
Well, the report is back, this time from a what most would consider a rock-solid source when it comes to the finances in hockey, Mike Ozanian of Forbes magazine.
Yesterday afternoon I tweeted that creditors of the Devils and the Prudential Center were looking to unload the National Hockey League team's debt at a steep discount. Last night the Globe and Mail reported the same story. From working on our NHL team valuations, which will go live on Forbes.com Nov. 30, I can tell you the Devils have over $250 million of debt piled on the team and arena, which they control. The debt is growing because Vanderbeek, unable to make interest payments, is capitalizing the interest.
Vanderbeek already missed a $100 million principal payment that was due Sept. 1. He was given an extension by the lenders in order to try and raise enough money to buy out co-owners Ray Chambers and Mike Gilfillan, but they wanted no part of it. Vanderbeek can buy some time because technically the team cannot be forced into bankruptcy by creditors until after the Stanley Cup finals. But the longer he holds onto the team the bigger the debt problem because he is not making interest payments.
None of that sounds promising. As Ozanian points out, it's looking very similar to the situation the Stars found themselves in when owner Tom Hicks couldn't pay his interest payments which ballooned to $600 million before he defaulted. It looks like Dallas is ready to crawl out of that situation as they work on finalizing a deal with Vancouver businessman Tom Gagliardi.
You wonder if the Devils wouldn't like to have the decision to build the Prudential Center over again. The financial hardships from it have clearly been too much for Vanderbeek to handle. Moreover, attendance has not been good to only make matters worse. They are just 26th in the league in average attendance, playing, or 25th if you prefer to look at percentage of tickets sold. They have sold 78.7 percent of their seats.
Ozanian concludes with some advice for commissioner Gary Bettman:
NHL commissioner Gary Bettman needs to step up and get Vanderbeek out. The Stars are being sold at a cheap price with creditors taking a steep haircut. The same thing is almost certain to happen with the Devils. All this is bad for business, bad for the league's brand and bad for NHL team values.
Photo: Getty Images
For more hockey news, rumors and analysis, follow @EyeOnHockey and @BrianStubitsNHL on Twitter.