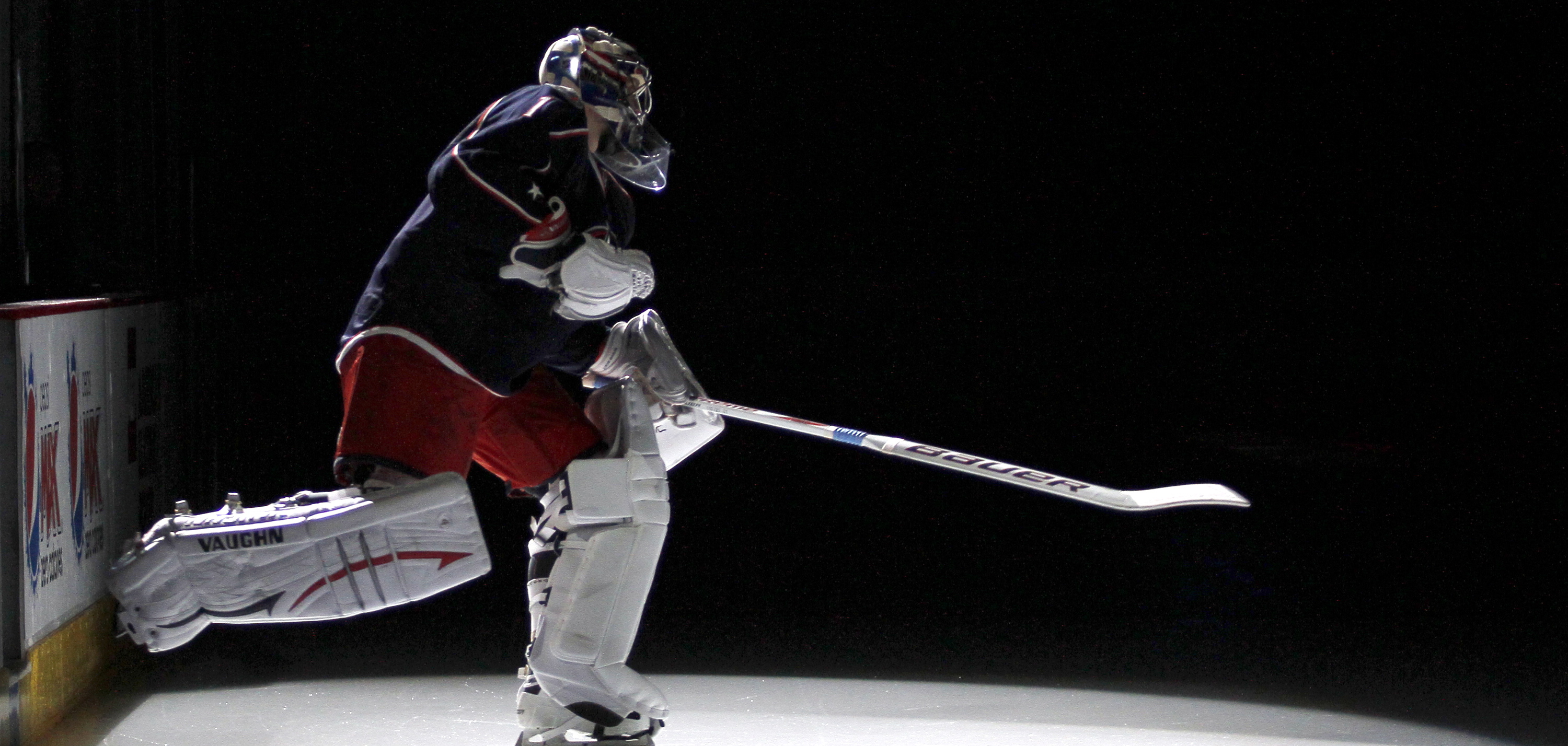 By: Adam Gretz
It would be unfair to blame all of the Columbus
Blue Jackets
problems on
Steve Mason
. When your team has won just two of its first 14 games that is not the fault of any one individual player or coach. It is an entire organizational failure from top to bottom.
But Mason is helping to put his team in an early hole nearly every single game he plays. Jackets beat writer Aaron Portzline Tweeted one of the most unbelievable stats of the season tonight
when he dropped this nugget of knowledge
: Mason has allowed a goal on first four shots in 10 of 13 games this season.
Basically, whenever Mason starts a game it's almost as if Columbus is spotting the opposition a one goal lead from the start. They're starting the race with a car that's
sitting on four cinder blocks
. That is no way to win hockey games. That stretch, of course, continued on Saturday night when he surrendered two goals on the first two shots he faced during the first period of their embarrassing 9-2 loss in Philadelphia.
Blue Jackets head coach Scott Arniel finally pulled Mason after a
Maxime Talbot
goal made it 3-0 with less than seven minutes to play in the opening period. His backup,
Allen York
, didn't perform any better and promptly surrendered two goals on five shots to close out the period. In what can only be described as rearranging the deck chairs, Mason returned to the crease for the start of the second period and gave up another three goals.
The Blue Jackets have a lot of difficult decisions to make regarding the future of their team, and it's already been reported that the head coach and general manager could soon be replaced. But what are they going to do about Mason? Four years ago he led the NHL in shutouts and took home the Calder Trophy as the NHL's rookie of the year, helping lead Columbus to its first and only trip to the playoffs, and looked to be one of the up-and-coming goaltenders in the NHL.
Since then it's been all down hill, while his overall save percentage dropped all the way down to .901 in each of the past two seasons, well below the league average. His even-strength save percentages of .911 in each of the past two seasons have ranked 28th and 29th respectively out of goalies that have started at least 30 games in each season.
If it wasn't already obvious, it's starting to look like that debut season may have had more to do with the system of Ken Hitchcock than anything else.
This isn't meant to make Mason the scapegoat for all of the Blue Jackets problems, because right now the entire team is a mess. But not only has he been struggling, he hasn't played anywhere near the level of even an average (or even below average) starting goaltender, and it's hard to see where the Blue Jackets go from here in the crease.
For more hockey news, rumors and analysis, follow @EyeOnHockey and @agretz on Twitter.