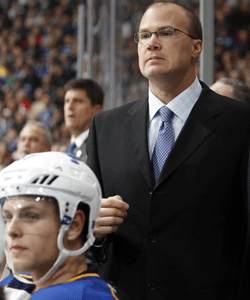 Talk about coming out of the Blue: the St. Louis Blues fired their coach Davis Payne on Sunday night and hired Ken Hitchcock to replace him. Hitchcock's contract is signed through the 2012-13 season with St. Louis.
The first reaction: Huh? What did Payne do to get fired? His Blues are just one game below .500 on the season at 6-7. Granted, it's not an ideal start, but it's not awful. For his career in St. Louis, Payne was 67-55-15. Again, doesn't really scream fireable offense.
Payne certainly didn't seem to have the safest seat in the NHL, no doubt, but if bets were to be placed on the first coach to be fired this season, I don't think many would have put their money down on Payne.
"Success should be right there for them," Payne told Craig Custance of ESPN.com after the firing.
Then you look at the fact that Hitchcock was hired to replace him. Did the Blues just beat the Blue Jackets to the punch to get Hitchcock? You will remember that last week the rumor was that Scott Arniel was going to be ousted in Columbus and Hitchcock was going to return to the bench. Not now.
However, the fit does seem good for St. Louis. It is a big, physical team. Hitchcock likes to play a physical, defensive style of hockey. Also, there is a connection between Blues GM Doug Armstrong and Hitchcock. They worked together with the Stars and Hockey Canada.
Hitchcock also has a nice track record having won the Stanley Cup with the Dallas Stars and has a career winning percentage of .588.
So while the timing is surprising, it makes a little more sense when you think of how Hitchcock and the Blues could be together. St. Louis might have seen the urgency to jump on Hitchcock before he could return to the bench in Columbus, where he was still under contract.
It will be interesting to see how the Blues respond to this. Often, coaching changes bring about a renewed energy in a team, and the Blues have talented players that could use a nice kick in the rear. A guy like Chris Stewart, who had 28 goals each of the last two seasons but only two this year, could be better. They have been trying to find a way to get him going all season. No player on the team has double digits in points so far.
Another player that a change could be helpful for is Jaroslav Halak. To be polite, he has stunk this season. In seven starts, he has a 3.35 goals against average and a .856 save percentage. Ouch. Maybe a new defensive philosophy will help. Then again, the Blues were already doing an excellent job at preventing shots, giving up just 26.2 per game this season, the second-lowest level in the NHL. Bad goaltending from Halak has been the Achilles' heel this season. When he turns it around, so will the Blues.
Photo: Getty Images
For more hockey news, rumors and analysis, follow @EyeOnHockey and @BrianStubitsNHL on Twitter