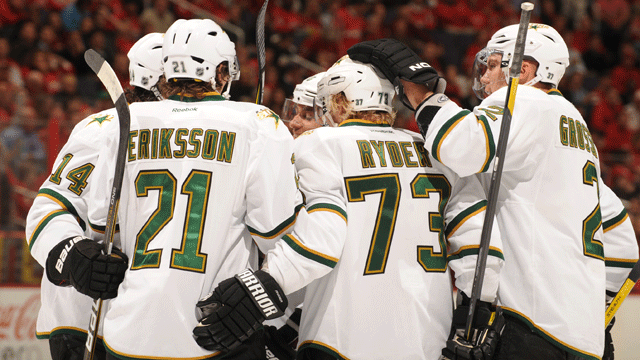 WASHINGTON -- It's pretty hard to look at the Dallas Stars right now and not be star-struck. After all, they lead the league with 11 wins. No other team has even 10 yet.
You can't help but be impressed with the team's top line.
"I don't know which exact top line," coach Glen Gulutzan said. "I think there are some arguments about who is the No. 1 line at times."
OK, so I guess it's possible you aren't impressed with the top line, but that's only when you can't tell which it is.
"The [Jamie] Benn line there with Ryder on it has just played I think two or three games together after the injury to Steve Ott. Benn and Loui [Eriksson] have had some good chemistry from the get go," Gulutzan said. "Then you've got Ribs [Mike Ribeiro] and [Brendan] Morrow who have had great chemistry as well for years.
"It's good to have some internal competition and that's kind of the battle in that room right there. The young guys vs. the old guard. They're having fun with it. But every night we're getting one of those lines to step up."
Let me be more specific then: I admit openly here to professing my love for the newly formed line of Benn, Eriksson and Michael Ryder. They are each fast. Heck, the whole team is fast. They are very skilled. And they look like they have been playing together for three seasons, not three games.
Just look at the numbers -- they never lie, just sometimes deceive. Since this line came together, Ryder has three goals and four assists. Eriksson has two goals, five assists and a star of the week honor. Not to be outdone, Benn has three goals and five assists. Again, those numbers have been compiled in three games! These three have averaged more than seven points per game combined since they were put together.
They go together like peanut butter, jelly and bread. (Seriously, why is bread never mentioned in this cliché? Do people actually just scoop PB&J in their mouth at the same time?)
"Those two guys have been playing together for a little bit and this is my third game with them and they've been flying," Ryder said after Dallas' impressive 5-2 win over the Capitals on Tuesday, in which he scored twice. "I just jump in there and I'm feeding off them. Guess we're just going good right now."
Maybe the biggest breakout has been Benn. The 22-year-old is opening eyes everywhere with his play. Combined with Eriksson specifically, they are capable of some beautiful hockey. What has impressed me so much is the unselfishness of the two players. Somehow, they keep finding themselves in 2-on-1 situations and each time they are looking to pass. More often than not it leads to a goal, it seems.
Add Ryder to the mix, and, well let the fun times roll.
"Things are going pretty good right now," Benn said. "Ryder got put on our line right before this road trip and it seems like we're just clicking and we're having fun out there."
Five consecutive wins will help in that department too.
And what of this No. 44 on the blue line? My roster sheet told me that's Sheldon Souray. I could hardly believe it. This is the same guy they were so desperate to get rid of in Edmonton? It is, and he's playing as well as ever. He is averaging nearly a point per game. He seems to have found a home and the Stars are happy to have him.
His four goals are the third most for a defenseman in hockey, trailing only the great Nicklas Lidstrom of Detroit and Florida's Jason Garrison. With his production, the Stars defensemen have picked up the scoring slack they had been leaving behind. Last season it took them until Dec. 29 to score nine goals, a total they have already reached.
For the most part, it's a somewhat no-name group. But it has been solid. As is the case with most every goalie, the defensemen deserve some of the credit for Kari Lehtonen's start.
Lehtonen remains probably the biggest reason why people are still hesitating to jump on the bandwagon. He is coming off a career year and has battled injuries throughout his still young career. He is just 27.
"He keeps us in every game and gives us confidence," Benn said.
Really, GM Joe Nieuwendyk has pieced together a quality team. And the good news? Once the ownership situation gets straightened out and Tom Gagliardi starts paying the bills, there could definitely be a green light to add some salary onto the league's lowest payroll in the form of trades or just finding some quality fits for his team the way he did with Souray and Eric Nystrom.
Nystrom was waived by the Minnesota Wild before the season and eventually made his way to Dallas. In 82 games last season he had four goals. In 14 games this season, he has four goals. Including one spectacularly awesome one on Tuesday night.
Heck, he's even a humanitarian by day. Nystrom took the time to try and make the day for a pair of presumably homeless gentlemen before the game.
"We always have so much food," Nystrom said. "I asked for a to-go box and I took it across the street to the park and gave it to two homeless guys. Gave them the best meal they've had in a long time."
And wouldn't you know it, this might be the best team they've had in Dallas in a long time. Well OK, it hasn't been that long, but you get the point.
"We're trying to gauge ourselves against the league," Gulutzan said. "Coming into Washington and then heading to Pittsburgh and Detroit, we thought this would be a real good measuring stick."
So far, so good. Especially if the Stars keep that, err, those top lines together.
Photo: Getty Images
For more hockey news, rumors and analysis, follow @EyeOnHockey and @BrianStubitsNHL on Twitter.