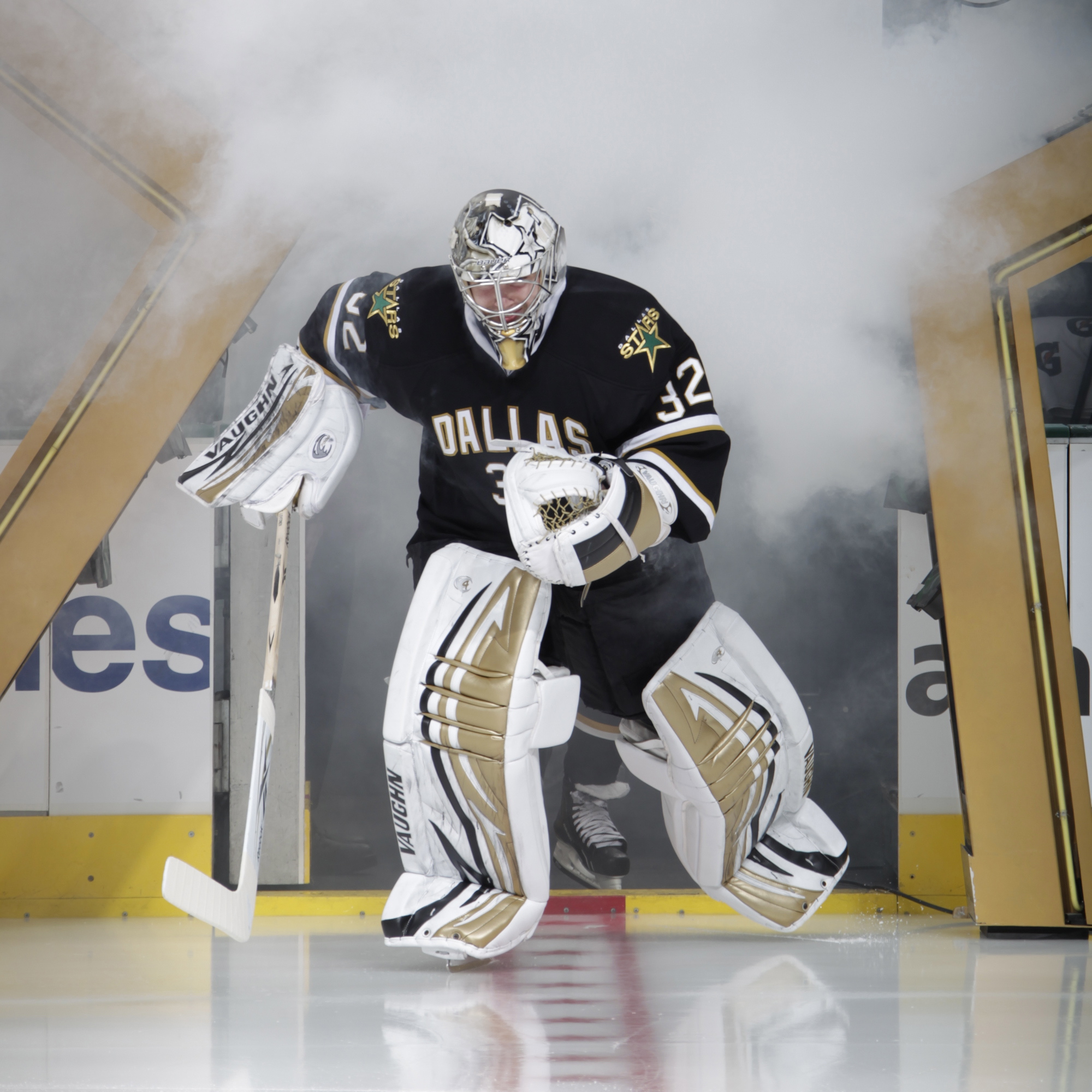 By: Adam Gretz
The Dallas
Stars
have been one of the surprise teams in the NHL over the first month of the season, and as my Eye On Hockey partner Brian Stubits pointed out earlier this week, a lot of that success has been
the result of some strong play by their top lines
.
Goaltender
Kari Lehtonen
has also been a big factor and is currently playing some of the best hockey of his career. Given the volume of shots he's faced, the Stars have needed him to play at a high level.
Entering their game on Saturday in Detroit, only two teams (Nashville and Florida) are allowing more shots per game (and by a minimal margin) than the Stars. It doesn't help that Dallas has been one of the most penalized teams in the NHL and spend a great deal of time shorthanded, but in 10 of their 15 games this season the Stars have been out-shot by their opponents. Seven times they've been out-shot by at least 10 shots, which is a rather large deficit.
I asked Stars coach Glen Gulutzan following Friday's game, a 3-1 loss in Pittsburgh in which the Stars were out-shot by a 32-20 margin, if there was any concern that maybe the Stars are relying on Lehtonen a bit too much, and if he would like to see those shot totals change more in their favor.
"Well obviously you want to keep your shots down," said Gulutzan. "But it depends where those shots are coming from. If they're just slap shots from the outside we're more than comfortable that he can take those. He takes 32 a night and probably 180 in practice a day, so as long as they're not quality chances we're not going to concern ourselves too much about them."
In other words, in Gulutzan's view it's not the quantity, it's the quality.
There's been
a debate taking place
in the hockey analytical community
as to what impact
, if any, "shot quality" has on a team, and whether or not it all evens out throughout the season. While a slap shot from the outside obviously has a lesser chance of resulting in a goal than a breakaway, or a wide open one-timer from between the circles, it still has a greater chance of resulting in a goal than not allowing a shot at all. You run the risk of deflections, a puck hitting your own player and changing direction, or resulting in a second or third chance opportunity on a rebound. Since the 2005-06 season, teams that have finished in the bottom 10 in the league in shots allowed have qualified for the playoffs just 20 times (out of 60 teams).
The question isn't whether or not Lehtonen can physically handle that many shots (regarding Gulutzan's comment on facing 180 shots in practice every day), it's whether or not he can continue to stop them at this rate, and what happens to the Stars if (or when) he starts to play closer to his career norms.
Lehtonen's even strength save percentage currently sits at .952, which is tied for the best mark in the league among goaltenders that have started at least 10 games this season. That's not likely to last, no matter how far out the Stars are allowing shots from. (Just as an example,
Tim Thomas
led the league in even strength save percentage last season, a year where he was clearly the best goalie in the NHL, with a mark of .947, which was significantly higher than the rest of the league).
For his career, Lehtonen's even strength save percentage comes in at .926, and looks like this on a year-by-year basis: .928, .921, .923, .925, .926, .927. That's pretty consistent, and while it is possible for goaltenders to play a little better under certain coaches and systems, I have to think that eventually he's going to regress back closer to the level he's played at throughout his career. And that could be a problem if the Stars continue to allow over 32 shots every game.
Photo: Getty Images
For more hockey news, rumors and analysis, follow @EyeOnHockey and @agretz on Twitter.