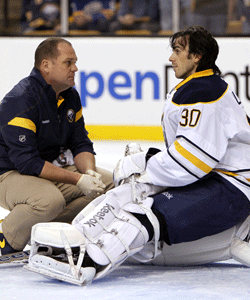 The weekend got worse for the Buffalo Sabres on Sunday when GM Darcy Regier told Mike Harrington of the Buffalo News that his top goaltender, Ryan Miller, suffered a concussion in the team's 6-2 loss to the Bruins on Saturday night.
The play has already been discussed plenty. Miller went to the open ice to play a puck and took a big hit from Milan Lucic.
Miller remained in the game but was removed after the second period. Harrington reports Miller is feeling better the day after the hit.
The next question in this equation is if Lucic will be suspended. That's what the Sabres are looking for. There has been a lot of discussion on this call, whether or not Lucic even did anything wrong. But according to the letter of the law, goaltenders are not "fair game" when outside of the crease. Lucic was not in the right to hit Miller.
UPDATE: Lucic will have a hearing with Brendan Shanahan on Monday at 1 ET according to Bob McKenzie of TSN.
Again, here is what Rule 69.4 has to say specifically.
69.4 Contact Outside the Goal Crease - If an attacking player initiates any contact with a goalkeeper, other than incidental contact, while the goalkeeper is outside his goal crease, and a goal is scored, the goal will be disallowed.

A goalkeeper is not "fair game" just because he is outside the goal crease. The appropriate penalty should be assessed in every case where an attacking player makes unnecessary contact with the goalkeeper. However, incidental contact will be permitted when the goalkeeper is in the act of playing the puck outside his goal crease provided the attacking player has made a reasonable effort to avoid such unnecessary contact.

When a goalkeeper has played the puck outside of his crease and is then prevented from returning to his crease area due to the deliberate actions of an attacking player, such player may be penalized for goalkeeper interference. Similarly, the goalkeeper may be penalized, if by his actions outside of his crease he deliberately interferes with an attacking player who is attempting to play the puck or an opponent.
"If this hit and other types of hits like this are not suspended, we are opening up the possibility of losing goaltenders to injury," Regier said sternly to Harrington. "And not just injury, but concussion. ... When I look at the position of goaltending. in a lot of ways it's not unlike quarterback in football. I feel very strongly the protection has to be provided and players committing these types of action should be punished.
"The last thing we need to do in the NHL is to be losing our Stars to concussions on plays like this."
Bruins goalie Tim Thomas gave his opinion on the matter on Sunday, from Jimmy Murphy at ESPN Boston:
"Basically from my perspective, I was just trying to, after that happened, make sure that I was on my toes. I didn't know if there would be a kind of retribution hit. That's kind of the old school way. That's really all I've got to say about it. I will say that as a goalie, you're not even prepared for people to hit you in a situation like that. You've been trained over the course of your whole career that you're not going to get hit in situations like that. So it must have taken him by surprise."
That sounds about as sympathetic as Thomas can be for his fellow goalie while still toeing the party, or in this case team, line.
I wouldn't be surprised if Lucic does face some discipline for the hit. Whether you like the rule or not, that's what it says, that a goalie is not fair game and the fact that Lucic followed through high increases the chances of further penalty. And you know Shanahan will consider the fact that Miller was concussed on the play too.
It's worth noting that another goalie this season have already sustained concussions. Rick DiPietro was out for a very short time before returning to his place in the three-headed goalie monster for the Islanders. James Reimer of the Ducks was also hit high to the head by an opponent and has been out since mid-October with what the team is calling "concussion-like symptoms" but refuses to call a concussion.
The Sabres will recall Drew MacIntyre to fill in while Miller is out. Luckily for Buffalo, Jhonas Enroth has played very well this season as Miller's backup, getting a lot of action with Miller's recent struggles.
Photo: US Presswire
For more hockey news, rumors and analysis, follow @EyeOnHockey and @BrianStubitsNHL on Twitter.